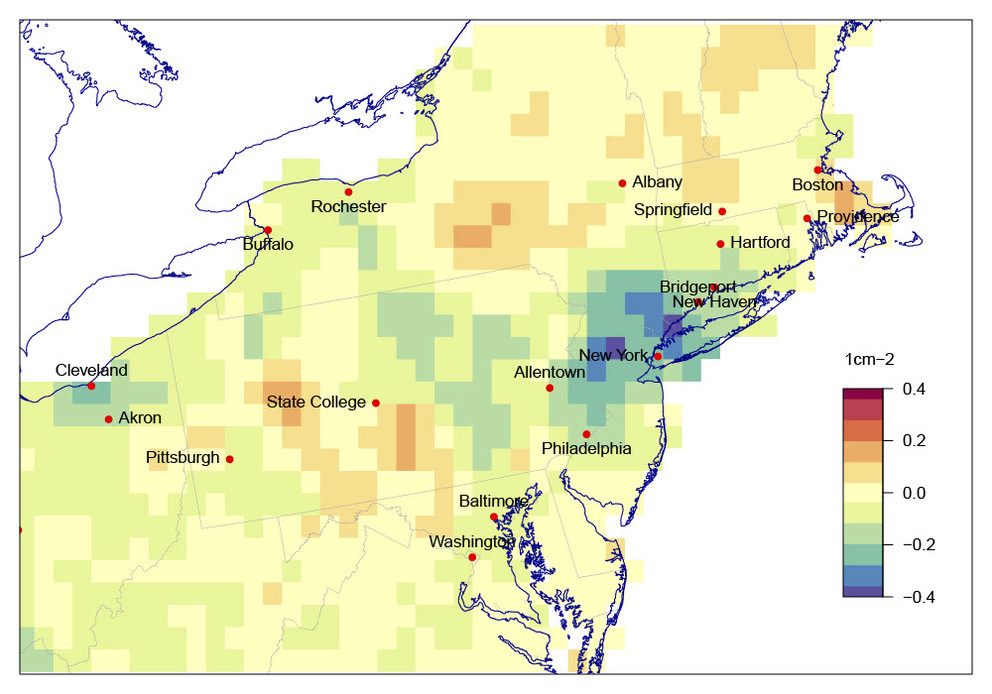 Air quality data during COVID-19 may help improve models, guide interventions
Posted on November 12, 2020
UNIVERSITY PARK, Pa. — The measures instituted in April to help curb the spread of COVID-19 across the United States may hold clues for improving air quality, according to researchers.
The scientists examined the pandemic's effects on two key pollutants – nitrogen dioxide and fine particulate matter -– and human mobility. They found that as individuals limited their travel, nitrogen dioxide levels fell significantly while levels of fine particulate matter rose in certain parts of the country. They report their findings in the Bulletin of Atmospheric Science and Technology.
"One of the big uncertainties with trying to forecast future air quality is how the atmosphere will respond to lower emissions of certain pollutants," said Guido Cervone, professor of geography, and meteorology and atmospheric science at Penn State. "COVID-19 gave us some insights into the effects of lower emission rates on the environment. We had this unique situation that showed us what happens if people stop driving."
The researchers analyzed ground monitoring station and satellite data for the two pollutants for the month of April over the last five years. They also looked at mobility data from February to April 2020 provided by Descartes Labs, which used anonymized mobile device data collected from applications with location reporting enabled.
Fewer passenger vehicles on the road resulted in lower nitrogen oxide levels, which on average fell by approximately 2 parts per billion (ppb), or 13%, when compared to the previous five years. The largest drops occurred in California and the Northeast, where shelter-in-place orders began in March and lasted longer than in other parts of the country, according to the researchers. For instance, New York reported average nitrogen oxide levels of 13.6 ppb in April 2015, 11.3 ppb in April 2019 and 7.6 ppb in April 2020.
"There seems to be a very clear pattern that shows that when people stay home, less nitrogen oxide is emitted because there is less car traffic, whereas fine particulate matter seems to be unaffected because these emissions are generated by power plants and diesel trucks," said Cervone, who is also associate director of the Institute for Computational and Data Sciences and holds an appointment with the Earth and Environmental Systems Institute at Penn State.
Levels of fine particulate matter remained mostly unchanged, although they did increase at about 24% of the 480 ground monitoring stations included in the study. The researchers attributed the increase to the difference in the type of vehicular traffic on the road as well as electricity demand in April.
Diesel-fueled traffic, mainly comprised of business and home delivery trucks, stayed about the same or even increased during the April lockdown, said Cristina Archer, professor in the College of Earth, Ocean and Environment at the University of Delaware.
"In addition, with colder than average temperatures in the East and Northeast and people being at home more, higher home heating and electricity uses likely occurred, which increased fine particulate matter emissions in these regions," Archer said.
The study gives scientists a better idea of how the atmosphere reacts to reduced emissions from vehicular traffic, which can help to improve air quality models.
"If we can validate the effect of reduced emissions on air quality, we can better parameterize our models and have less uncertainty as to what will happen 10 or 20 years down the road under different emissions scenarios," Cervone said.
COVID-19 allowed for a nature-driven experiment on a global scale that otherwise would not have taken place, said Maryam Golbazi, a Ph.D. student at the University of Delaware.
"The stay-at-home orders presented a unique opportunity for scientists to study the actual contribution of human mobility to various pollutant concentrations in the air," she said. "The results of this study can help determine how pollutants would change in concentration if any new policy were to be imposed on the transportation sector, and that is significant for decision-makers around the world."
Air pollution is a complex issue that no one simple action, no matter how drastic, will solve, Archer said. Properly simulating the responses observed in the study will allow researchers to test how future interventions, such as traffic restrictions in certain areas or incentives to switch to electric vehicles or heat pumps for home heating, will affect air quality.
"These model improvements will give people better air quality and ultimately better health," said Archer.
The researchers will present their findings at the annual meeting of the American Geophysical Union, which will take place virtually in December.
Other researchers involved in the project included Nicolas Al Fahel, a Ph.D. student at the University of Delaware, and Carolynne Hultquist, a former Ph.D. student in Cervone's laboratory and now a postdoctoral scholar at Columbia University.
The Delaware Natural Resources and Environmental Control agency supported this research.
Share
Related Posts