Modern science can be data intensive and computationally complex. The Cyberteam to Advance Research and Education in Eastern Regional Schools (CAREERS) Program can help. This National Science Foundation–funded program is designed to facilitate research while helping graduate students expand their career potential.
Have questions or want to get started? Email us at ICDS-CAREERS@lists.psu.edu.
How the CAREERS Program Works
The program pairs researchers from small- to mid-size institutions with dedicated graduate students, known as student research computing facilitators (RCF). Under the guidance of an established faculty mentor, RCFs will help researchers identify the most effective approaches to their research computing challenges. The program offers researchers needed support while giving students real-world experience in research computing facilitation. Projects typically last 3 or 6 months and provide a stipend to RCFs.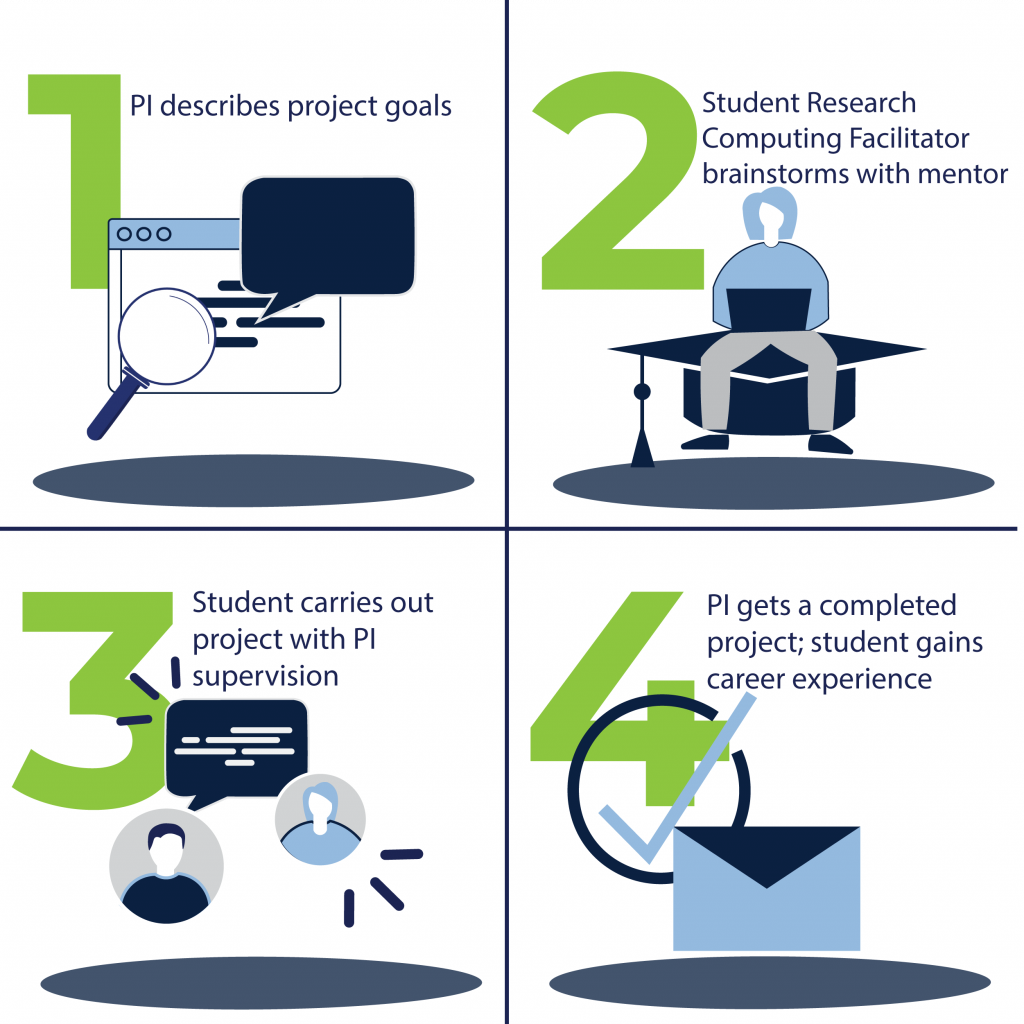 CAREERS Program Benefits

Apply creative problem-solving skills to support a researcher
Build your professional network
Learn about careers in research computing facilitation
Get paid — typically $3,000-6,500 for a 3-6 month project

Free assistance preparing and running a data science or computationally intensive project
Opportunity to help students build career-related skills
Build your professional network

Help a researcher from an under-resourced institution
Mentor a student in the art of problem solving in data and computational science
Build your professional network
Who Can Participate?
Project leaders from small and mid-size institutions in Connecticut, Delaware, New Jersey, New York, Pennsylvania and Rhode Island can submit projects to get help with:
Gaining access to computational resources and expertise
Matching the right computing resources and techniques to the task at hand
Making use of local, regional, and national high-performance computing resources to meet the researcher's needs
Students interested in becoming an RCF should be in a graduate program in a northeast university and should have some programming experience.
Mentors should be established in their field and should be able to provide high-level project guidance and suggestions to overcome computational research challenges.
We especially encourage participation from women and individuals from underrepresented minorities. 
What is Research Computing Facilitation?
Companies and large institutions commonly employ RCFs, but not all institutions have the resources for this support. The CAREERS program fills this gap and is designed to overcome obstacles in computing research.
RCFs are experts at figuring out how to match the right computing resources and techniques to the task at hand, something that can stymie researchers. For example, RCFs may help:
Sift through billions of records to find a specific pattern of genes that correlates with a particular form of disease
Examine massive quantities of sensor data to understand movements of the sea floor
Model complex molecular structures
And many more data-intense investigations
When computing needs exceed the capacity of the researcher's desktop, the RCF's role is to help make use of local, regional, and national high-performance computing resources to meet the researcher's needs.
How to Get Involved:
Anyone interested in submitting a project, becoming a RCF, or becoming a mentor can email the ICDS CAREERS team at ICDS-CAREERS@lists.psu.edu or visit the CAREERS Cyberteam Portal to explore projects, get more information, and create an account.
About the CAREERS Program:
Funded by the National Science Foundation, the CAREERS program is led by Yale University with several partnering institutes: Penn State, Rutgers University, Rensselaer Polytechnic Institute, University of Rhode Island, University of Delaware, and the Massachusetts Green High-Performance Computing Center.