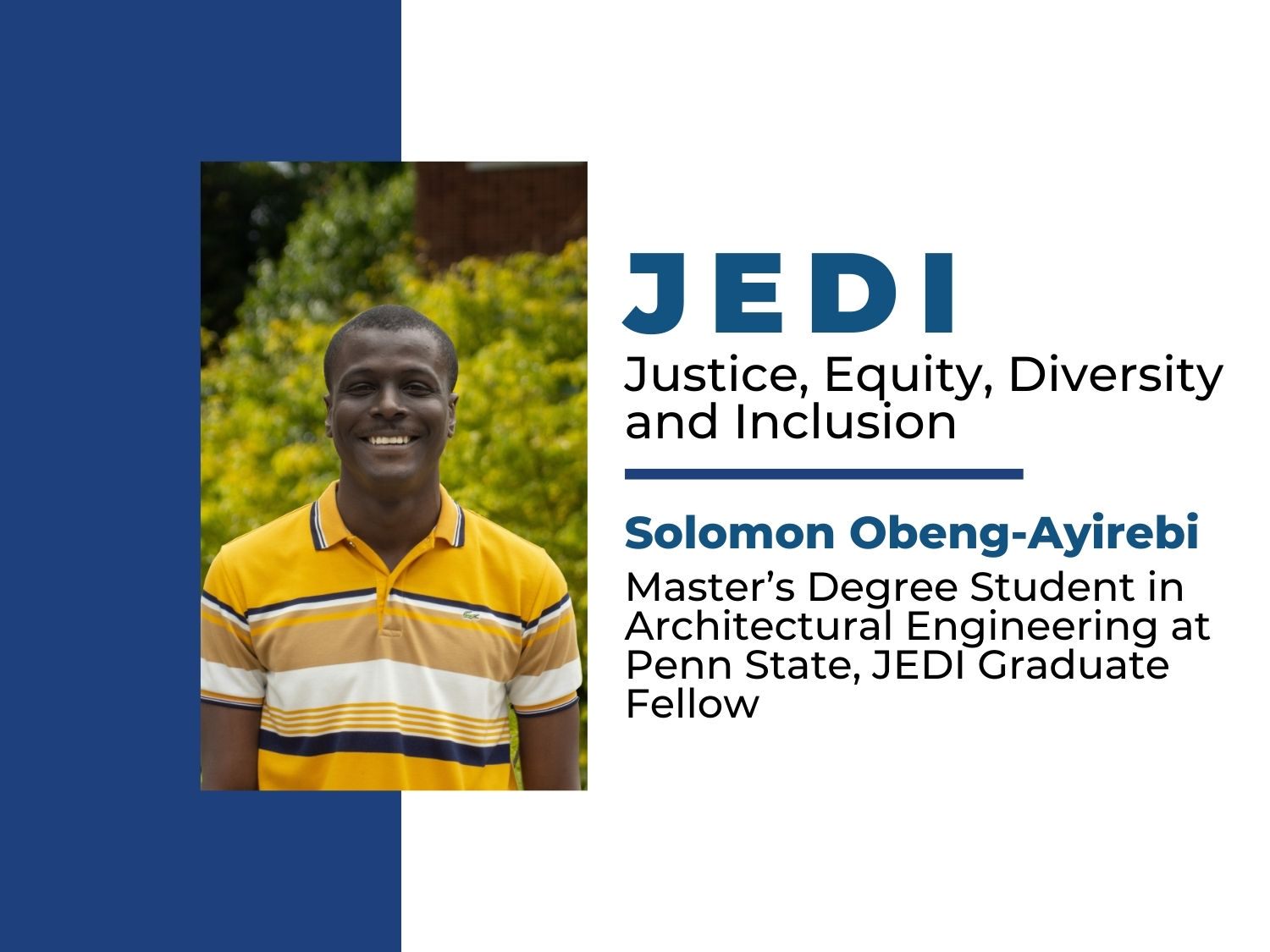 Architectural Engineering Student joins ICDS as JEDI graduate fellow
Posted on December 5, 2022
Solomon Obeng-Ayirebi, a master's student in Architectural Engineering at Penn State, has joined the justice, equity, diversity, and inclusion (JEDI) committee of ICDS as a graduate fellow for the 2022-23 academic year.
Solomon, who grew up in Obo Kwahu in the eastern region of Ghana, worked for nearly five years as a professional quantity surveyor there.  He comes from a family of engineers—his father is a quantity surveyor, or cost engineer, while his grandfather still runs a private practice in Ghana—so Penn State's program in architectural engineering is a natural fit for his interests.  "I chose my major because I am very interested in the practical application of engineering theories and principles to the delivery of high-performance buildings," he explains.  His educational background includes a bachelor's degree in quantity surveying as well as an MBA in finance.
A main reason that Penn State's program appeals to Solomon is its strengths in sustainability and resilience within the built environment.  Solomon's enthusiasm for this field arose during the final year of his bachelor's degree because of his involvement with a case study of the Kumasi metropolis in southern Ghana entitled "Barriers to effective and efficient infrastructure delivery by district assemblies in Ghana." One of the study's findings was that adequate cost estimates were missing at the planning and pre-contract stage, which led Solomon to pursue an MBA to study finance at a deeper level.  One sunny day in 2020 while sitting in his office in Ghana, he read about Penn State's architectural engineering program on the internet and decided to apply. Although he suffered a setback when his application for a World Bank scholarship was unsuccessful, he was determined to come to Penn State.  "Convinced that the graduate program that I had applied for was a great fit, I took a leap of faith and made my way to State College with a work-in-progress plan for funding my studies," he explains.
Solomon credits Esther Obonyo, associate professor of engineering design and architectural engineering at Penn State, for connecting him with ICDS. He recalls that Dr. Obonyo reached out to him a week before classes began this fall regarding the possibility of working with the JEDI initiative.  "I quickly jumped at the idea of working with her after I did my own research about the group and what they represent.  I am enthusiastic about data science because it naturally feeds into the estimation of costs and productivity with respect to labor, material, equipment data, and other resources. Data is essential to the work of a quantity surveyor."
Solomon says that if he had unlimited funding, he would invest in the delivery of a million low-income housing units. His desire to see every individual safely housed is a driving force behind his academic pursuits. "My major is contributing to advancing sustainability and resilience within the built environment. Realizing the vision will reduce the challenge of greenhouse gas emissions linked to the built environment while also enhancing human health, well-being, and performance. I am excited about the prospect of being part of the community of professionals who will help unlock these benefits at a transformational scale."
Outside of academics, Solomon enjoys reading, listening to podcasts, playing soccer, and trading the Forex market for fun.  He is also passionate about music, with a particular love for Ghanaian contemporary music:  Five songs he has "literally on repeat play" are Coachella by Sarkodie, Soja by Black Sherif, Down Flat by Kelvyn Boy, Dollar on You by Kwame Eugene, and Slow Down by R2Bees.
Share
Related Posts