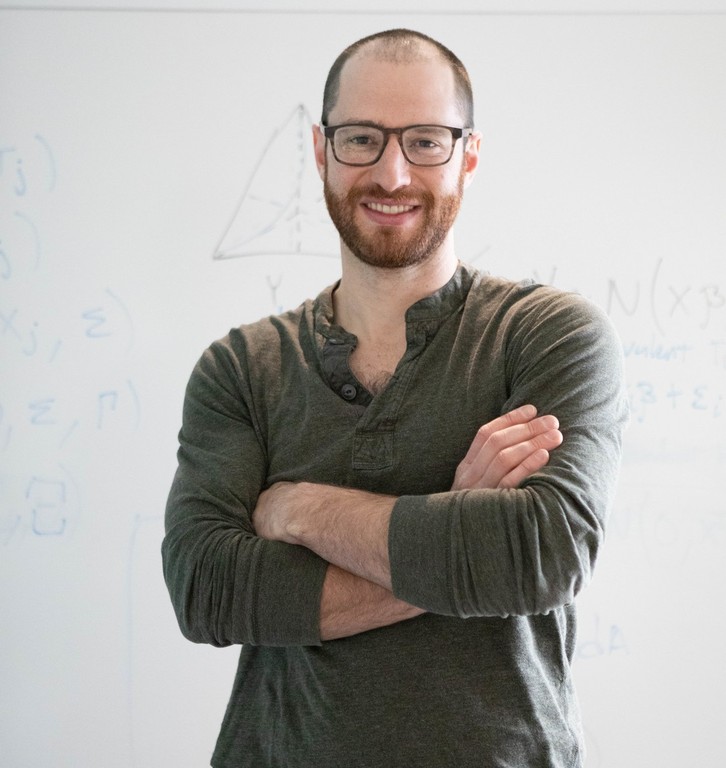 Dual degrees shape research interests for IST assistant professor
Posted on April 22, 2021
UNIVERSITY PARK, Pa. — "I firmly believe that good research comes when you're having fun."
Those are the words of Justin Silverman on what motivates him in his work. And, judging from his research output, he's been having quite a bit of fun.
Silverman, who joined the College of Information Sciences and Technology last year as an assistant professor with a focus in biomedical statistics, made global headlines last summer for his study suggesting that 80% of U.S. COVID-19 cases went undetected in March 2020.
He and his research team analyzed data from the Centers for Disease Control and Prevention (CDC) on the number of patients who sought medical care for influenza-like illnesses during that time span. That number, said Silverman, was far in excess over what was reported in previous years. By applying probabilistic models that Silverman had developed for the analysis of nonlinear time-series data, they found evidence that this excess influenza-like illness was actually caused by the novel coronavirus — largely going undiagnosed due to limited testing capacity at the start of the pandemic.
Their work was published in the journal Science Translational Medicine, and their findings were covered by CNN, The Economist, WebMD, Business Insider and other major media outlets.
"There were a good two months of my life where I had to put my research aside to answer questions from journalists," he said.
While the study made a significant impact on the understanding of COVID-19 and yielded great interest from the media and public health officials, Silverman says that he never set out to get involved with researching the novel coronavirus. But his colleague and research scientist at Montana State University,
Alex Washburne — who Silverman describes as "a science cheerleader, someone whose love of science is infectious" — approached him early in the pandemic with a number of observations that could not be explained under the conceptual model of COVID-19 that was common in the field at that time.
"In January [of 2020] he started emailing me about some things he'd noticed in COVID, and about the spread of it around the world that didn't make sense — particularly how fast it was reported to double in the population," said Silverman.
They went on to participate in a forecasting challenge from the CDC, through which he and Washburne developed their overarching theory that the disease was moving faster and infecting more people than anyone was reporting.
"We realized that we were seeing just the tip of the iceberg," said Silverman.
So Washburne, from his office in Montana, and Silverman, who was working in North Carolina at the time, analyzed data of patients seeking treatment for influenza-like illnesses but not diagnosed with the flu to prove their assumptions.
"When Alex and I reconvened a few weeks later, we had gotten almost identical answers from two completely different paths," said Silverman.
Their work also led Silverman and Washburne to be consulted by various academic, industry and government organizations.
"Presenting our work to Gov. Andrew Cuomo's task force and being asked how New York state should respond to COVID-19 was a surreal experience," said Silverman.
With Silverman's COVID-19 research making a national impact, he feels the obligation to keep moving it forward. He has since written an article outlining the difficulty of determining the true fatality rate of COVID-19, and is currently involved with a wastewater sampling study that aims to give advanced warning of potential COVID-19 outbreaks at Penn State and in the community.
Dual degrees shape research interests
While the ongoing pandemic may not be Silverman's preferred research focus, his combined medical and statistical training and his research interests in biomedical data make him a well-qualified expert on the topic.
Silverman earned a bachelor's degree in physics and biophysics from Johns Hopkins University, then he simultaneously pursued both a master's and doctorate in computational biology and bioinformatics from Duke University through the Medical Scientist Training Program, funded by the National Institutes of Health. That program graduates approximately 200 candidates annually.
"It's a combined program," explained Silverman. "I spent eight years pursuing both degrees, finishing off with med school."
According to Silverman, he is among the handful of the program's graduates every year who don't pursue medical residency after earning their degrees.
"I think it may be six or so students per year that go right into a faculty appointment rather than doing residency or a postdoc," said Silverman. "And then of those, I can count on one hand the number who have gone into statistics in the past 20 years."
But, the dual degrees have made both a personal and professional impact on him.
"The M.D. really helps shape my interests," he said. "Without the M.D., I would probably be in some obscure theoretical branch of math that had very little impact."
He added, "I have also found that statisticians and clinicians often don't talk well together, partly because the way that they think is so fundamentally different. Plus, it's very hard for a biomedical statistician to have a full picture of how the whole health care system works if they haven't worked in a hospital. I've found that it's been wonderful to really be able to have a foot in both camps."
Stats at home
For Silverman, a love of data runs in the family. He met his wife, Rachel, at Johns Hopkins, where she studied applied math and statistics while he pursued his physics path.
"I thought stats sounded so boring and gave her a hard time about it," said Silverman. "And now here we are, 12 years later, and I only do stats."
Later, while Silverman was completing his program at Duke, Rachel earned a doctorate in biostatistics at the University of North Carolina and now works for Merck as a biostatistician. They spend their careers analyzing statistics, but their passion for numbers and data doesn't stop when the work day ends.
Together the Silvermans maintain a blog, statsathome.com, which mathematically explores everyday problems—including why Rachel's mom never gets opening points when playing Bridge, and whether their pet dog loves them more in the kitchen compared to other rooms in the home. (Side note: the Silvermans' dog, Gauss, is named after a famous mathematician).
The Silvermans also create an annual scavenger hunt for their friends and family which they call the "Matzah Hunt".
"We are not particularly religious, but Rachel and I both loved the Passover tradition of the hunt for the middle matzah," said Silverman.
In the Passover tradition, an adult hides half a piece of matzah somewhere in the house and kids go on a scavenger hunt to find it. The Silvermans wanted to transform this into a tradition that their adult friends and family could also enjoy.
"Honestly, it's really just an excuse for Rachel and me to make up puzzles throughout the year and throw a big party in the spring," he said. "We go all out and have even ended up creating some novel statistical methods to help plan the party."
"As far as I know — and I like to say please don't correct me if I'm wrong — I am the world's only expert in the statistical methods for party planning," he added.
While stats drive much of Silverman's interests in his research and in his personal life, that's not all that defines him. A lover of the outdoors, Silverman enjoys rock climbing, backpacking and trail running. He's run distances comparable to marathons and ultramarathons, tracking 3,000 miles last year. He also loves spending time outdoors with Rachel and their 1-year-old son, Isaac.
And when he was exploring institutions at which to begin his career, Penn State appealed to him because it would allow him to add a new layer to his identity: farmer.
"Penn State is one of the few places in the country where I could both be at a top research institution and have a farm," he said. "And now we've got five cattle and 25 poultry, and we are getting set to add goats to the farm in the spring. It's awesome. We absolutely love it."
Impactful work at IST
While the opportunity to own a farm was certainly appealing to bring the Silvermans to Happy Valley, the chance to hone his research at Penn State was the biggest draw.
"There are a lot of departments around the country that really try to box faculty into a predefined mold of what they view as successful," Silverman stated. "What I really love about IST is that they don't do this. When I interviewed I was essentially told that I could research whatever area I wanted and I could publish in whatever journals I wanted. I just need to ensure that my research is relevant to the mission of the college and that the journals where I publish are quality venues that will have an impact on relevant fields where people, data, and information intersect. All IST wanted was faculty who were at the top of their respective fields, doing impactful work."
So far, he's been working on a variety of projects in addition to his COVID-19 research. He is working to develop decision support tools for physicians using electronic health data; using Bayesian statistics to predict in real time which emergency room patients have bacteria in the bloodstream; exploring issues of antibiotic resistance and how to alter microbiomes; and analyzing ancient DNA to determine how dental plaques on teeth have changed over the past 700,000 years.
"There are so many different things to do," Silverman said. "It's really fun."
Silverman is one of 10 new faculty members to join the College of IST this academic year. His interdisciplinary background and interests align with the college's emphasis on the intersection of information, technology, and people. He has a joint appointment at Penn State, also serving as assistant professor in the Department of Medicine and as an ICDS Faculty Co-Hire with the Institute for Computational and Data Science.
This spring, he also began teaching his first class at Penn State: Elements of Machine Learning.
"I just love teaching," he said. "I love answering student questions. It's like a puzzle: you not only have to figure out why a student is getting confused, but you also have to figure out how to present the material in a new way to help the student overcome their specific confusion."
And given that his expertise in statistics is largely self-taught, Silverman hopes that his own experience will impact his students.
"I find that I have a very different approach and different way of thinking about stats than is classically taught," he said. "I'm very excited to have put a course together [that explores] alternative ways of thinking about these things."
At the end of the day, Silverman's background and unconventional path to the College of IST perfectly position him to continue conducting impactful research, stemming from his interests and his ability to have fun.
He concluded, "I love science. I love math. And my interests typically lie in human health. So that's pretty much what motivates me."
Editor's note: This article originally appeared in the Winter 2021 issue of iConnect, the alumni magazine of the College of Information Sciences and Technology.
Share
Related Posts