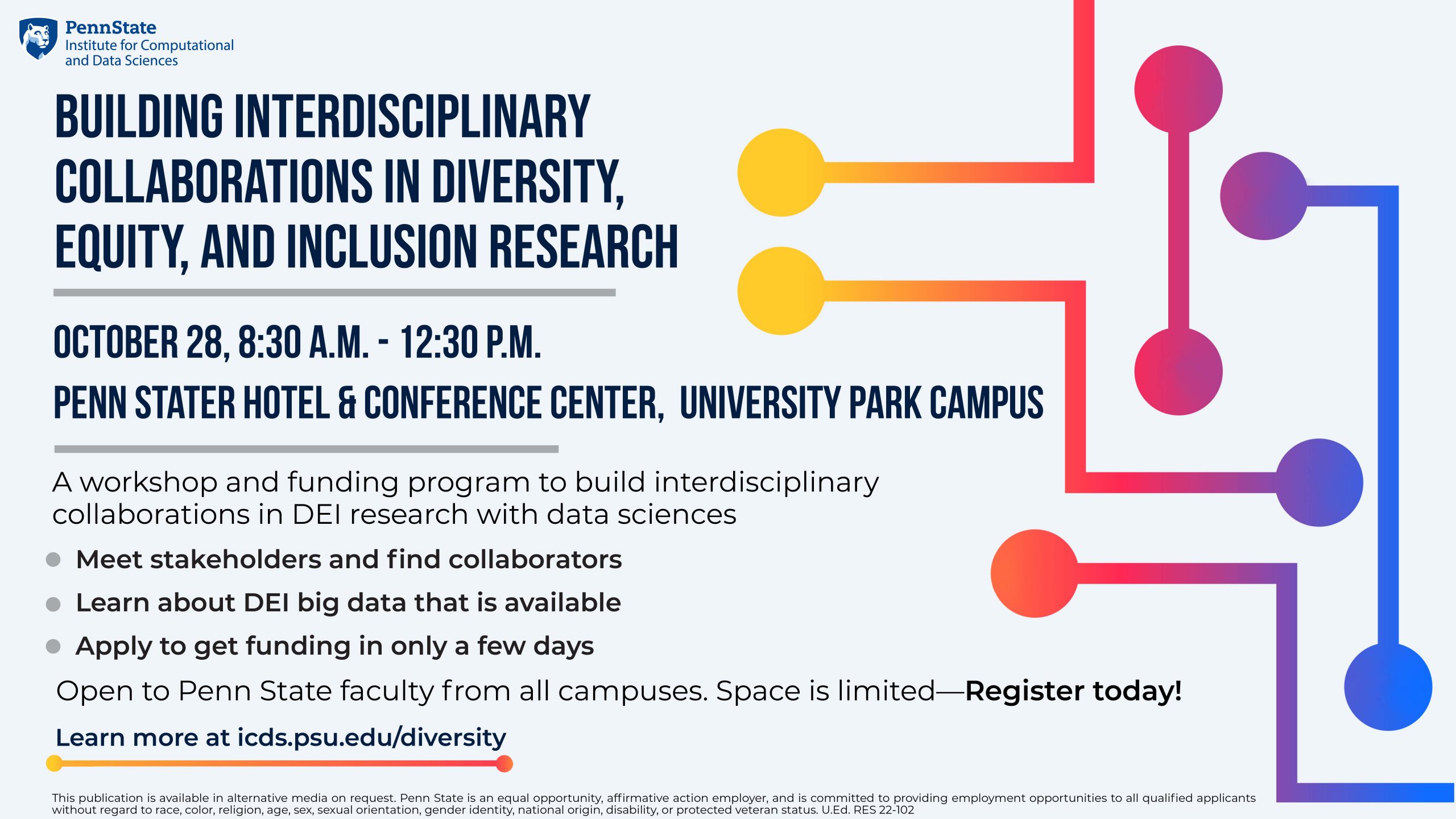 Workshop: Building Collaborations in Diversity, Equity, and Inclusion Research
Date: Thursday, October 28
Time: 8:30 a.m.–12:30 p.m.
Location: Penn Stater Hotel and Conference Center, Room 206
Increasing diversity is rarely straightforward, but institutions nationwide have found success by drawing on the "right" datasets and involving experts in diversity, equity, and inclusion (DEI). The Institute for Computational and Data Sciences (ICDS) seeks to accelerate DEI research by promoting synergies with the computational and data sciences. This workshop will bring together researchers from all disciplines and University stakeholders to form interdisciplinary teams that will leverage data science techniques to investigate DEI issues. ICDS will support several projects that emerge from this workshop through a competitive pilot program funding opportunity, that will require cross-departmental/campus/college collaborations. At this workshop attendees will network and be able to pair with new collaborators, learn about DEI big data that is available, get initial feedback about proposed projects, and start the proposal application process.
Agenda:
8:30 am
Opening Remarks
8:40 am
Stakeholder Presentations (5 minutes each)
9:30 am
Attendee Presentations (1 minute each)
10:15 am
Networking break
(Start forming groups)
10:45 am
White Paper group work
11:45 am
Group Presentations and Feedback
12:30 pm
Workshop Adjourns
Stakeholders at the meeting include:
Office of Human Resources: Lisette Garcia, Assistant Vice President of Diversity, Inclusion and Belonging, Penn State Human Resources
ICDS Research Innovations with Scientists and Engineers (RISE) Team: Chuck Pavloski, RISE Team Lead, and Carrie Brown, Advanced Cyberinfrastructure Research and Education Facilitator
Penn State Administrative Data Accelerator: Michael Donovan, Assistant Research Professor of Social Science & Public Policy
Office of the Vice Provost for Undergraduate Education: Jeff Adams, Associate Vice President and Associate Dean for Undergraduate Education
Teaching and Learning with Technology Data Science Team: Bart Parcel, Director of Innovation
Office of Planning, Assessment, and Institutional Research: Karen Vance, Associate Vice Provost for Institutional Research
Note: This workshop is open by application only and the deadline to apply has passed.