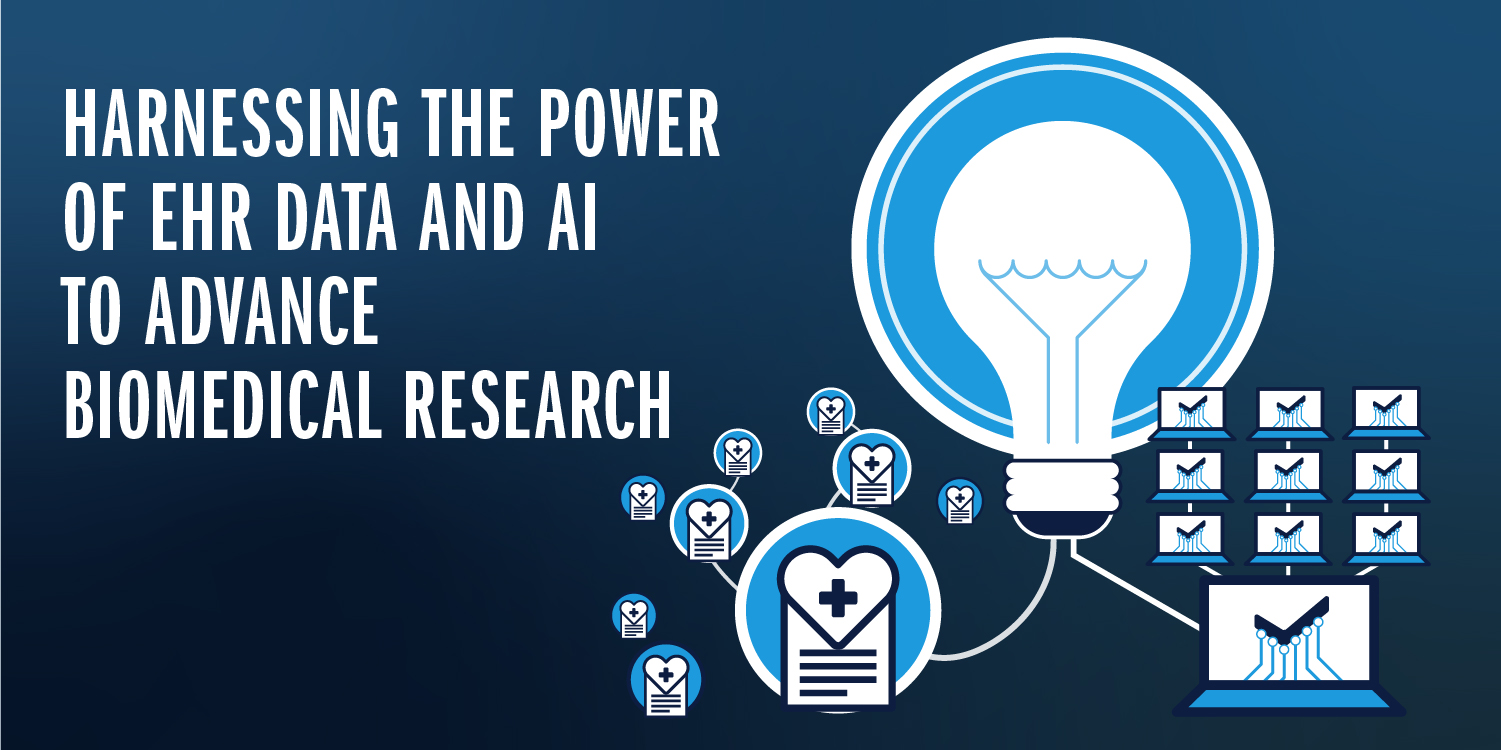 Workshop: Harnessing the Power of EHR Data and AI to Advance Biomedical Research
Date: Thursday, November 3
Time: 9:00 a.m.–12:30 p.m.
Location: Online
Artificial intelligence (AI) promises to be a powerful tool for improving biomedical research, but for researchers who haven't used this technology, it can be challenging to know where to begin. Many research groups in the Penn State College of Medicine are already using AI and other data science methods to advance their work, and there are opportunities for more collaboration around these methodologies throughout the university.
At this workshop, hosted by Penn State's Clinical and Translational Science Institute (CTSI) and Institute for Computational and Data Sciences (ICDS), three research groups from the College of Medicine will discuss why and how they have applied AI methods in their research. Attendees will also learn about the resources available to all Penn State researchers through CTSI and ICDS, which include access to anonymized electronic health records data, cloud-based analysis tools, and a computational consulting team that supports data science and AI throughout the University.
Schedule
9:00 am – Introductory Remarks
Presented by:
9:15 am – Presentation: "Readmissions in Vascular Surgery Patients: What Has Data Taught Us and Where Do We Go From Here?"
Abstract: Unplanned readmissions to hospitals after surgical procedures are considered to reflect poor quality of healthcare provided at the index hospitalization. Currently, congestive heart failure patients have the highest risk of readmissions, followed by acute psychosis and vascular surgery operations. Analysis of national data by the vascular surgery outcomes research team at Penn State College of Medicine has shown that unplanned return to the operating room is associated with increased risk of readmissions after lower extremity bypass surgery and after endovascular interventions for lower extremity peripheral arterial disease. Another analysis by our group has shown that it is the pre-existing conditions which have the highest impact on readmissions after both endovascular and open surgical interventions. We then implemented a transitional care planning and showed that this helped us reduce the number of readmissions after vascular surgery interventions.
Presenters:
 9:45 am – Question and Answer session
10:00 am – Biobreak
10:15 am – "The Successes and Barriers in Utilizing Real-World Evidence in Assessing the Outcomes of Pediatric Diseases"
Abstract: The lack of understanding of the outcomes of various pediatric diseases can limit the ability of clinicians to fully assess the quality of care provided. Certain pediatric conditions and outcomes, however, are too rare to detect and study with any precision, even in large trials. Real-world data collected outside of traditional randomized control trials can generate clinical evidence, but there are challenges that exist. The objective of this presentation is to describe how to apply real-world evidence to pediatric medicine and understand the barriers that exist.
Presenter:
10:45 am – Question and Answer Session
11:00 am – Biobreak
11:15 am – "Assessing Atherosclerotic Cardiovascular Disease Risk with Machine Learning"
Abstract: Atherosclerosis is a leading cause of death and disability in the developed world, underlying many cases of stroke, heart attack, heart failure, and other cardiovascular diseases. Accurate risk assessment for future development of atherosclerotic cardiovascular disease can have an important impact on patient outcomes by enabling and encouraging earlier treatment and lifestyle changes. In our work, we assess the potential advances that modern machine learning algorithms can bring to atherosclerotic cardiovascular disease (ASCVD) risk assessment and compare them with the risk calculator developed by the 2013 American College of Cardiology and American Heart Association Guideline on the Assessment of Cardiovascular Risk. We also explore the potential for machine learning techniques to identify new potential biomarkers of elevated ASCVD risk, and to incorporate more information from patient histories into risk assessment.
Presenters:
11:45 am – Question and Answer session
12: 00 pm Breakout discussions and closing remarks