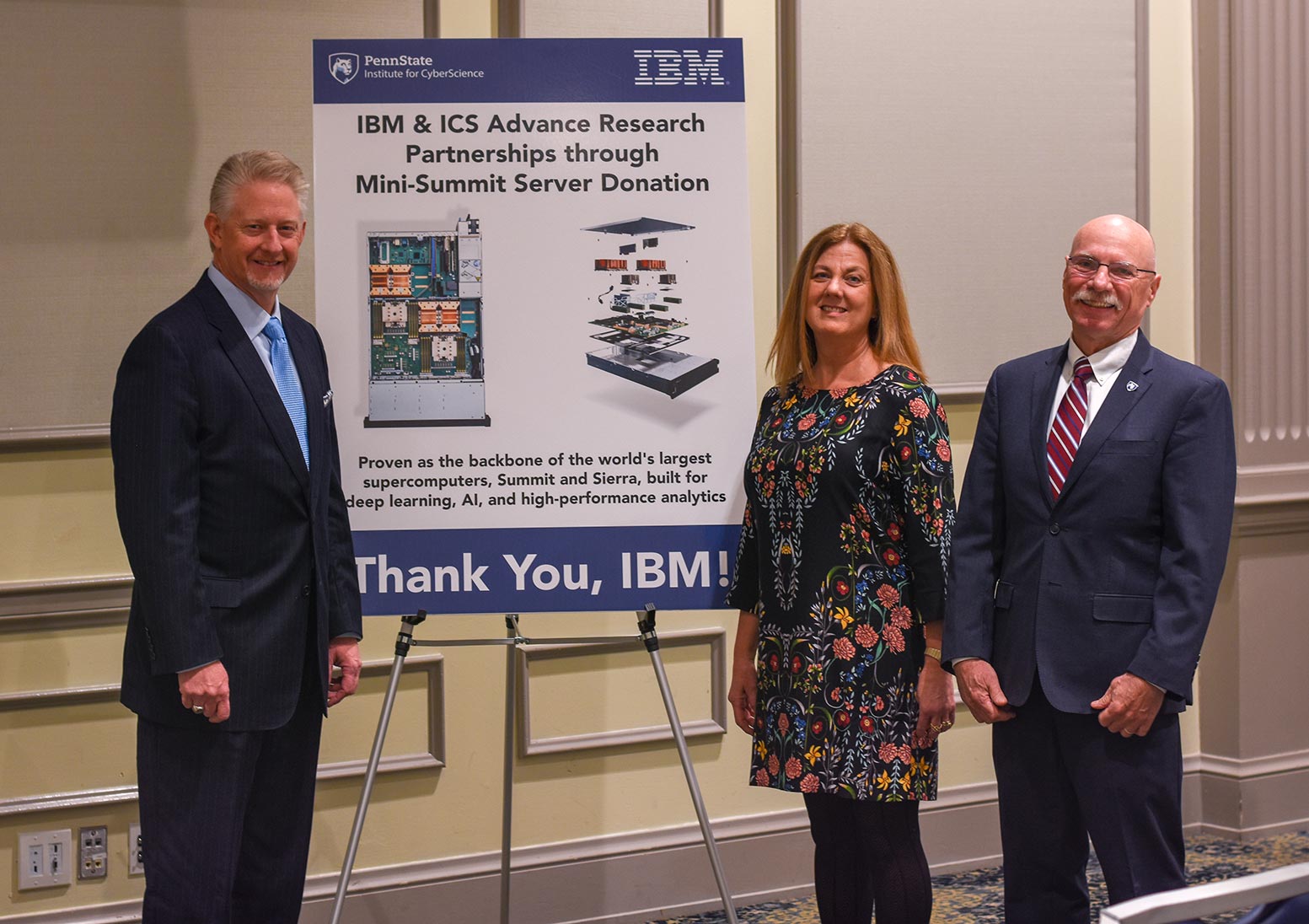 IBM donates system to Penn State to advance AI research
Posted on April 24, 2019
UNIVERSITY PARK, Pa. — IBM will donate a system based on the technology in the world's most powerful supercomputers, Summit and Sierra, to Penn State, giving researchers a chance to work with the same computing architecture that handles research studies at the government's Oak Ridge National Laboratory and Lawrence Livermore National Laboratory.
According to Jenni Evans, director of Penn State's Institute for CyberScience and professor of meteorology and atmospheric science, the gift will give Penn State researchers the opportunity to write and test code related to artificial intelligence and machine learning applications. Researchers may also optimize codes before they use the national labs' supercomputers.
"We want to make sure Penn State researchers have the power and resources to manage larger and more complex data sets and take on more enhanced analysis, which is why we are particularly happy about this gift from IBM," said Evans. "Modeled after the Summit supercomputer, this system's design lends itself well to artificial intelligence and machine learning applications, which are growing in importance for Penn State researchers and for our own ICS team."
The system will first be deployed in a test environment for Penn State researchers. Eventually it will be added in with the Penn State's full suite of Institute for CyberScience-Advanced CyberInfrastructure (ICS-ACI) offerings.
IBM researchers hosted a workshop on the University Park campus on April 17 and 18 to outline the system's potential use across myriad disciplines. In the hands-on sessions, Penn State researchers had the opportunity to consult with IBM scientists about fine-tuning their programming.
The U.S. Department of Energy's two IBM-built supercomputers, named Summit and Sierra, are currently the number one and number two most powerful supercomputers, respectively, in the world, according to Top500. The IBM POWER9 architecture of these supercomputers was built from the ground-up for the most data-intensive workloads, which make them particularly well-suited for research into AI, or research that uses AI in investigations. Using Summit, researchers have already broken the exaop — or, a billion billion calculations — barrier in deep learning and genomics applications.
Researchers around the world are using Summit to understand the origins of the universe, research genetic indicators of addiction or cancer, and other cutting-edge research initiatives. Summit, for example, has 200 petaflops of peak processing power, and can sift through thousands of variables and create models and simulations that can help researchers find answers to the world's most complex problems. It is about a million times more powerful than a standard laptop computer.
"Our university partnerships are helping to train the next generation of data scientists, IT engineers, and computer science professionals using IBM technology," said Doug Balog, general manager of client success for IBM Storage. "Penn State is a pioneer in interdisciplinary research, and this new system will give them a powerful tool to advance that research with AI."
This gift will help advance "A Greater Penn State for 21st Century Excellence," a focused campaign that seeks to elevate Penn State's position as a leading public university in a world defined by rapid change and global connections. With the support of alumni and friends, "A Greater Penn State" seeks to fulfill the three key imperatives of a 21st-century public university: keeping the doors to higher education open to hardworking students regardless of financial well-being; creating transformative experiences that go beyond the classroom; and impacting the world by fueling discovery, innovation and entrepreneurship. To learn more about "A Greater Penn State for 21st Century Excellence," visit greaterpennstate.psu.edu.
Share
Related Posts