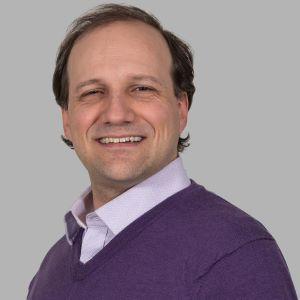 ICDS co-hire Eric Ford named one of Penn State's Distinguished Professors
Posted on February 16, 2023
Penn State's Office of the Vice Provost for Faculty Affairs has named seven distinguished professors for 2023, including an Institute for Computational Data Sciences' (ICDS) co-hire.
Eric Ford, professor of astronomy and astrophysics, Eberly College of Science, and ICDS co-hire, was one of the professors who received that recognition this year.
According to the Vice Provost for Faculty Affairs, Ford has made numerous contributions in the field of exoplanets, and is noted for playing a central role in bringing computing practices, data science, high performance computing techniques, and Bayesians statistics to the field. Nominators also emphasized Ford's commitment to teaching and mentoring students in addition to holding leadership positions with many national organizations.
At ICDS, Ford has served as a leader in promoting the use of data science an high-performance scientific computing at Penn State.
The distinguished professor title recognizes outstanding academic contribution to the University. This special academic title is bestowed upon a limited number of professors who are leaders in their fields of research or creative activity and who have demonstrated significant leadership with respect to teaching, research or creative activity, and service.
Share
Related Posts