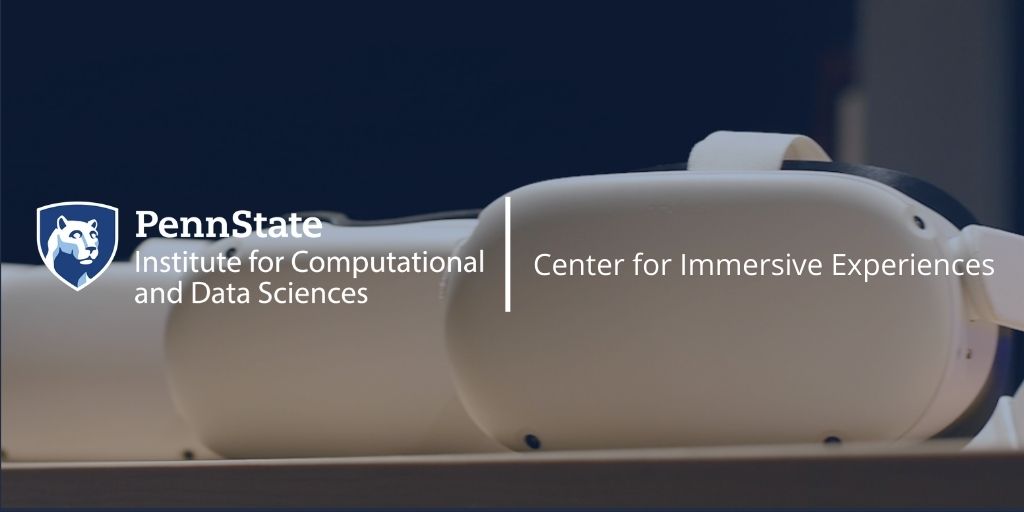 Immersive experiences open up new worlds of teaching, learning and research
Posted on September 14, 2022
UNIVERSITY PARK, Pa. — Immersive, interactive technologies are changing the way we learn, teach and conduct research and the Center for Immersive Experiences — CIE — is helping prepare the Penn State community to take advantage of the opportunities emerging from this brave new virtual world.
CIE is part of the Institute for Computational and Data Science (ICDS) and is in partnership with Teaching and Learning with Technology and the Penn State University Libraries, helps Penn State researchers and educators integrate the latest immersive technologies into the academic spectrum of research, education and outreach, said Patrick Dudas, CIE's interim director and a research and development engineer at ICDS. These immersive technologies include virtual reality, or VR, and augmented reality, or AR. CIE is equipped with the latest VR equipment, such as headsets and goggles that create digital 3-dimensional spaces, as well as devices to access AR, which often relies on special glasses to add digital artifacts, such as characters and objects, to the real world.
Dudas said that the technology also allows researchers a way to collect data that would be impossible to gather in traditional research approaches.
"When it comes to applying research to immersive technologies, we are looking at a new way of collecting data," said Dudas. "We're able to collect more robust data from controlled situations. You're able to go into isolated areas with individuals and collect information about the person — for example, how someone's eyes are moving. It's a new avenue for research."
The CIE team includes about a dozen specialists who help faculty and students navigate immersive technologies. They include user interface specialists, developers, creativity and design experts and research associates.
For Erica Krieger, who is a VR developer with CIE, this combination of immersive experiences and rich data collection means there is no limit to the new worlds that immersive technologies can open up for researchers, teachers and students.
"This technology really helps researchers and educators as far as providing a virtual path to create almost anything you can dream of, and then be able to immediately assess how your students and our research participants interact with that resource," said Krieger.
Virtual buffet, real health
Travis Masterson, assistant professor of nutritional sciences, said that immersive technologies are changing the way he can research issues in diet and nutrition, which can be complex and costly to investigate in the real world.
CIE experts are helping Masterson use VR to study how dining at a buffet line can shape eating behaviors, such as portion sizing. Ultimately, he hopes his work will guide people to making better eating decisions and creating a healthier diet.
"In the real world, you're given lots and lots of options for food in most cases," said Masterson. "And that's where the buffet setting is really cool for nutrition studies because you're presented with lots of foods and then you're making all of these choices. So, you have to make these choices about what types of food you're picking. But, to set something like that up in a laboratory, you'd have to have a full buffet and you'd have to make tons of food, basically, for just one person, and then you throw it all out, which will also cost a lot of money."
VR gives the researchers the ability to collect rich data that would be difficult, if not impossible, to collect in traditional laboratory or field settings.
"We can also automatically integrate path tracking to track where the experiment participants are going in the buffet and actually see what they are looking at," said Masterson. "For example, did they pick up the vegetables first? When did they pick up the vegetable? How long did they interact with the food? So, you can automatically gather these cool behavioral metrics to really understand what's the process that's going on here."
Masterson, who is an ICDS affiliate and the director of the Health, Ingestive Behavior, and Technology Lab, said that VR also has limitations. He added that his collaboration with CIE has helped him understand those limitations, while refining his approach in using immersive technologies for the right reasons, he added.
"They helped determine what questions were best asked and answered using VR, rather than just randomly using this tool," said Masterson. "It's so easy just to use VR because you think it's cool. What they really showed me was don't just do it because it sounds cool, do it because it's going to get at this very specific problem in your field, or in a very niche issue."
For Masterson, the work with CIE, which was backed, in part, by a Social Science Research Institute grant, is already generating research papers and ideas for further funding opportunities.
VR and unlimited outreach
Tom Murphy, co-director of the Marcellus Center for Research and Outreach, is also working with CIE to find new ways to tap immersive technologies for outreach. The center is a Penn State energy education and research initiative dedicated to expanding research, advancing technology and providing science-based programming for energy resources that advance environmental protection, economic stability and energy security.
The technology is helping the center break geographic boundaries so they can reach an array of audiences, from the general public to elected officials who are located across Pennsylvania, in neighboring states and around the world. Recently, Murphy and CIE staff created a way to use immersive technology to tour energy production sites.
"What we tried to do with our immersive VR products is to take the experiences we have at an energy production facility and convey that to the different stakeholder groups that we work with," said Murphy. "What we're trying to do is take them into places that they may never get to by themselves. They might not be able to get there for a variety of different considerations, such as security- or health-related issues or just sheer distance. This is a way to take them out to those locations and immerse them in what these sites look like, so they can make good decisions when they think about energy production going forward."
Creating these experiences probably would not have come about without CIE, said Murphy.
"CIE has been wonderful in terms of bringing together specific expertise to be able to put together, in this case, virtual reality experiences, and then deliver that to our participants," said Murphy. "They're very good about bringing unique expertise in the technologies and then lending that technological expertise so that we can go out and deliver the products. They're also very good about looking at other experiences, other technologies and other techniques that are being used around the globe, bringing them back to Penn State, and offering them to some of the constituencies that we have here in Pennsylvania."
Murphy said his group plans to continue to work with CIE.
"It's an incredible resource and it's one that we will continue to tap and use in our ongoing energy outreach initiatives," said Murphy. "Working with CIE is also something that I would highly advocate with my colleagues that are in the extension field and in the broader outreach efforts within the university system here, as well as some of the other universities with whom we partner on similar efforts. This is a unique product — and it's a very unique center."
You can visit here to meet the CIE team, or contact the team with questions or project ideas, here.
Share
Related Posts