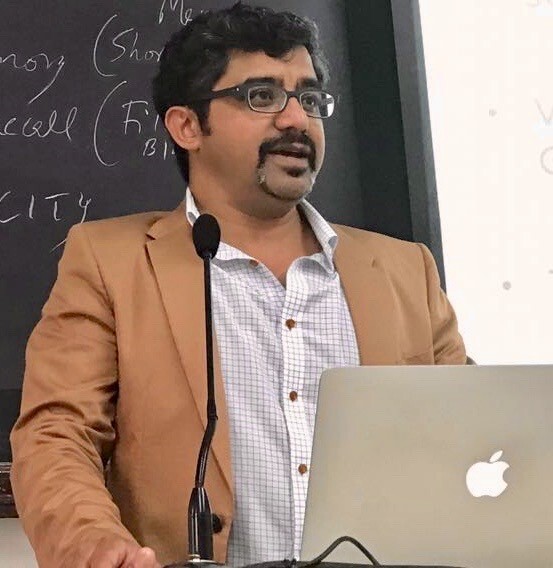 S. Shyam Sundar named director of the Center for Socially Responsible AI
Posted on September 27, 2021
UNIVERSITY PARK, Pa. —  S. Shyam Sundar, James P. Jimirro Professor of Media Effects in the Donald P. Bellisario College of Communications, has been named director of the Penn State Center for Socially Responsible Artificial Intelligence (CSRAI). His appointment became effective Sept. 1.
In this role, Sundar leads the center, which advances the thoughtful development and application of AI and studies its impact on all areas of human endeavor. In addition to supporting research focused explicitly on AI for social good and mitigating threats from its misuse, CSRAI advances Penn State's objective that all AI research and development activities consider social and ethical implications, as well as intended and possible unintended consequences.
"A socially responsible approach to AI should be centrally concerned about human affairs at all levels, from the psychological to the cultural, with a strong emphasis on promoting human values and institutions," said Sundar. "Social, economic and environmental concerns should be the driving forces behind emergent AI technologies, with an emphasis on human welfare. Social responsibility is not simply about social accountability of these technologies, but rather about social consciousness fueling and incubating new AI applications."
"As the center develops our portfolio of socially responsible AI projects, we will be able to make tangible contributions to society and community, in line with Penn State's land-grant mission," Sundar explained. "We will also be able to participate in AI-related policymaking at corporate and governmental levels, thereby furthering the University's contribution to society."
Sundar's research investigates social and psychological effects of interactive media, including mobile phones, social media, chatbots, robots, smart speakers and algorithms. His experiments investigate the role played by technological affordances in shaping user experience of mediated communications in a variety of interfaces. His current research pertains to fake news, chatbots and smart speakers; AI algorithms; online privacy; social media uses and effects; persuasive aspects of human-computer interaction; and the strategic use of communication technologies for motivating healthy and prosocial human behaviors.
"Dr. Sundar is absolutely the right person for this role. He has the interdisciplinary research and leadership record to engage experts across the University and grow the reputation and impact of CSRAI," said Marie Hardin, dean of the Bellisario College of Communications. "The work of this center is incredibly timely and important."
The center, which launched in February 2020, aims to bring together interdisciplinary researchers to explore large-scale projects that use cutting-edge AI tools and are too complex for an individual unit to manage alone.
"As a social scientist, I feel the time is ripe for social concerns to drive research and development of AI technology instead of being relegated to the backseat, as it has been historically," he added. "I am honored to be chosen for this role and am excited to help champion the cause of human-centered AI."
Sundar earned his doctoral and master's degrees in communication. He also holds bachelor's degrees in communication and engineering. His industry experience includes more than eight years as a journalist.
Share
Related Posts