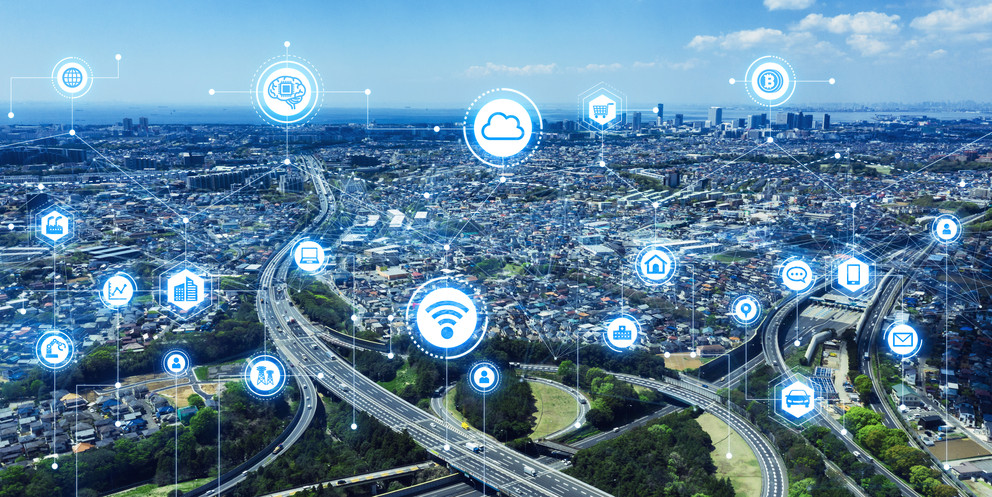 Smart materials could pose solution for big-data bottleneck in future cities
Posted on March 26, 2021
UNIVERSITY PARK, Pa. — In smart cities of the future, sensors distributed throughout buildings and bridges could monitor infrastructure health. Cloud-based computing could decrease traffic with real-time analysis available to commuters. Windows could tint themselves darker on sunny days or lighten to brighten a room on cloudy ones.
None of these innovations, however, can materialize without managing the enormous amounts of data generated by robust sensing networks, according to an interdisciplinary team of Penn State researchers. They published a perspective article on March 19 in Science, highlighting smart materials that can sense environmental changes and respond accordingly — without externally transferring data — as one avenue to avoid this data overload.
Science also released a podcast featuring the work on March 18, outlining the benefits of implementing smart materials in tomorrow's cities, ranging from self-healing concrete structures to building materials that can solve complex equations.
"Since this problem sits at the intersection of materials science, structural health monitoring and computation, collaboration was important from the get-go," said Rebecca Napolitano, assistant professor of architectural engineering, who co-wrote the article.
Napolitano collaborated with Wesley Reinhart, assistant professor of materials science and engineering in the College of Earth and Mineral Sciences, and Juan Pablo Gevaudan, affiliate professor of architectural engineering and Marie Sklodowska-Curie Research Fellow at the University of Leeds.
Napolitano's interest in smart cities began during her graduate studies, when she wondered how historic buildings would be accommodated in cities of the future. Her current research, focused on supporting merging infrastructures via computational methods, led her to collaborate with Gevaudan. He investigates how modern concrete materials degrade to better engineer their response and ability to adapt to certain conditions in new and existing buildings. The two researchers lead the adaptive architecture research area in the Convergence Center for Living Multifunctional Material Systems at Penn State.
Reinhart and Napolitano previously collaborated to investigate building damage at the micro- and macroscales through computation. Reinhart works on metamaterials, which are materials engineered to gain unique properties from their structure, and their potential applications in infrastructure. For example, such a metamaterial could sense the path of the sun and perform a calculation to adjust a solar panel accordingly and optimize the energy stored.
The researchers plan to continue exploring avenues for developing these materials and robust computational methods to optimize them. With further research, according to the researchers, the implementation of smart materials could increase the lifetime of buildings and civil structures, reduce energy consumption and reduce waste from production and use of electronic sensors — all on a citywide scale.
By Gabrielle Stewart, Penn State News
Share
Related Posts