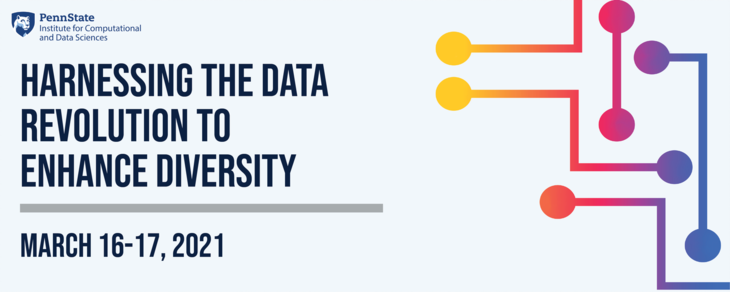 Symposium aimed at leveraging the power of data science for promoting diversity
Posted on February 17, 2021
UNIVERSITY PARK, Pa. — Data science can be a useful tool and powerful ally in enhancing diversity. A group of data scientists are holding "Harnessing the Data Revolution to Enhance Diversity," a symposium aimed at discussing the issues, identifying opportunities and initiating the next steps toward improving equity and diversity in academia at the undergraduate and faculty levels.
The online event, organized by the Institute for Computational and Data Sciences and co-sponsored by the Office of the Vice Provost for Educational Equity and the Center for Social Data Analytics, will be held from 1 to 3:30 p.m. on March 16 and 17, and is scheduled to include 10 30-minute talks and a roundtable discussion. Organizers added that the event is designed to help form new collaborations and identify cutting-edge approaches that can enhance diversity at Penn State and in higher education across the country.
"This symposium will bring together researchers from across the computational and social sciences to explore how we can build more diverse communities of researchers that are sensitive to how computational and data science can shape how diverse populations are impacted by change," said Jenni Evans, professor of meteorology and atmospheric science and ICDS director.
Speakers from across the U.S. will discuss issues ranging from quantifying and contextualizing diversity-related issues to examining approaches that have and haven't worked in academia.
Jeff Adams, associate vice president and associate dean for undergraduate education, Penn State
Richard Arum, dean of the school of education and professor of sociology and education, University of California Irvine
Karly Ford, assistant professor of education, Penn State
KerryAnn O'Meara, professor of higher education and special assistant to the president for strategic initiatives, University of Maryland
Adriane Randolph, professor of information systems, Kennesaw State University
Sarah Rajtmajer, assistant professor of information sciences and technology, Penn State
Mary Murphy, professor of psychological and brain sciences, Indiana University
Tim Renick, professor of religious studies and vice provost and vice president for enrollment management and student success, Georgia State University
Daniel Susser, assistant professor of information sciences and technology, Penn State
Fay Cobb Payton, professor of information technology and business analytics, North Carolina State University
Ed O'Brien, associate professor of chemistry and ICDS co-hire, said data science offers several tools to promote diversity, equity and inclusion.
"This symposium is bringing together diverse academic communities to explore how data science can be utilized to enhance diversity, equity and inclusion," said O'Brien. "Leveraging advances in big data and artificial intelligence holds the promise of complementing and accelerating a range of initiatives in this area."
Some of the topics the speakers and participants will address include how to identify a diversity-related goal, how to quantify and contextualize the challenge of increasing diversity, and analyzing approaches that have and have not worked.
Find out more and register for the symposium at https://icds.psu.edu/diversity.
Share
Related Posts