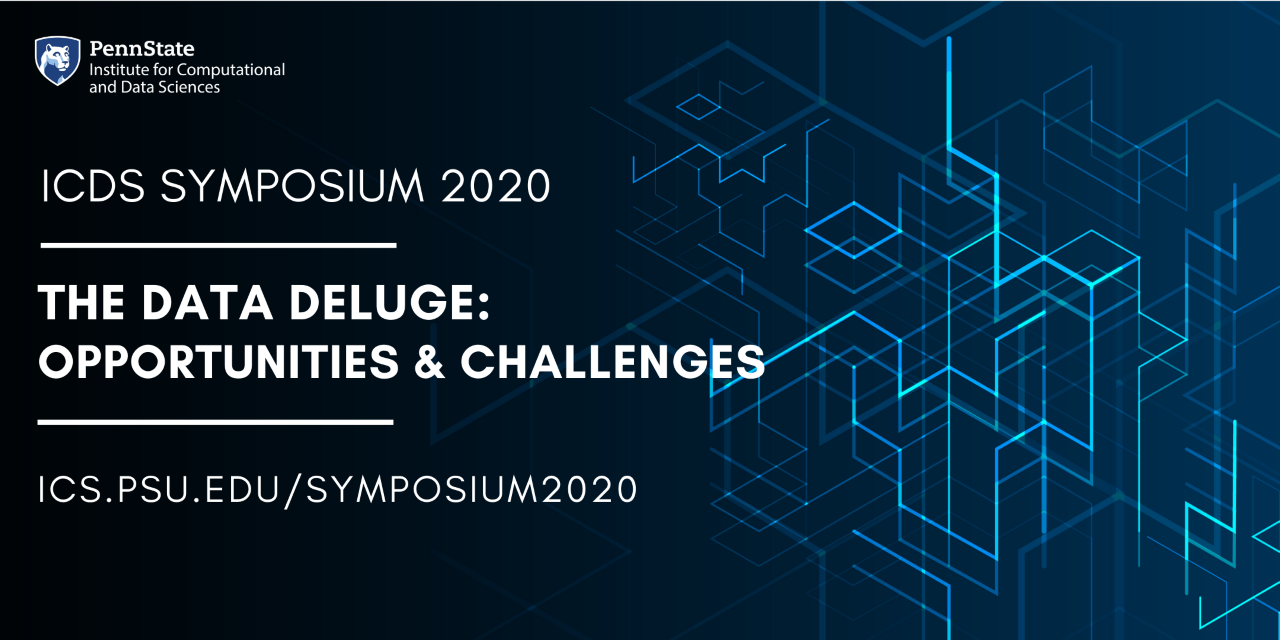 2020 ICDS Symposium to focus on managing — and mastering — the data deluge
Posted on February 4, 2020
UNIVERSITY PARK, Pa. — From probing the mysteries of outer space, and searching for medical treatments, to measuring the effects of social trends, and sealing up harmful privacy breeches, Penn State researchers are both studying the powerful impact of big data on science and society, and using big data to power their own investigations. To help researchers contend with the challenges — and the opportunities — of this data deluge, Penn State's Institute of Computational and Data Sciences (ICDS) is organizing a two-day symposium focused on big data.
The symposium, featuring an interdisciplinary team of speakers and experts, will be held March 16 and 17 at the Nittany Lion Inn on Penn State's University Park campus.
"We organized this symposium not just to help researchers grapple with the considerable challenges of big data — or the data deluge, as it has been called — but we also want to call attention to the enormous opportunities that this data can offer scholars engaged in interdisciplinary research on science and society's biggest questions," said Jenni Evans, professor of meteorology and atmospheric science and ICDS director.
The symposium will feature renowned experts in their fields who will speak about the latest research, and who will join in on panel discussions designed to encourage conversations and collaborations. Scheduled panel sessions include data, agriculture, and food supply; AI and intelligent manufacturing; information manipulation, democracy and geo-political order; and data and genetics.
"The format of this symposium gives us the ability to bring together the collective expertise of the Penn State research community to inform and discuss, as well as to foster partnerships," Evans added.
The event kicks off on the evening of March 16 and will continue all day on March 17. An industry night will be held on March 16 that will feature lightning talks to give faculty members a chance to discuss their research ideas with industry and academic leaders.
Two keynote speakers are scheduled to speak: Shantenu Jha, chair of Computational Sciences Research Activities at Brookhaven National Laboratories; and Chaitan Baru, senior science adviser in the Office of Integrative Activities, Office of the Director, at the National Science Foundation.
Jha has collaborated with scientists from multiple domains, including the molecular and earth sciences, and high-energy physics. His research interests lie at the intersection of high-performance and distributed computing, computational science, and cyberinfrastructure.
Baru has led or has co-led a number of data cyberinfrastructure initiatives, including as principal Investigator of the OpenTopography project; cyberinfrastructure lead of the Tropical Ecology, Assessment and Monitoring network; and co-investigator of the Cyberinfrastructure for Comparative Effectiveness Research project.
To promote interdisciplinary collaborations, planners have also scheduled faculty-led discussions on their research interests. Topics include the Internet of Things and sensors; artificial intelligence (AI) and materials discovery; data and societal resilience; weather and the climate; synthesis, data visualization and data organization; data and education; and data validation and integrity.
Pre-seed funding will be available to help initiate research ideas that attendees have developed at the symposium.
A poster session will be held during the symposium. Top prize for the poster competition will be $500 and the second-place prize will include a $200 cash award.
Faculty, students, staff, and industry and funding agency representatives, are welcome to attend.
To learn more about the symposium or to register, please see ICDS 2020 Symoposium event page.
Share
Related Posts