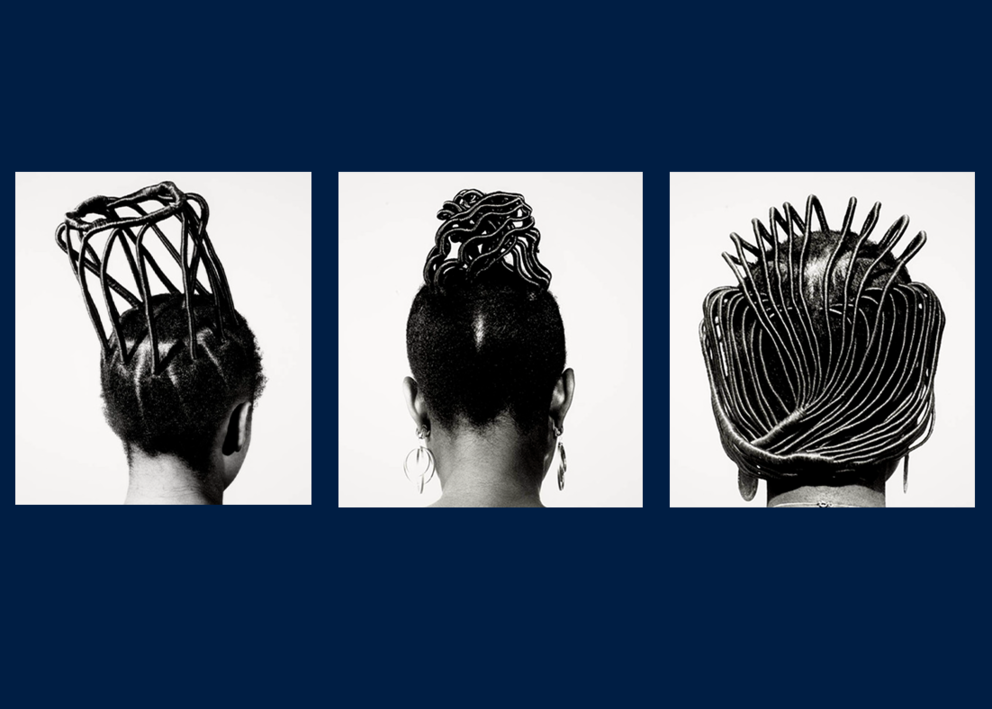 Black hairstyles will inspire innovative building materials in new research
Posted on July 12, 2021
UNIVERSITY PARK, Pa. — Natural Black hair texture and styling practices – such a braiding, locking and crocheting – will help inspire and generate novel building materials and architecture structures using computational design processes in new research funded by the prestigious Graham Foundation.
The team of researchers includes Felecia Davis, associate professor of architecture and director of the Computational Textiles Lab (SOFTLAB) in the Stuckeman Center for Design Computing at Penn State, as well as researchers from four other universities.
Titled "Hair Salon: Translating Black Hair Practices for Architecture Using Computational Methods," the team's research project draws from the rich culture and history of African Americans to imagine transformative built environments. According to the proposal, "Very little of African material culture survived the transatlantic slave; [however] Black hair textures and styles are one of the most enduring signifiers of Black identity in the United States."
According to Davis — who is also the principal of FELECIA DAVIS STUDIO — the project developed during weekly conversations she had with Sheryl Tucker de Vazquez, associate professor at the University of Houston and principal of Tucker De Vazquez architecture, during the summer of 2020 about how to translate the ideas of textiles and using textiles for architectural applications. Davis and Tucker de Vazquez — as well as remaining team members Marcella Del Signore, associate professor in the School of Architecture and Design at New York Institute of Technology and principal of X-Topia; and William Williams, Smith Visiting Professor at Rice University School of Architecture and associate professor in the College of Design, Architecture, Art and Planning at the University of Cincinnati — have all been developing architectural and full-scale works using textiles.
"Hair braiding, locking and crocheting are rule-based practices, not unlike the rule-based language of computer algorithms," said Davis. "Drawings, photographs and video demonstrations from a hair-braiding workshop will be used to translate hair structures and processes into a shape grammar and Rhino Python scripts."
A shape grammar, she explains, is an accessible visual computational grammar that has been used to preserve traditional making practices and can be used to develop a material or fabric that can create architectural space. Rhino Python programming will then be used to develop hair or textile-based structures in code to 3D print "imaginary liberatory" architectural structures.
One of the numerous contributions of the Hair Salon project is demonstrating the richness of Black cultural practices and engendering conversations about Blackness, identity and architecture.
"We are so pleased that the Graham Foundation is supporting this work, which is not traditional architectural work or scholarship, and creates new territory for architectural design," said Davis. "We want to generate and expand the conversation about Black culture, its relationship to technology and architectural design and concepts of translation and meaning making."
Davis said she hopes they can inspire other architects and those interested in Black culture and in the African Diaspora to make their own contributions.
"In this time of re-thinking what architecture can be, we want this work to support other generations of architects who will be — and who already are — remaking the world in which we live," Davis said.
Documentation of the team's process will be featured in an exhibition both online and at the Project Row Houses, a development in the Third Ward area of Houston that engages neighbors, artists and enterprises in collective creative action to help materialize sustainable opportunities in marginalized communities.
The Graham Foundation for Advanced Studies in the Fine Arts was founded in 1956 and "fosters the development and exchange of diverse and challenging ideas about architecture and its role in the arts, culture and society." The foundation realizes this vision through making project-based grants to individuals and organizations that investigate the contemporary condition, expand historical perspectives, or explore the future of architecture and the designed environment, and by producing exhibitions, events and publications.
A full compilation of projects funded by the Graham Foundation this year can be found via grahamfoundation.org/grantees.
Davis is an Institute for Computational and Data Sciences affiliate.
— From Penn State News
Share
Related Posts