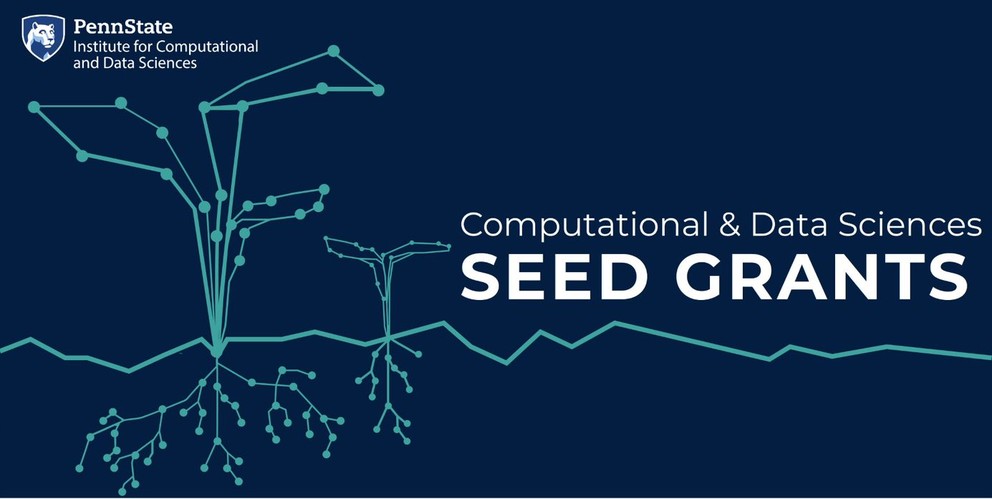 Institute awards 14 computational and data sciences seed grants
Posted on June 2, 2021
Institute for Computational and Data Sciences seed grants help scientists use AI and cutting-edge technology to power interdisciplinary research innovations
UNIVERSITY PARK, Pa. — From making our roads safer to paving the way to exoplanet discovery, the Institute for Computational and Data Sciences (ICDS) seed grants have funded 14 projects backed by researchers from across the disciplines and around the University. The 2021-22 ICDS seed grant program is designed to help scientists use the latest computational technology and cutting-edge data science techniques to deepen understanding and develop innovation across fields and disciplines.
ICDS received a total of 28 applications. Approximately 22 researchers will work on the 14 funded projects, including ones from six colleges, an institute and a Commonwealth Campus.
The ICDS seed grants are aimed at helping Penn State researchers who are using data science and computational science to explore complex scientific challenges and address profound societal problems. The seed grants are designed to offer initial funding for projects headed by investigators who plan to seek major external grants.
This year's seed grants sought to fund projects focused on:
Scientific artificial intelligence (AI)
Innovative advanced data and computational infrastructure building blocks for next-generation AI
Design principles for socially responsible AI and data science
Data science and diversity
The following is a full list of awarded projects and the principal investigators (PIs):
— Nathan Brown, assistant professor of architectural engineering, for "Implementation of Machine Learning for Analysis and Reverse Form-Finding of Architectural Knitted Textiles"
— Ian Czekala, assistant professor in the Astronomy and Astrophysics Department, for "Variational Autoencoders for Image Reconstruction of Protoplanetary Disks"
— Vikash Gayah, associate professor of civil and environmental engineering, for "Interpretable Machine Learning Methods for Road Crash Frequency Prediction"
—S. Ilgin Guler, assistant professor of civil and environmental engineering, for "An AI-based, Data-driven Approach to Predict Infrastructure Condition from Multi-sensory Nondestructive Evaluation Data"
— Yuqing Hu, assistant professor of architectural engineering, for "A Graph-based Knowledge Management System for Promoting Artificial Intelligence Applications in Building Design"
— Hae-Won Kim, associate professor of chemistry, Penn State Abington, "A Novel Machine Learning approach to Accelerate Diffusion quantum Monte Carlo Calculations"
— Yashar Mehmani, assistant professor of energy and mineral engineering, for "Using AI to Map Infrared Spectra to Geomechanical Properties from the Micron to Meter Scale"
— Ali Memari, professor, Bernard and Henrietta Hankin Chair in Residential Building Construction and Director of the Pennsylvania Housing Research Center, for "Framework for Application of Machine Learning in Multi-Objective Design Optimization of Coastal Residential Buildings Under Multiple Natural Hazards"
— Bing Pan, associate professor of commercial recreation and tourism, for "Visitor Impact Monitoring in National Parks through Crowdsourced Data and Machine Learning"
— Hilal Ezgi Toraman, Virginia S. and Philip L. Walker Jr. Faculty Fellow and assistant professor of energy engineering and chemical engineering, for "Development of Data Mining Tools and an Open Source Web-Based Data Platform to Support the Sustainable Development of Plastic Recycling"
— Shujie Wang, assistant professor of geography, for "Harnessing Artificial Intelligence to Model the Linkages between Microalgae, Ice Sheets, and Climate"
— Steven Xing, assistant research professor, Social Science Research Institute (SSRI), for "A Bayesian Latent Cluster Spatio-temporal Analysis of Maternal Opioid Misuse in PA"
— Yi Yang, assistant professor of computer science and electrical engineering, Penn State Abington, "Integrating Artificial Intelligence and Optical Coherent Tomography Data for Art Conservation Applications"
— Junjun Yin, assistant research professor, Social Science Research Institute (SSRI) for "A Deep Learning-enabled Dasymetric Mapping Approach for Fine-Scale Population Estimation in Alaska"
In 2020, ICDS funded 32 projects, which also received backing through supplemental funds from colleges. The ICDS seed grant program began in 2016. The institute typically solicits proposals during the fall semester.
Share
Related Posts