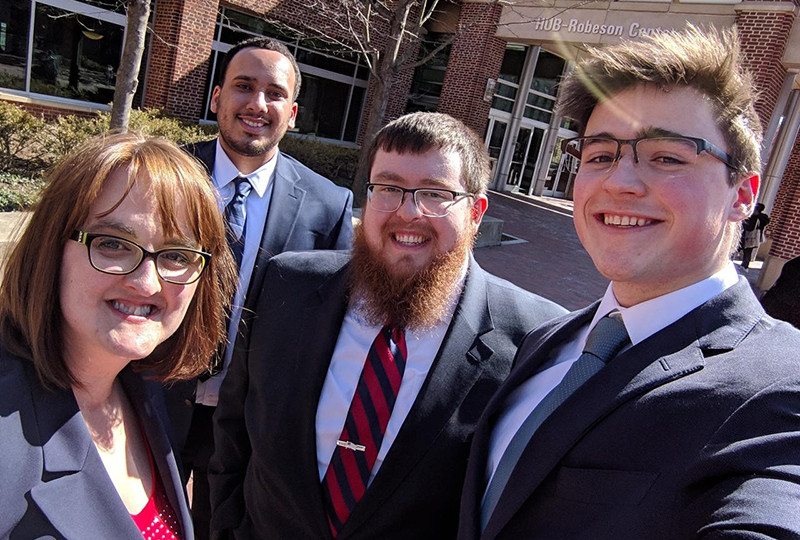 Penn State Berks team advances to MVP Phase of Nittany AI Challenge
Posted on April 11, 2019
WYOMISSING, Pa. — The Penn State Berks Resilient Resumes team was one of 10 finalists in the Prototype Phase of the Nittany AI Challenge at Penn State's University Park campus on April 3. The team has advanced to the MVP (Minimum Viable Product) Phase of the challenge and received $1,500 to further develop its product for the final phase of the competition on Sept. 10.
The Resilient Resumes team is comprised of project lead Amie Croteau, a junior majoring in information sciences and technology (IST); Ethan Adams, a junior with a double major in IST and security and risk analysis (SRA); and Ian Morrissey, a junior majoring in SRA and minoring in IST, all students at Penn State Berks. They are joined by Bryan Cruz, a junior majoring in computer science at Penn State Harrisburg. Faculty advisers are Abdullah Konak, professor of IST, and Yuan Xue, assistant professor of IST, both from Penn State Berks.
To enter the challenge, teams were asked to submit solutions using the artificial intelligence platform of their choosing to address real-world problems facing students at the University. Appropriately named Resilient Resumes, the team has developed a web application designed to walk the user through the resume-creation process, asking guided questions to make sure that all necessary information has been included. Then the resume will be analyzed utilizing artificial intelligence and the application will output recommendations to help the user improve various features in the resume.
"The idea came about from brainstorming [for the Nittany AI Challenge] and frankly frustration from trying to get an internship," explained Croteau. "I'm a nontraditional student, so my resume looked very different. I wanted it to be really good before I sat down with Career Services.
"We wanted to create a tool that can give students feedback immediately after writing their resume and confidence when they are applying for an internship or job. That's where Resilient Resumes was born."
Adams, the machine learning lead for the project, commented on advancing to the MVP phase of the Challenge.
"As our team is moving on to create a minimum viable product by September for the third phase of the challenge, we are buckling down to work on the implementation of our artificial intelligence model and our data gathering during the summer," Adams said.
Penn State student teams submitted more than 63 proposals during the Idea Phase of the 2019 Nittany AI Challenge. Twenty of those teams were selected by a panel of judges to receive $500 from the Nittany AI Alliance to move their idea forward and develop a prototype. Each of the teams receiving prize money was then required to submit a prototype of their original proposed project on April 3. Up to 10 prototype submissions were awarded $1,500 prizes to further support the development of a minimum viable product for the third phase of the challenge.
Teams submitting a MVP will be eligible to receive a prize from a pool of $25,000 to incentivize and support the continued development, application, and/or commercialization of their solution. Prizes in this phase vary, not exceeding $25,000 based on need, potential and quality of the MVPs. Funds awarded during this phase will be tied to the advancement of the project, with criteria for distribution established jointly by the Nittany AI Alliance and the winning team(s).
Professor Konak explained the value of this project to students.
"Artificial intelligence and machine learning technologies are changing the world in a way that we have not seen since the widespread use of the internet," said Konak. "There is a tremendous interest in these technologies among our students. With this project and some other initiatives at Penn State Berks, we aim to create research-based experiential learning experiences for our students."
This initiative is supported by the Frederick H. and Austra Gaige Fund to Support Innovation and an Institute of Computational and Data Sciences Seed Grant.
Share
Related Posts