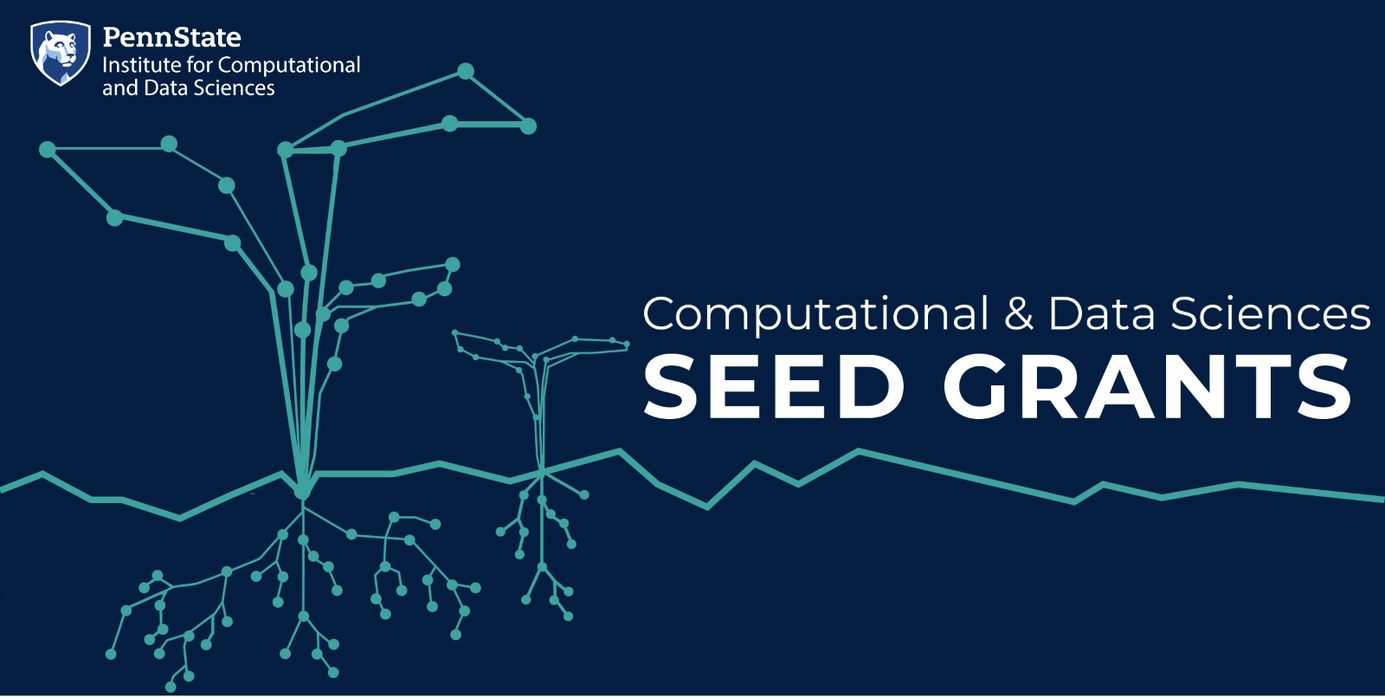 Researchers encouraged to apply for ICDS's 2021-2022 Seed Grant Program
Posted on December 14, 2020
Program seeks to fund transformative research projects using AI to accelerate scientific discovery
UNIVERSITY PARK, Pa. — The Institute for Computational and Data Sciences (ICDS) is accepting applications for its 2021-22 seed grant program aimed at funding projects that can leverage artificial intelligence — AI — to advance transformative research, as well as use the technology to enhance the process of scientific discovery itself.
Applications will be accepted now through Feb. 1, 2021. You can submit your applications here.
According to Jenni Evans, professor of meteorology and atmospheric science and director of the Institute for Computational and Data Sciences, the seed grants provide the initial boost of investment to support interdisciplinary research groups to develop the ground work needed for seeking major external research awards. Additional grants are available to support the organization of national or international research conferences, held at Penn State, that strengthen and encourage computation- and data-enabled interdisciplinary research.
"The ICDS Seed Grant program has funded innovative interdisciplinary research to creatively tackle challenges that face science and society," said Evans. "This year we will be predominantly focusing on several key areas, including exploring scientific AI, applying transformative applications of scientific AI in the real world, building the infrastructure necessary for next generation AI and leveraging data science for diversity. A small pool of funds will also be available to support new interdisciplinary research collaborations with colleagues at Monash University (Australia). Details of the relevant thematic areas are available on the seed grant website."
This year's program will seek to fund projects in the following categories:
Scientific AI. This category includes novel AI methods and tools for accelerating one or more critical steps in scientific discovery, including generating and ranking hypotheses, integrating data across modalities and scales, integrating models, assimilating data, constructing and refining predictive, mechanistic, and causal models, optimizing experiments and explaining models
Transformative applications of scientific AI in the biomedical and health sciences, cognitive and brain sciences, life sciences, physical sciences, material sciences, climate sciences and related disciplines.
Innovative advanced data and computational infrastructure building blocks for next generation AI, and AI for optimizing next generation scientific data and computational infrastructure.
Design principles for socially responsible AI and data science, including approaches to ethical, accountable, fair, transparent, just use of AI and data science.
Data Science and Diversity
Projects can originate from tenured, tenure-track, or research faculty; however, either the PI or Co-PI must be a tenured or tenure-track faculty. Recipients, either PI or Co-PI, of the last year's seed grant are not eligible for funding under this solicitation. Students and postdocs cannot serve as PIs or Co-PIs.
The awards, which typically range from nearly $3,000 to $35,000, will support researchers doing innovative interdisciplinary work in these areas.
In 2020, ICDS funded 32 projects, awarding more than $650,000. Including supplemental funds from colleges, the 32 projects received $725,893.00 in support. These interdisciplinary projects — spearheaded by 57 researchers from 12 Penn State colleges and 31 academic departments, as well as the Applied Research Laboratory — include: advancing deep learning, using AI to understand and counteract the polarization of politic opinion, investigating Arctic sea ice prediction and leveraging machine learning to accelerate quantum computing.
The ICDS seed grant program began in 2016.
Successful seed grant projects should be announced late spring 2021 and projects can start as early as Summer 2021.
For more information, please visit the ICDS seed grant website.
Share
Related Posts