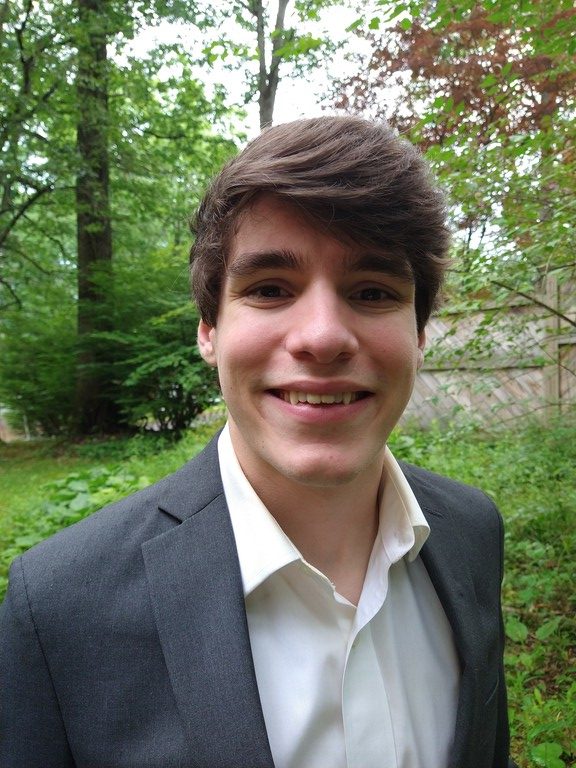 Student creates software solutions to help users be more efficient
Posted on July 6, 2021
UNIVERSITY PARK, Pa. — While growing up in State College, Jason Nucciarone always felt a part of Penn State. Much of that had to do with his dad, a Penn State alumnus and former cybersecurity engineer for the Applied Research Lab who currently works as a research and development engineer with the University.
Although Nucciarone knew he wanted to follow in his dad's footsteps, he had no idea where to start. He initially enrolled in the computer engineering program, but after reading an article about a new major at Penn State, he discovered human-centered design and development (HCDD) in the College of Information Sciences and Technology.
"I decided to meet with an IST adviser, and they introduced me to HCDD and I just felt that it was definitely the major for me," said Nucciarone, now a senior. "It was what I had been looking for with that social aspect of technology where instead of solution-first thinking I could focus on learn how to apply technology (to a specific problem)."
When the coronavirus pandemic paused business flow in the local community last spring, Nucciarone wanted to use the skills he gained through the HCDD program to make a difference. As part of a class assignment, he and his team conceptualized two apps: one to help college students purchase dorm supplies through an interactive form where they can search for products based on preferences such as cost, color and brand name; and another that allows users to rate how well local businesses follow COVID-19 guidelines, enabling to provide a safety score and share their experiences with masks and social distancing guidelines at those businesses.
"I'm always striving to help people be more efficient and getting their tasks done," said Nucciarone. "The impact is that it makes it a lot less tedious to get the help they need."
Nucciarone had the opportunity to further hone his skills through a part-time position with the Penn State Institute for Computational and Data Sciences, where he works as a high-performance computing software consultant. In this role, he helps users install and compile software, debug their computer code and build containers to be used with web applications. He has also learned how to fix many issues that users have on their computers. Tools and programs, such as TensorFlow, Docker, and Anaconda, have broadened his perspective in the world of human-computer interaction to where he felt more comfortable in his work.
"My time working with ICDS and pursuing my studies in the College of IST has really helped me become more confident in my own skills and more comfortable with the modern tooling that's out there," he said.
But perhaps the most influential part of his work with ICDS is his exposure to the University's Roar supercomputer, which provides secure, high-quality advanced computing and storage resources for the Penn State research community. After witnessing some computational issues that users of that system experienced, Nucciarone was inspired to develop a concept for a Roar chatbot as part of a class assignment.
With a chatbot, users could be able to easily find information without having to go through a lengthy process to find relevant documentation, he said.
"The resources are there for users to learn how to use it, it's just they have to go out and search for them first," said Nucciarone. "But if you don't know what to search for, then you're not going to find it."
This summer, Nucciarone is working with Florida International University in conjunction with the Department of Defense and the National Science Foundation in a 10-week Research Experience for Undergraduates program researching for ways to optimally manipulate data so that deep learning neural networks can be better protected against malicious users and adversarial data.
After he graduates next year, Nucciarone plans to pursue his doctoral degree in human computer interaction or informatics because he wants to advocate for user-friendly experiences with an emphasis on understanding how people approach computers. He thanked the College of IST for the support in his research, education and experience.
Concluded Nucciarone, "I realized at that my degree is not just me, it's the people like around me and the people who put in the time and effort to see me succeed."
Share
Related Posts