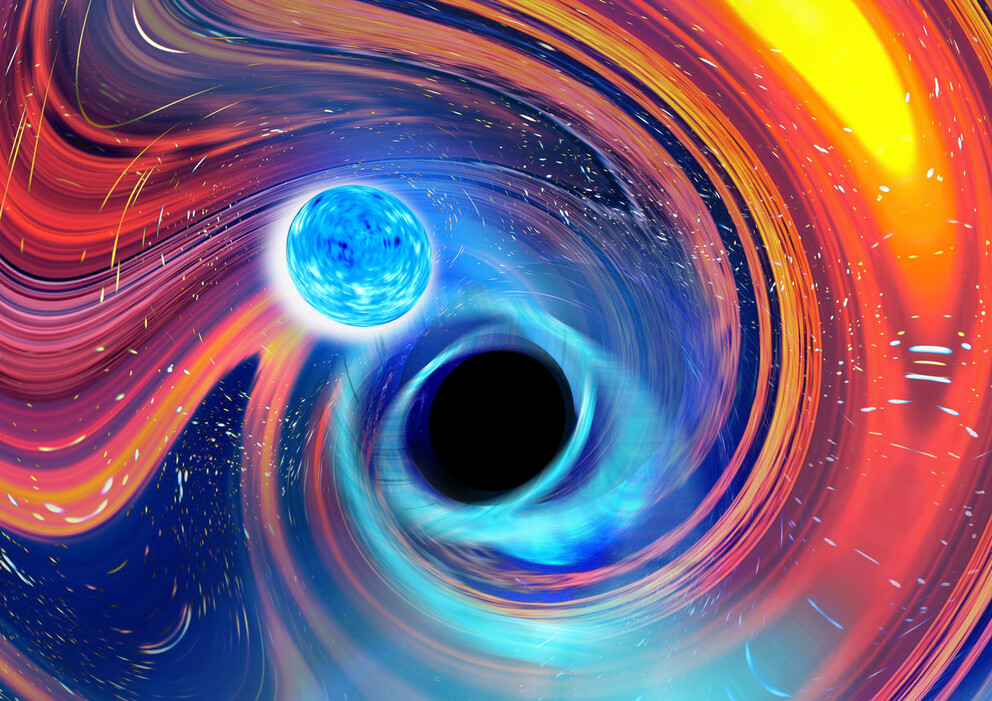 Elusive mergers of black holes with neutron stars confirmed for first time
Posted on June 30, 2021
UNIVERSITY PARK, Pa. — For the first time, researchers have confirmed the detection of a collision between a black hole and a neutron star. In fact, the research team, which includes scientists from Penn State, detected not one but two such events occurring just 10 days apart in January 2020. The extreme events made splashes in space that sent gravitational waves rippling across at least 900 million light-years to reach Earth. In each case, the neutron star was likely swallowed whole by its black-hole partner.
Gravitational waves are disturbances in the curvature of space-time created by massive objects in motion. During the five years since the waves were first measured, a finding that led to the 2017 Nobel Prize in Physics, researchers have identified more than 50 gravitational-wave signals from the merging of pairs of black holes and of pairs of neutron stars. Both black holes and neutron stars are the corpses of massive stars, with black holes being even more massive than neutron stars.
Now, in a new study, scientists have announced the detection of gravitational waves from two rare events, each involving the collision of a black hole and a neutron star. The gravitational waves were detected by the National Science Foundation's (NSF's) Laser Interferometer Gravitational-Wave Observatory (LIGO) in the United States and by the Virgo detector in Italy. The KAGRA detector in Japan, joined the LIGO-Virgo network in 2020, but was not online during these detections.
"With this new discovery, not only are we filling the missing piece for the zoo of compact object binaries, but also we can now study how many of such systems exist in the universe, where they have been formed and how often they merge," said Leo Tsukada, a postdoctoral scholar at Penn State and a LIGO team member.
Share
Related Posts