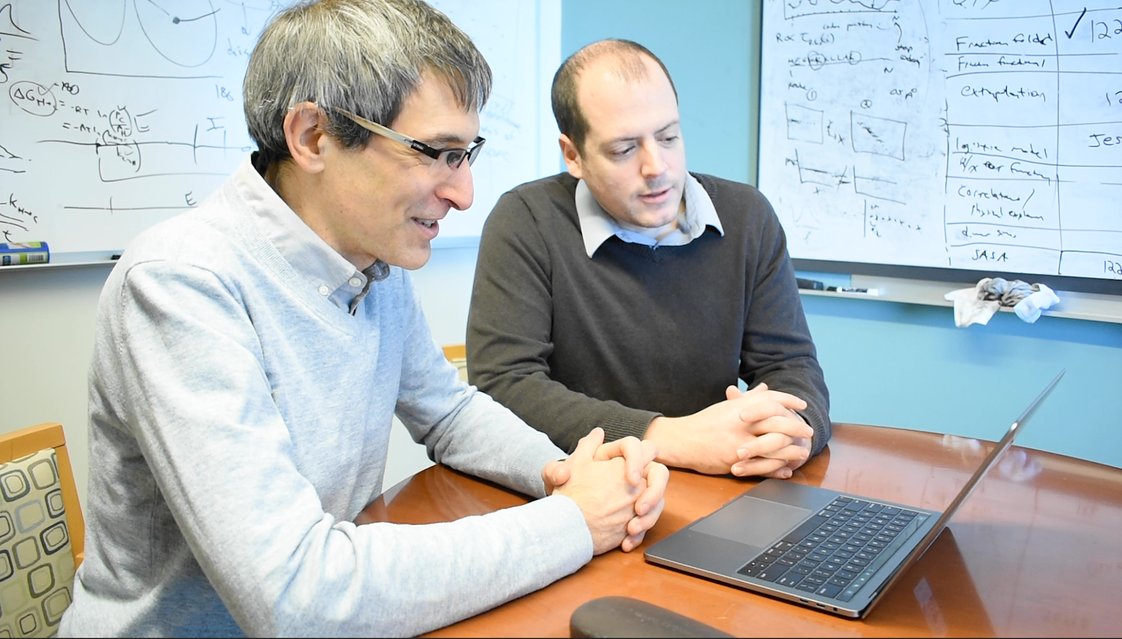 Grant to help researchers augment their teams with computational experts
Posted on October 6, 2020
National Science Foundation grant worth $1.4 million to boost scientific discovery across University, create a seed grant program
UNIVERSITY PARK, Pa. — In today's lightning-fast interdisciplinary research environment, computational expertise is no longer a luxury. It's often a necessity.
A $1.4 million grant from the National Science Foundation, awarded to Chad Hanna, associate professor of physics and astronomy & astrophysics, Edward O'Brien, associate professor of chemistry and Jenni Evans, professor of meteorology and atmospheric science and director of the Institute for Computational and Data Sciences, will extend the reach of Penn State's Institute for Computational and Data Sciences' expertise across the University.
"The three-year program is designed to boost scientific discovery across Penn State's 24 campuses by providing them with access to ICDS's Research Innovations with Scientists and Engineers (RISE) team," said Evans.
Hanna said that the program will also offer ways for researchers to tap into the RISE-team expertise.
"In part, this award will fund the creation of a seed grant program," said Hanna. "The program will allow researchers to request allotments of RISE-team time to help with software development, data management and general scientific computing consultation."
He added that the first proposals for the seed grant program will be solicited later this fall.
Additionally, the National Science Foundation grant "will also pave the way for several training experiences, which not only include seminars for Penn State Faculty, Students and Staff, but will also include summer camps on data science for high school students," said O'Brien.
The RISE team is composed of researchers who have deep interdisciplinary knowledge and extensive experience helping scientists with big data projects and machine learning techniques for research. The skills and knowledge that RISE brings to projects can be the very gaps in knowledge on research teams," Evans added, making the RISE team approach a model that potentially will lead to more efficient and more cost-effective scientific discovery.
"Not every research group can hire a computational scientist for their team, but because we already have the expertise of a team of computational and cyberinfrastructure researchers in house, who have been helping dozens of researchers throughout the university, his new grant will allow us to extend that expertise even further, said Evans. "Because the RISE team members have a thorough understanding of computational science, this investment will pay substantial dividends in increased productivity, leaner research and educational enterprises, and new insights into science's biggest challenges."
RISE members will partner with campus-level cyberinfrastructure experts, domain scientists, research groups and educators to accomplish their goals.
"We are confident that this program will provide new pathways to discovery, offer scientists a more efficient way to conduct their investigations and open up new possibilities for teams to fund their projects," said Evans.
Share
Related Posts