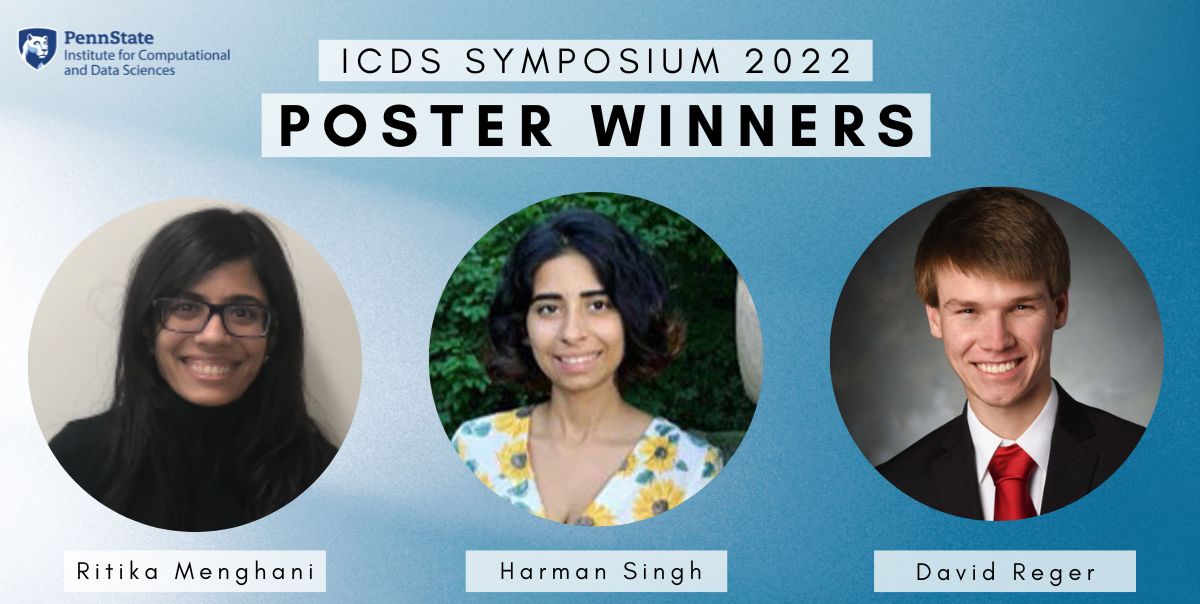 Institute for Computational and Data Sciences declares poster session winners
Posted on November 30, 2022
UNIVERSITY PARK, Pa. — Penn State's Institute for Computational and Data Sciences announced the winners for the 2022 ICDS Symposium's poster session and lighting talks.
The winning submissions covered research on analyzing traumatic brain injury, understanding the media's role in shaping discussions on water infrastructure and investigating the use of pebble fuels for nuclear power.
Winning submissions include:
Analyzing Traumatic Brain Injury
Ritika Menghani, a doctoral student in mechanical engineering, won first place for best lightning talk. Menghani discussed her research on a brain simulation research platform that could help millions of Americans who may sustain traumatic brain injuries. Menghani and her research team developed a brain modeling platform that can use data collected by instrumented mouthguard sensors to predict brain tissue strain and other brain injury metrics. Her team included her colleague, Anil Das, and her adviser, Reuben Kraft, associate professor of mechanical engineering.
How Media Influences Discussion on Water Infrastructure
Harman Singh, a graduate student in geography, was one of the poster competition winners for her research on how news reporting on water infrastructure development both reflects and influences public opinion. The work is important because the need for large-scale infrastructure is on the rise globally and learning how opinions have been shaped in the past decade and how they are being shaped moving forward could lead to better decision-making. The researchers used LDA Topic Modeling to analyze topics, themes, and their prevalence in Indian English language news media.
Singh worked with Matt Hansen, ICDS research and development engineer and Trevor Birkenholtz, associate professor of geography.
Nuclear Power with Pebble Fuel
David Reger, doctoral student in nuclear engineering, was named a winner of the poster competition for a research poster that explored the use of computer simulations to better understand next-generation nuclear reactors that rely on pebble fuel. The fuel in these systems is contained graphite spheres that are embedded with specially designed fuel particles, rather than fuel pins and rods. Pebble fuel-based designs are considered smaller, modular and safer than other designs.
Reger worked with Elia Merzari, associate professor of nuclear engineering, Penn State and ICDS associate.
The poster session was held the first night of ICDS's recent annual symposium.
IBM and Dell, both platinum-level sponsors of the symposium, provided the poster session prizes.
Share
Related Posts