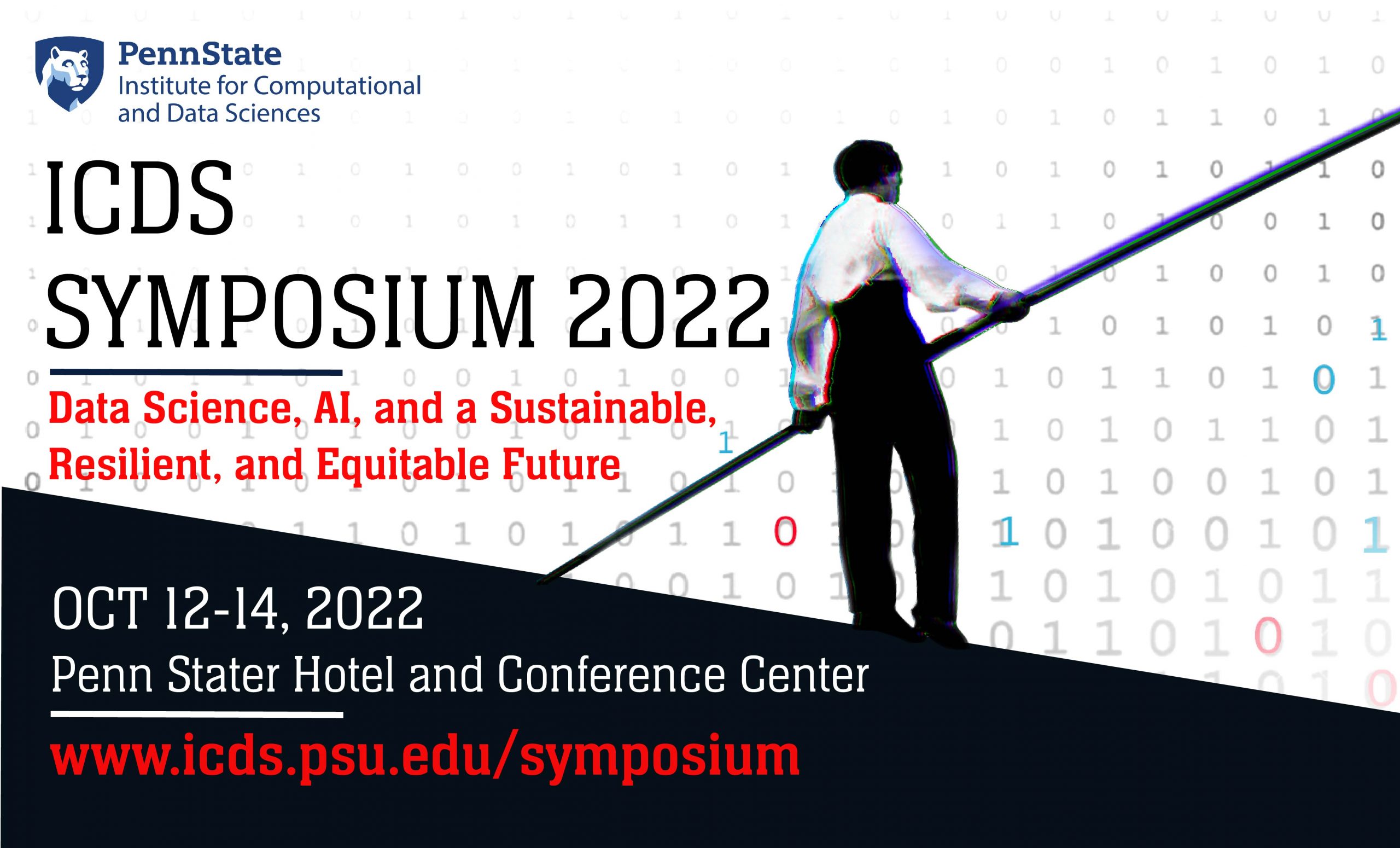 Institute for Computational and Data Sciences opens 2022 Symposium registration
Posted on September 1, 2022
UNIVERSITY PARK, Pa. — Penn State's Institute for Computational and Data Sciences (ICDS) announced the opening of registration for its fall symposium aimed at exploring the role data science and artificial intelligence (AI) plays in creating a sustainable, resilient and equitable future.
The symposium will bring together a community of researchers, students, scholars, industry representatives and governmental representatives to discuss forging strategies to ensure that data science and AI will promote resiliency, sustainability and equity across the world. The event starts with an evening social on Wednesday, Oct. 12. A full day of discussions and talks will take place on Thursday, Oct. 13, and the event wraps up on Friday, Oct. 14, with a morning of continued discussion and networking.
Transformation — and disruption
According to organizers, data science and AI advances have led to new scientific discoveries and transformative applications that touch almost every aspect of our lives now. However, algorithmic and data-centered techniques may indirectly lead to undesirable solutions such as implicit bias, unfairness, or opaque results, which could in turn have a negative impact on society.
The symposium will cover both the positive and negative disruptive power of AI and data science in order to build a community of researchers aligned with the mission to maximize the technology's potential while mitigating its harm.
ICDS symposium participants will have the chance to:
Connect with an interdisciplinary community of scholars interested understanding the complexities and ethics of using AI and data science for a variety of applications.
Discover new developments in AI and data science methods and how they are being applied.
Discuss possible frameworks to govern AI and data science.
Network and find potential collaborators from across the University.
Learn about the future of AI and data science from the perspective of Penn State's industry partners.
Learn about the future direction of ICDS's data science and AI-related initiatives.
Discover new research being conducted at Penn State at the symposium's student poster session.
The symposium will also host a judged, industry-sponsored poster session for undergraduate and graduate students working in data science or AI. Two cash prizes will be awarded for the two best posters, courtesy of ICDS Symposium sponsors. Student poster submissions are due by Sept. 23.
The symposium's organizing committee includes:
Keynote and panel discussions
The fall symposium will feature two keynote speakers. The first speaker will be danah boyd (stylized in lowercase), who is a Partner Researcher at Microsoft Research and the founder of Data & Society. Sorelle Friedler, an associate professor of computer science, Haverford College and the assistant director for data and democracy in the White House Office of Science and Technology Policy, will also serve as a keynote speaker.
Throughout the event, speakers and panel discussions will cover an array of issues and insights surrounding AI and ML use in society, including:
AI/ML for Prediction and Mitigation of Natural Disasters
AI Governance Frameworks: Challenges and Opportunities for Equity
Responsible AI & AI Bill of Rights
The Future of Compute
Stay up-to-date on new speakers and panel sessions on the ICDS Fall Symposium site.
To register, go to the ICDS Symposium registration website.
Share
Related Posts