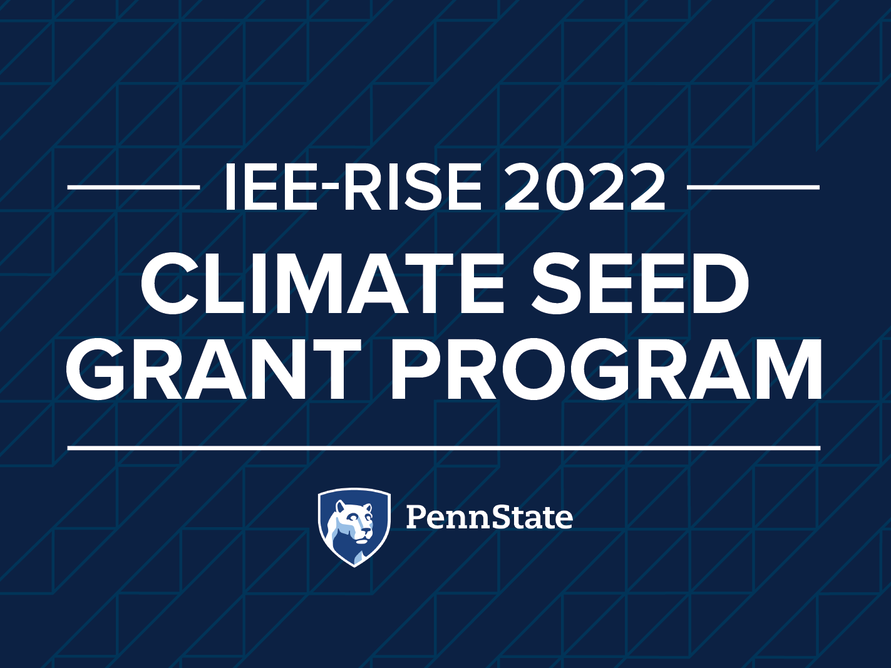 IEE, ICDS partner on seed grants to promote computational climate research
Posted on June 17, 2022
UNIVERSITY PARK, Pa. — The Institutes of Energy and the Environment (IEE) and the Institute for Computational and Data Sciences' (ICDS) Research Innovations with Scientists and Engineers (RISE) team are working together to use computational power and human expertise to support research projects that can help create solutions affecting the climate and environment.
Penn State faculty investigating the climate are encouraged to apply for the IEE-RISE 2022 Climate Seed Grant Program to receive consulting time from RISE. The RISE team is a group of computational scientists and software engineers who specialize in assisting Penn State investigators enhance or build research programs that require computing, programming, data management, data visualization/exploration, or workflow support. The deadline is Aug, 5.
According to Erica Smithwick, distinguished professor of geography and IEE associate director, the goal of the IEE-RISE 2022 Seed Grant Program is to facilitate transdisciplinary climate research.
"Climate research is increasingly relying on the use of vast computational resources and data science expertise," said Smithwick. "Our goal for this program is to build the computational and data science support that is necessary to undertake research projects that make climate-related data and data products more available and relevant to the research communities that are carrying out this important work. Through these projects, we hope to promote interdisciplinary research that uses climate science data in innovative and applied ways, from discovery to decisions to impact."
Proposals can support new or existing research programs that seek to: increase research discovery, impact, or creative scholarship; grow faculty expertise in data and advanced computing; or overcome hurdles in implementing such programs. The projects can use RISE expertise in data management platform creation, computing, programming, data visualization and data exploration. Proposals that advance interdisciplinary research, including content for new proposals, are especially welcomed.
All Penn State faculty members who hold an appointment of half-time or more at any Penn State campus are eligible to submit a seed grant proposal as a principal investigator (PI). Investigators may only serve as PI on a single proposal.
It is estimated that most awardees will receive between 100 to 300 hours of RISE consulting time. Projects in this program will likely last between 3 to 9 months. Awards are not provided in cash, and awards may only be used to purchase RISE services. If additional group computational or storage is required, these will be evaluated on a case-by-case basis.
Visit this link to learn more about or apply to the IEE-RISE 2022 Climate Seed Grant program.
Share
Related Posts