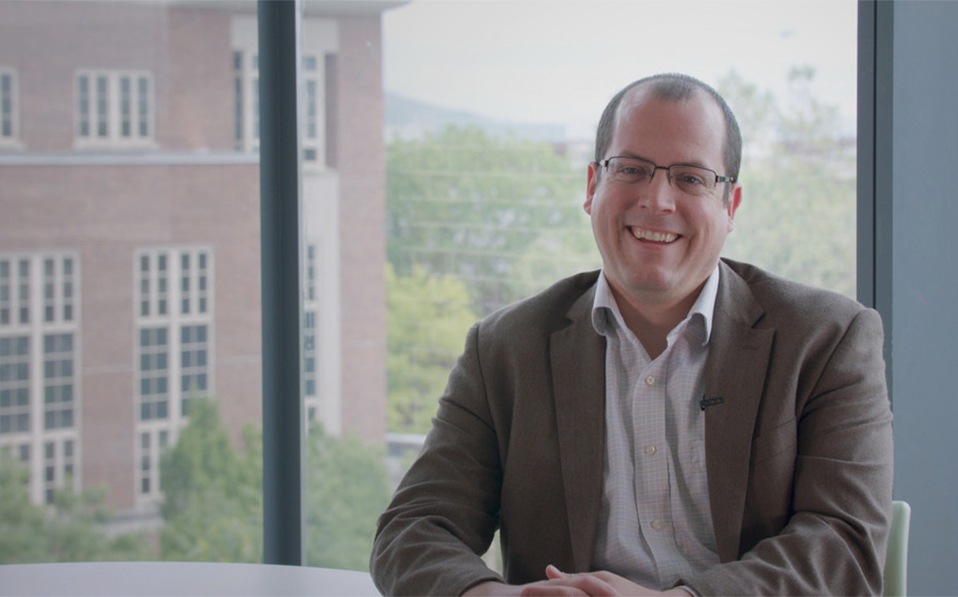 Penn State chemist Ed O'Brien named Kavli Fellow
Posted on March 15, 2023
UNIVERSITY PARK, Pa. — Ed O'Brien, professor of chemistry and co-hire of the Institute for Computational and Data Sciences, has been selected to participate in the National Academy of Sciences' 33rd annual Kavli Frontiers of Science Symposium as a newly inducted Kavli Fellow. The symposium is to be held this month in Irvine, California.
The first Frontiers Symposium was established in 1989 and has since brought together distinguished young scientists from around the world to discuss their exciting research, scientific learning, and promote networking and collaborations. Attendees are selected by a committee of National Academy members from among young researchers who have made significant contributions to science, including identified future scientific leaders and recipients of major national awards and fellowships.
O'Brien's research applies to theory and computational chemistry in connection with physics, bioinformatics, and molecular biology. A key component in many of the research projects in the O'Brien Lab is method development, with methods aimed at addressing specific questions. The methods the group develops and applies include coarse-grained molecular dynamics simulations of the cellular environment; statistical mechanics and chemical kinetics to describe the interplay of processes that govern biomolecular behavior; and bioinformatic methods to integrate large biological data sets into predictive models.
O'Brien has published more than 50 scientific papers and holds a patent related to his research. He currently serves as Associate Director of the Center for Artificial Intelligence Foundations and Scientific Applications (CENSAI). O'Brien has received numerous awards in recognition of his teaching and research, including a Presidential Early Career Award for Science and Engineering in 2019, National Science Foundation Advances in Biological Informatics, 2018-21, National Science Foundation CAREER Award, 2016-21, American Chemical Society OpenEye Outstanding Junior Faculty Award in 2018, and Priestly Undergraduate Teaching Award in 2016.
O'Brien earned a bachelor's degree in biochemistry at the University of the Sciences in 2002 and a doctoral degree in chemical physics from the University of Maryland College Park in 2008. He was a postdoctoral research fellow at the University of Cambridge from 2009 to 2013. O'Brien joined the Department of Chemistry at Penn State as an assistant professor in 2014, was promoted to associate professor in 2019, and to professor in 2022. He is a member of the Bioinformatics and Genomics Ph.D. program and a faculty fellow of the Institute for Computational and Data Sciences at Penn State.
From Penn State News
Share
Related Posts