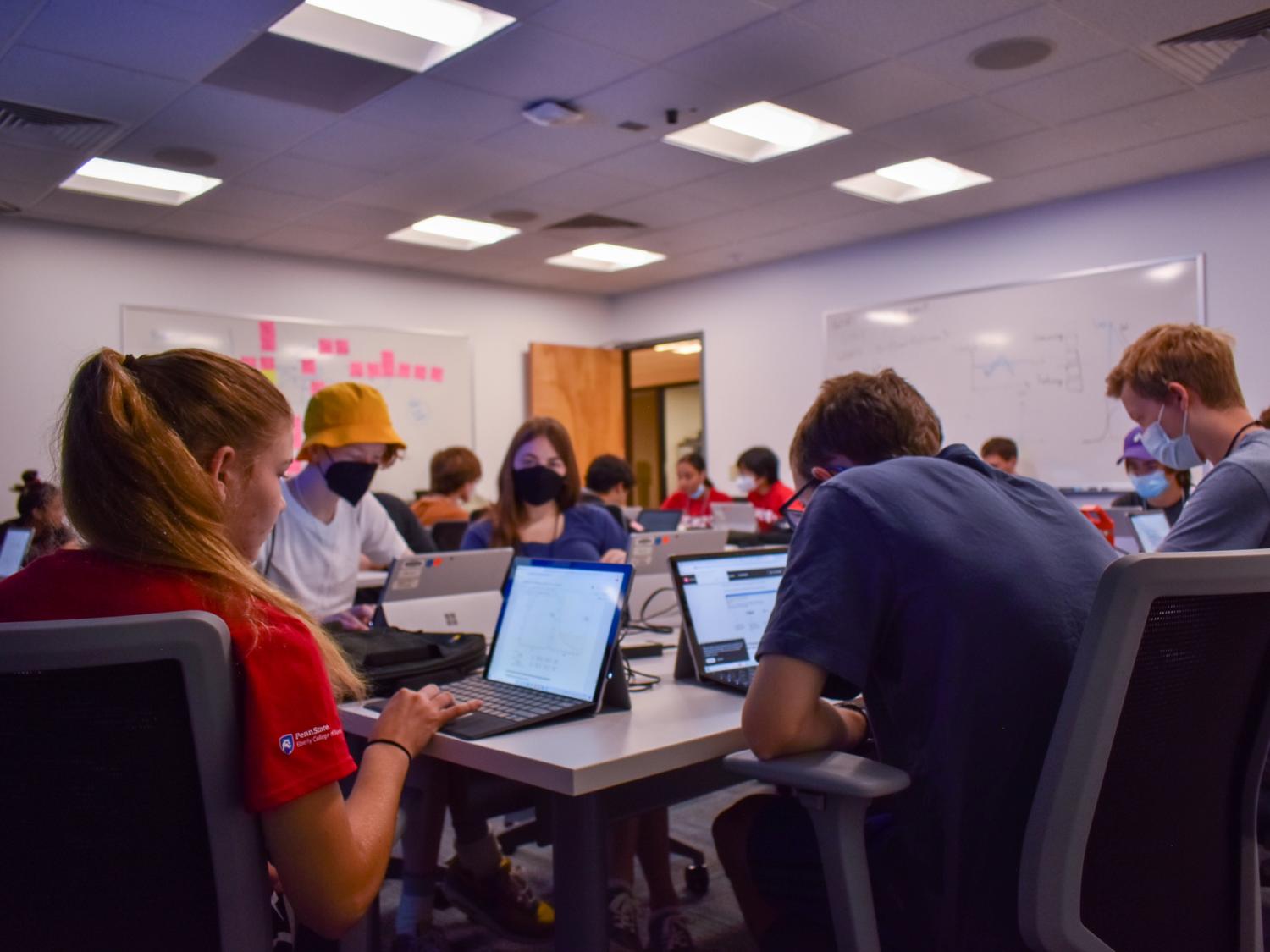 Summer workshops focus on artificial intelligence in science
Posted on August 30, 2022
UNIVERSITY PARK, Pa. — Team members from the Institute for Computational and Data Sciences (ICDS) offered their expertise, experience, and even their office space to host a series of summer workshops and camps focused on advanced statistical and computational tools that scientists are using to explore everything from astronomy to zoology.
The institute helped out with the Summer School in Astroinformatics II summer camp and the Penn State Eberly College of Sciences' Science U camp, Artificial Intelligence and Machine Learning Mini Summer School, which also was hosted at ICDS's facilities.
In the Astroinformatics session, participants had a chance to learn advanced lessons on applying data-driven models to address challenges of modern astronomy research, such as incorporating machine learning, mining large astronomical surveys, harnessing parallel computing architectures, Bayesian computation and integrating these with domain-specific knowledge.
According to Eric Ford, professor of astronomy and astrophysics and ICDS co-hire, more than 190 participants — mostly graduate students — attended the lessons virtually. They came from about 30 different countries and were able to attend through a combination of synchronous and pre-recorded lectures.
Participants also took part in computer laboratory exercises and interacted with instructors and teacher's assistants through Zoom chats and Slack conversations.
Sessions like Astroinformatics are making Penn State a leader in using artificial intelligence (AI) and machine learning (ML) to explore the mysteries of space and astronomy's biggest questions.
"Penn State's Center for Astrostatistics has long been a pioneer in developing a graduate-level curriculum in astrostatistics," said Ford. "Thanks to several recent ICDS co-hires, Penn State has extended its leadership to include astroinformatics, which highlights modern statistical and machine-learning methods and computational tools to extract value from large astronomical surveys."
The ICDS co-hires that assisted in teaching the class included Ford; Hyungsuk Tak, assistant professor of statistics, astronomy and astrophysics; and Joel Leja and Ashley Villar, both assistant professors of astronomy and astrophysics.
AI and ML summer camp
As part of Science U camps, the Artificial Intelligence and Machine Learning camp gave students the chance to learn all how scientists use AI and ML for cutting-edge science projects.
Hosted at ICDS's facilities, students had a chance to receive hands-on experience with data-analysis tools and methods, including high-performance computing, and they designed chatbots and developed an application to recognize letters and numbers. The students also took a tour of Penn State's data center and had a chance to see the Roar supercomputer.
Instructors for the camp included some of ICDS's own Research Innovations with Scientists and Engineers – RISE – team members, who are experts that assist Penn State researchers' computational challenges.
Chad Hanna, professor of physics and astronomy and astrophysics, and an ICDS co-hire, said he hoped the lessons in summer class would inspire students in their academic and even professional careers.
"Students came with varying backgrounds, some were learning to code for the first time, and some already came with expertise," said Hanna. "We tried to challenge all of them to go beyond whatever their background was.  It is certainly our hope that some of the students will find this event and other opportunities as a way to build confidence in their abilities and that it will lead them to pursue an education and eventually a job in STEM."
During the session, the students learned basic principles of machine learning, the basic components of neural nets, and how to run modern machine-learning software, such as PyTorch running in JupyterHub, a web-based interactive computing platform, often used by AI and ML developers.
Participants, ranging from students in grades 10-12, used neural networks to build a classifier that could recognize a standard set of digit training and validation data.  The trainers also offered a bit of light competition where the students tried to best the accuracies of each other's models.
At the end of the three-day session, participants were able to show off their character recognition and chatbot projects.
"The students seemed to have a great time and their final presentations were truly excellent," said Hanna.
Make It Matter
Led by Ismaila Dabo, associate professor of materials science and engineering and ICDS associate, the Make It Matter camp gave students in grades nine to 12 a chance to see how science is helping create a sustainable world and showed how researchers in fields ranging from materials science to chemistry and biology make a difference by designing new materials, inventing new ways to create and store energy, and studying how to protect our ecosystems.
The camp included lab visits, field trips, demonstrations, leadership activities, and hands-on science challenges. ICDS provided computational resources and software setup on Roar.
"In this Science-U summer camp, students were introduced to quantum chemistry and computational simulations for developing solar energy technologies," said Dabo. "Helped by Justin Petucci, who is an ICDS RISE engineer, they used Penn State's supercomputers to optimize the chemical composition of light absorbers for the solar production of renewable hydrogen fuels. "
Share
Related Posts