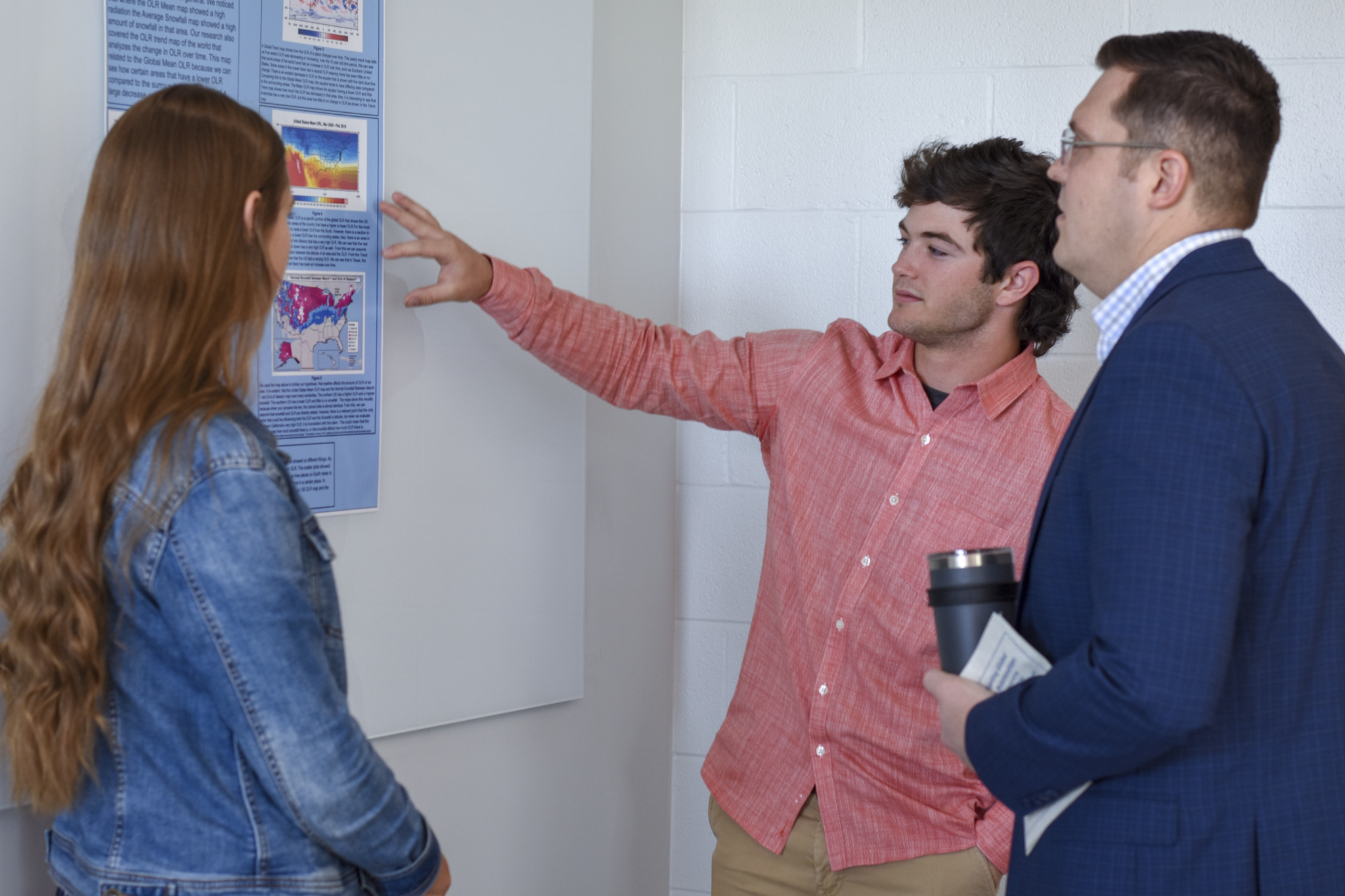 Supercomputer cluster donation helps turn high school class into climate science research lab
Posted on May 9, 2019
UNIVERSITY PARK, Pa. — A single NASA weather satellite can produce more than 30 megabytes of information per second. Put another way, that satellite can produce about the same amount of data every ten seconds that an average person consumes in a day.
To study the climate, then, scientists need more than just curiosity and brainpower, they also need high-performance computing power to process and analyze all of that data flooding in from satellites, weather stations and research facilities positioned around the world. Now, a group of Bald Eagle Area High School physics students — who already have plenty of that brain power and curiosity — can tap into a supercomputer cluster to explore the world as real climate scientists.
The class recently presented a poster session detailing some of their findings in their investigation of global radiation using computer equipment donated by Penn State's Institute for CyberScience (ICS). The supercomputer cluster, once used by Penn State researchers, was decommissioned after ICS purchased newer technology.
Max Besong, a physics teacher at Bald Eagle Area High School, said the equipment helped immerse his students in real-world science, without frying their computers.
"A lot of our data comes from NASA satellites that orbit the globe collecting data from every single latitude and longitude point on earth and have values for all the different types of the radiation that they detect every month — there's already 12 million data points in just one of our data sets," said Besong. "We're working with so many data points that it would be impossible for the students' Chromebooks that they have at school to process that data without taking hours upon hours to run the simplest code that a supercomputer cluster could run in a matter of seconds."
The students, who presented their findings at a recent event held on Penn State's University Park campus, called the assignment intense and challenging, but ultimately rewarding because they were able to blend science and computer programming. The research questions investigated by the students included some of the hot topics that climate scientists at major universities are studying, including analyzing solar radiation in Australia, probing the relationships between radiation and sea ice and snowfall and trying to find any connections between absorbed and reflected solar radiation in urban and rural areas.
For the students, learning how to code computer programs while simultaneously tackling some of the most pressing issues in climate science could be taxing, but paid off in the end with new skills and more knowledge.
"It was definitely challenging, but I did enjoy learning how to code and it was rewarding — just looking at our poster now – I'm really impressed with the work we did," said Amber Graham, who partnered with Madison Surovec on a project that analyzed radiation in the Amazon rainforest.
Some students said that the experience boosted their confidence and opened up possible new academic and career trajectories.
"I felt like the smartest kid in the school when we first started to code," said Matthew Reese, who worked with Lauren Fisher on a study about snowfall and outgoing radiation. "It's a project you might think of doing in college, but nobody really thinks about doing something like this in high school."
Fisher added that she hoped the assignment would prepare her for the rigors of college classes.
"This was by far the hardest I've worked on a project in high school, but I'm hoping that this preparation might help make college classes a bit easier," said Fisher.
Besong's class will now have access to supercomputing equipment that was, until recently, helping Penn State climatologists and other researchers investigate their own research questions. The equipment includes servers that are considered top-of-the-line machines. The servers are often used in today's data centers and research facilities.
"We are exceedingly pleased that we played a role in creating a research experience for this group of talented and motivated young scientists," said Jenni Evans, professor of meteorology and atmospheric science and director of ICS.
Evans added that current computer applications — as well as future applications that these students may one day help create — will require supercomputers.
"Alexa and Siri may seem like simple tools, but their creation requires advanced computation on systems like this supercluster," Evans said.
The idea for the project began to take shape when Besong took part in the Center for Science and the School's — CSATS — Research Experience for Teachers program through Penn State's College of Education. This program actively involves K-12 teachers in working alongside university or industry scientists and engineers on cutting-edge research and integrating related research projects into their classrooms.
"One of our primary goals is that K-12 students, through their teachers, engage in the actual practices of scientists and engineers," said Kathleen Hill, CSATS director and assistant professor of science education. "It can be difficult for teachers to support their students in conducing these practices, because many educators lack direct experience with them. At CSATS, we've become very familiar with all aspects of the research process, from collecting data to developing or using models to analyzing results. We have developed a program that has teachers experience these practices in a way that they can then successfully engage their students in authentic science and engineering research."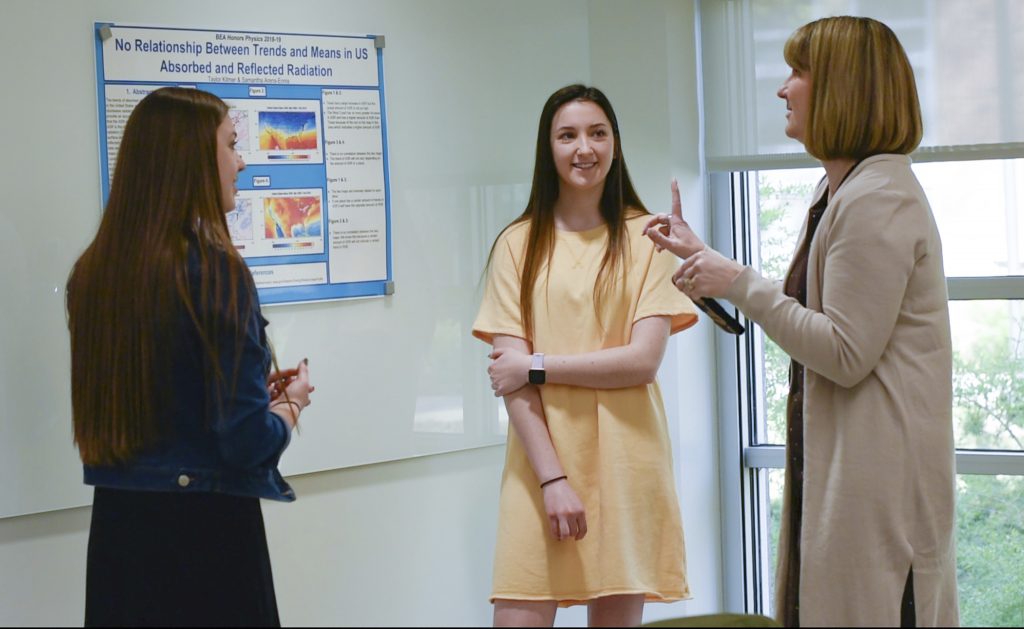 During the program, Besong was teamed up with faculty mentors, Sukyoung Lee, professor of meteorology and the John T. Ryan Jr. Faculty Fellow in the College of Earth and Mineral Sciences.
"Without the summer research experience and professional development I received through the RET program, along with the supercomputer cluster that was donated to our school, my students would never have had this amazing opportunity," said Besong.
Besong, a former Penn State math major, came to the program without a lot of actual research experience. When he finished the program, he not only wanted to pass on lessons to his students about how research is performed, he also wanted to create a research atmosphere in his classes.
"I was interested in seeing how I could implement the research practices that I learned during the Research Experience for Teachers into my classroom," said Besong. "I also wanted the class to experience the culture of an actual lab: having group meetings, sharing each other's work and learning how to communicate research between one another and the community through presentations and posters."
Besong said he plans to continue the research experience in his honors physics class, with some tweaks along the way.
"I was really not expecting it to go as well as it did because it was the first time, but it did," he said. "But this class surprised me all year with the work that they've done all year long. They're an exceptional group of students."
Share
Related Posts