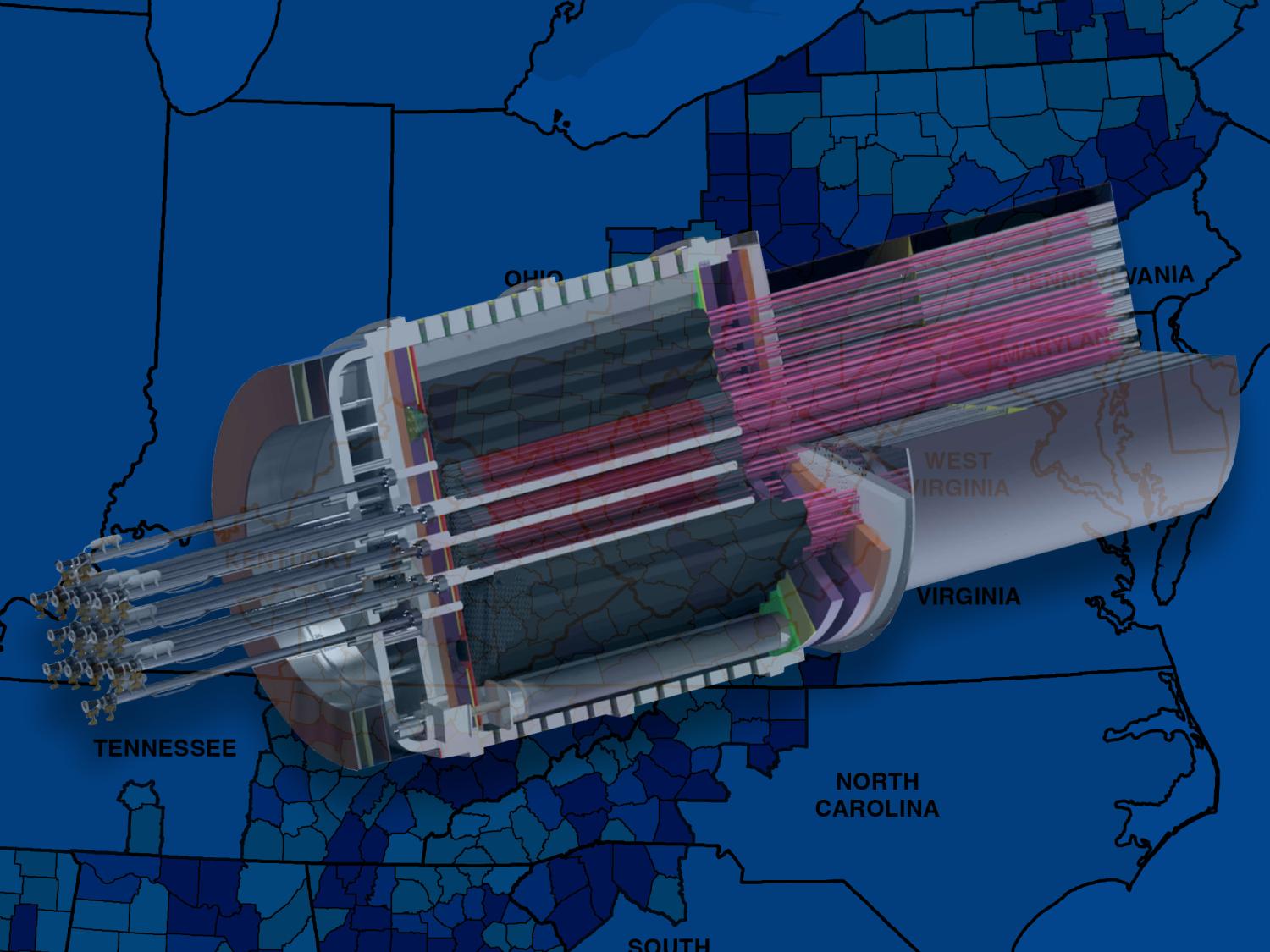 From Rust Belt to Green Belt: Penn State leads nuclear research alliance
Posted on December 14, 2022
UNIVERSITY PARK, Pa. — Led by Penn State, academia, national laboratories and industry have formed the Post-Industrial Midwest and Appalachia (PIMA) Nuclear Alliance to harness carbon-free energy while educating and training the future energy workforce. The alliance will host a workshop to continue establishing their team, conceptualizing their goals and developing their project plans at Penn State New Kensington's Digital Foundry Dec. 8-9.
"New Kensington is witnessing a resurgence in manufacturing and digital innovation that is transforming the community," said Jean Paul Allain, head of the Ken and Mary Alice Lindquist Department of Nuclear Engineering at Penn State. "We want to immerse ourselves in community action in the PIMA regions to find out how micro nuclear reactors and advanced nuclear engineering can transform industries and create not only jobs, but sustained and resilient economic development."
The PIMA Nuclear Alliance aims to facilitate nuclear research, infrastructure, education and workforce development to augment the country's dependency on non-renewable energy resources to sustainable sources, according to Allain, who also holds the Lloyd and Dorothy Foehr Huck Chair in Plasma Medicine in the Huck Institutes of the Life Sciences and serves as faculty in the Institute for Computational and Data Sciences.
"We are excited to welcome PIMA and our University colleagues to New Kensington," said Kevin Snider, chancellor of Penn State New Kensington. "The goals and mission of PIMA in relation to workforce development, sustainability, education and use of cutting-edge technologies align with the vision of our future-ready initiatives, including the Digital Foundry, and we look forward to learning more during the event and being part of discussions on continued partnership."
Alliance members include foundational partners University of Michigan Nuclear Engineering and Radiological Sciences, University of Tennessee at Knoxville, and the Westinghouse Electric Company. Additional partners include Pennsylvania College of Technology, Idaho National Laboratory, Los Alamos National Laboratory, Argonne National Laboratory, Sandia National Laboratories, Oak Ridge National Laboratory, Morgan Advanced Materials, Pittsburgh Technical, Energy Driven Technologies and Reuter Stokes. Faculty from University of Central Florida, California Polytechnic State University and Cornell University are also participating.
This is the alliance's third workshop. The kickoff workshop took place at University Park in June, which more than 60 participants attended. The second workshop was held Oct. 4-5 in Pittsburgh at the Westinghouse headquarters and included a tour of the eVinci microreactor facilities at Waltz Mill. Attendees included several potential microreactor end users, Allain said, including oil and gas company NOV and the Saskatchewan Research Council, among others.
"The breadth of the PIMA Nuclear Alliance speaks to the critical role it is filling as we explore how to efficiently power our future — literally and figuratively," said Lora Weiss, senior vice president for Research at Penn State. "With trailblazing experts, state-of-the-art facilities and a strong community in varied environments across the commonwealth, Penn State is well situated to both understand the challenges of developing sustainable energy and lead the innovations needed to solve them."
Allain said the ultimate goal of the alliance is a "revolutionary" change in the nuclear industry and a drastic reduction of carbon-free energy costs.
"We are striving to power a transformation of the greater Appalachia region and the post-industrial Midwest," Allain said. "We aspire to innovate and accelerate the adoption of microreactors — nuclear batteries — and advanced nuclear reactor technology across the regions of PIMA to impact difficult-to-decarbonize industrial sectors at scale."
Penn State — with support from the College of Engineering; Smeal College of Business; the College of Earth and Mineral Sciences; the Materials Research Institute; the Institute of Computational and Data Sciences; the Social Science Research Institute; the Center for Energy Law and Policy; the Law, Policy and Engineering initiative; the Radiation Science and Engineering Center; Pennsylvania Technical Assistance Program; the Office of the Senior Vice President for Research, which houses the Breazeale Nuclear Reactor, the nation's longest continuously operating research reactor; and the Office of Physical Plant — serves as the hub of innovation for PIMA, Allain said, with the ultimate goal of helping support advanced manufacturing of microreactors at scale.
Microreactors are compact reactors capable of producing sustainable energy and small enough to be manufactured in a factory and transported by truck to the point of use. They can be integrated with other renewable power sources, such as solar or wind power, in microgrids to support communities without access to reliable energy due to location or natural disaster. Their compact size also makes it easier to replace the reactor quickly and relatively cheaply, if needed.
"Such a platform for research and development would help establish a clean technology corridor in Pennsylvania and greater Appalachia with our partners," said Elia Merzari, associate professor of nuclear engineering at Penn State and PIMA member. "Our vision is to have university campuses become accessible, multi-disciplinary advance reactor innovation hubs with technological expertise and, more importantly, where we can engage with a diverse community of students, faculty and staff to advance nuclear."
The platform could also advance other technologies, according to PIMA member Brendan Kochunas, assistant professor of nuclear engineering and radiological sciences at the University of Michigan.
"With a microreactor platform, we could develop a digital twin to explore the varied potential of this emerging technology," Kochunas said. "This provides a research platform that could lead to industry gains in efficiency and safety, which are perpetual goals in nuclear power applications. The impact of digital twins, which integrate real-time monitoring with simulation, could be far-reaching. They can enable automation and predictive maintenance, and facilitate accelerated development time, improved risk assessment and optimization in various aspects of the system."
To make microreactors and related technologies a reality, Allain said collaborative research is needed across multiple areas, including but not limited to advanced power conversion systems, advanced detection and safeguards, high-temperature nuclear materials, advanced manufacturing, nuclear energy policy, regulatory innovation, social adoption of nuclear technology and more. Penn State first partnered with Westinghouse in May to explore and apply nuclear engineering and science innovations to societal needs, including the potential of siting an eVinci microreactor research, development and deployment platform at University Park.
"Our continued work with Penn State allows us to strengthen our decades of collaboration on educating and training the future energy workforce while harnessing clean energy solutions for our communities," said Rita Baranwal, chief technology officer of Westinghouse, who will attend the December workshop.
The PIMA Nuclear Alliance strategically positions technology teams to collaborate with experts in social sciences, business and law on focused projects supporting microreactor study and deployment, Allain said.
"There is a growing interest in engineering amongst young people in disenfranchised communities across this region that are looking for ways to address the urban-rural divide that has been a reality in their lives for a long time," said Aditi Verma, assistant professor of nuclear engineering and radiological sciences at the University of Michigan and PIMA member. "They have seen how many places in Appalachia and the Midwest have been adversely impacted by resource extraction to satisfy the energy appetite of urban America. There is now an opportunity to pursue firm, low-carbon energy generation with nuclear as a potentially viable, scalable and reliable source of energy Through our work together on PIMA, we will seek to explore and demonstrate not just the technical but also the social and environmental viability of nuclear as a source of energy for this region through direct engagement with communities."
Developing better understanding of industries in the region that can benefit from advanced nuclear technology, such as nuclear batteries, and the needs of the region's communities is just as important as developing the technology, according to Sandra Allain, director of the Law, Policy and Engineering initiative at Penn State and PIMA member.
"Community participation and engagement are at the forefront of the PIMA Nuclear Alliance," said Sandra Allain. "Nuclear batteries have the potential to transform communities and spur economic development in the region. For nuclear batteries to succeed, the regulatory and policy frameworks must evolve in tandem with the technological advancements. Comprehensive outreach in all these realms, accompanied by effective communication channels and supporting social infrastructure, is critical for communities to adopt these technologies and reap the benefits."
The alliance will support bridge programs to provide K-12 and beyond students an affordable, achievable path to obtain education and training in nuclear engineering and science, such as non-traditional models for students unable to reside at University Park to still obtain their degrees in nuclear engineering. This initiative is supported via the Nuclear Sustainability Fund, which was established by the Penn State Nuclear Engineering Alumni Society.
"Penn State is in a unique position with several potential venture firms and industry partners that have interest in advanced nuclear technology and deployment in central Pennsylvania," said Jean Paul Allain. "Penn State students of all ages and levels are pursuing education and training at 24 campuses — reflecting Pennsylvania's diverse urban and rural populations — across the commonwealth. From Philadelphia to Pittsburgh, and the rural communities in between, Pennsylvania is an ideal setting to establish a holistic approach at research, development and deployment of advanced nuclear with our strategic university partners across the Midwest and greater Appalachia, with support from national laboratories and industry partners."
Source: Penn State
Share
Related Posts