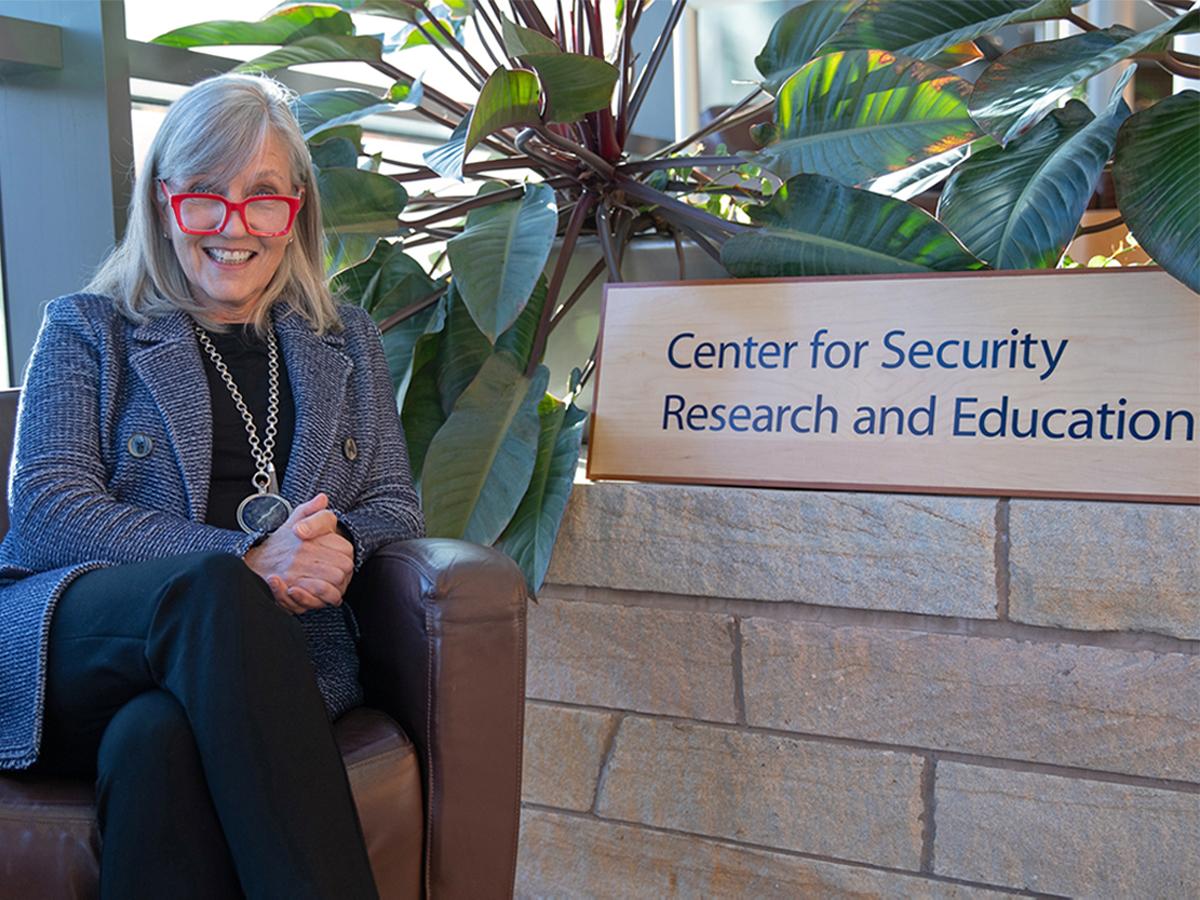 Witzig new director of Center for Security Research and Education
Posted on October 26, 2022
UNIVERSITY PARK, Pa. — Lisa Witzig has been appointed director of Penn State's Center for Security Research and Education. With a career that spans over 40 years of working with the U.S. Intelligence Community and in the private sector, Witzig's new responsibilities will include securing funding for interdisciplinary research on security-related topics and organizing opportunities to bring together key players in security-related fields together with Penn State faculty and students. She also will serve as a professor of practice in the School of International Affairs and teach in the College of Information Sciences and Technology.
"We are excited to have Lisa on board and look forward to her leading CSRE to the next level," said Lora Weiss, Senior Vice President for Research and chair of the CSRE Executive Committee. "As a leading research university with a global reach and a public, land-grant mission, Penn State has extraordinary expertise across a broad spectrum of security-related disciplines. CSRE reflects Penn State's commitment to focusing the full range of interdisciplinary academic endeavor on the threats facing our world today."
CSRE was created in 2017 to provide an interdisciplinary approach to security-related topics across Penn State and consists of 11 contributing academic and research units from across the University.
Contributing units include the Colleges of Agricultural Sciences, Earth and Mineral Sciences, Engineering, Information Sciences and Technology, and Liberal Arts; Penn State Law and the School of International Affairs; the Applied Research Laboratory; the Huck Institute of the Life Sciences; the Institute for Computational and Data Sciences; the Institutes of Energy and the Environment; and the Social Science Research Institute.
In its first five years, CSRE awarded 36 grants to Penn State faculty on a wide range of security-related topics, including water security in developing nations, detecting and mitigating cybersecurity threats, and the effects of climate change on migration. The Center's funding activities are designed to support interdisciplinary projects and collaboration. CSRE-supported faculty and projects have captured NSF CAREER, Minerva, Fulbright, and Carnegie awards and fellowships and over $2.6 million in external funding.
CSRE has hosted public speaking events with guests such as former Director of National Intelligence James Clapper and former National Security Agency director Michael Rogers, conferences on artificial intelligence in warfare and critical infrastructure protection, and numerous workshops on other security-related topics.
"I'm grateful to Penn State for this opportunity and excited to get started. The University's capacity for interdisciplinary research in the security arena is unparalleled, and the energy invested thus far in the Center's concept is tremendous," said Witzig. "I look forward to building on this momentum and raising the visibility and involvement of Penn State in security-related initiatives across government, industry, and academia."
Witzig, a Penn State alumna and daughter of the late Warren F. Witzig , a former professor of nuclear engineering and department head in the College of Engineering, replaces Vice Admiral (Ret.) James W. Houck, CSRE's founding director and currently interim dean of Penn State Law and the School of International Affairs. Houck will continue to focus full time on his administrative and teaching responsibilities.
Share
Related Posts