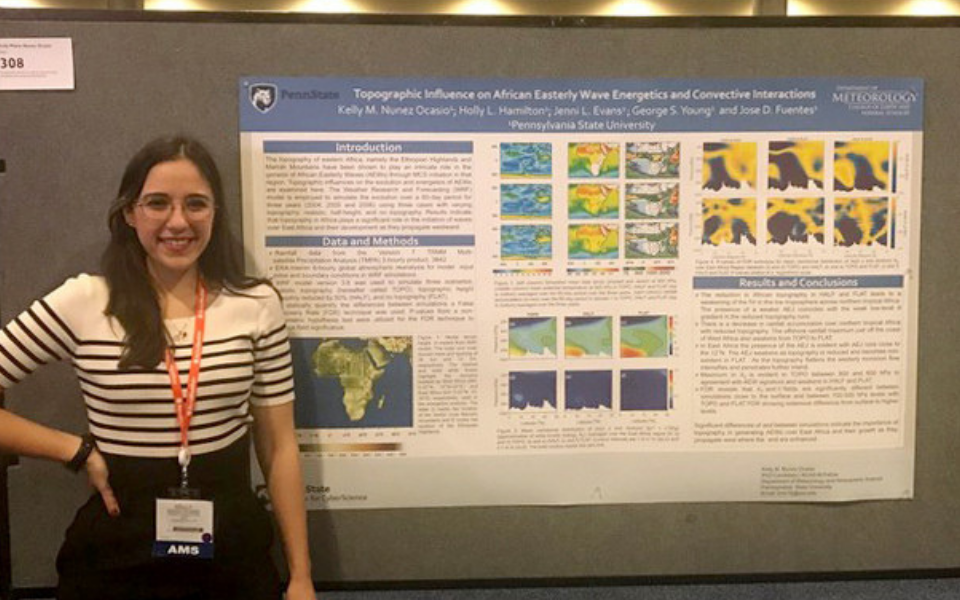 Graduate student receives AMS award for hurricane research
Posted on February 18, 2019
UNIVERSITY PARK, Pa. — Kelly Nunez Ocasio had the chance to escape the cold Happy Valley winter for sunny Arizona to showcase her hurricane research alongside long-time professionals and the brightest aspiring minds of meteorology.
The third-year doctoral student earned the American Meteorology Society's student award for her presentation at the organization's Seventh Symposium on the Madden-Julian Oscillation and Sub-Seasonal Monsoon Variability that was held in early January.
Nunez Ocasio, whose interest in studying how hurricanes form came from growing up witnessing the storms firsthand in Puerto Rico, discussed her research on African easterly waves at the conference. The waves cross over the Atlantic and can produce powerful storms that hit the shores of the United States and Caribbean nations.
However, researchers currently do not have a complete answer as to why some of these tropical cyclones develop and why others don't.
Nunez Ocasio's research delves into that why — hoping to create a better understanding of what makes these storms form.
"Are there any differences between the relationship of cloud to wave that could be better detected or could bring more knowledge to us that would help better predict whether or not a wave is going to form into a tropical cyclone?" she said.
Nunez Ocasio, a Bunton-Waller and Earth and Environmental Systems Institute fellow, first arrived at Penn State in the summer of 2015 for the Research Experience for Undergraduates program. There she met her adviser, professor of meteorology and Institute for CyberScience (ICS) director Jenni Evans, and set the path to begin her graduate career in Penn State.
Alongside Evans, the faculty and resources available to Nunez Ocasio in the meteorology department have allowed her to receive key feedback on her research and help her further develop as a professional.
"Any professor, if I have a question about my research or my classes, they are very willing to help," Nunez Ocasio said. "So right now, my PhD committee is about four people in total and I'm grateful to say that I can go to each one of them and they can give me some insight. It's such a great tool because you can get more than one perspective on things."
That preparation she received back at Penn State helped set her up for the conference in Phoenix.
Competing alongside other student presenters, the most valuable asset she received from the experience was the feedback from professionals who have spent decades in the field.
"It was a great opportunity because you get a lot of feedback from scientists who have been in the field for many decades," Nunez Ocasio said. "In terms of my results, a lot of people recommended looking at other synoptic scale phenomena."
Share
Related Posts