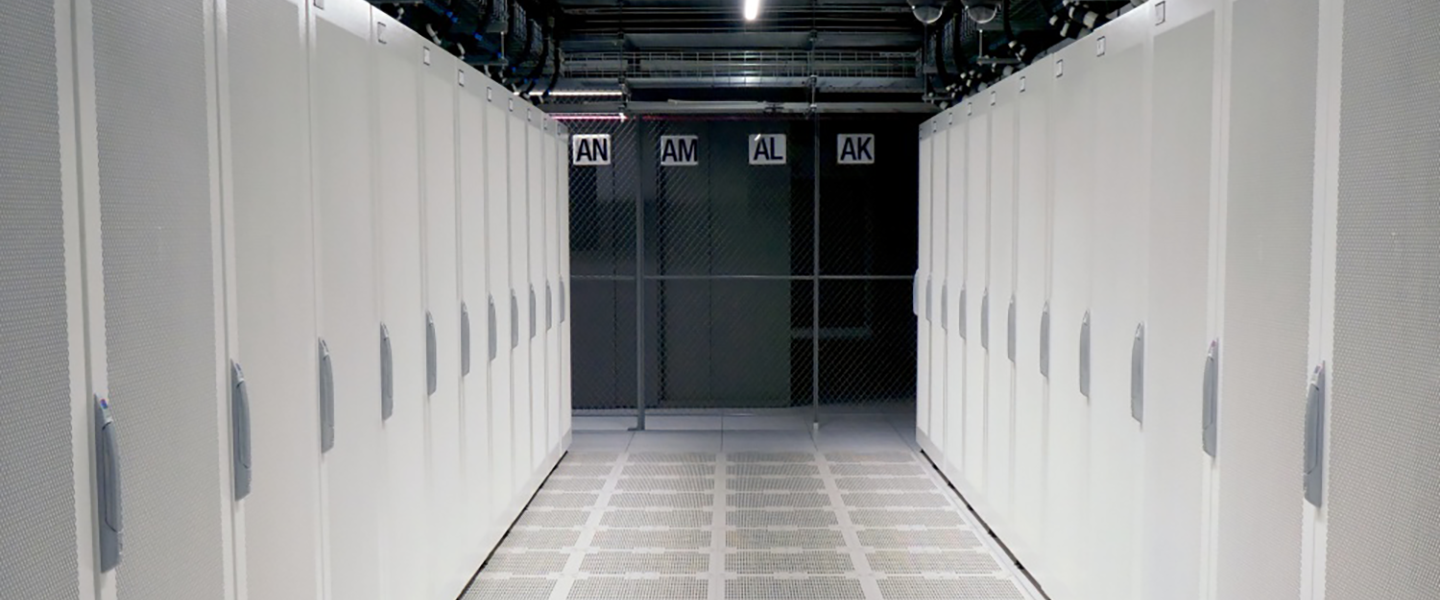 Penn State's supercomputer takes on COVID-19 — and its aftermath
Posted on May 20, 2020
UNIVERSITY PARK, Pa. — Penn State researchers will need the power of supercomputers not just to investigate possible treatments and therapies for the novel coronavirus, but also to explore ways to help the world recover socially, economically and psychologically.
"Our researchers' response to the COVID-19 pandemic has been phenomenal and the speed and insights that they have shown in creating evidence-based guidance and solutions in support of medical, social and policy responses has been nothing short of inspirational," said Jenni Evans, professor of meteorology and atmospheric science and Institute for Computational and Data Sciences director.
Supercomputers at Penn State and around the world are playing a vital role in providing the computational power necessary to build knowledge and support innovation for many scientists responding to the pandemic.
"Our goal is to provide these diverse research teams with the computational tools and support that they need to continue to make advances against this disease, helping society to recover from its ravages and to be more resilient to any future pandemics," said Evans.
Why supercomputers?
At Penn State, ICDS offers researchers access to one of the most powerful weapons in the university's research arsenal, ICDS's supercomputer, or ICDS-ACI, according to members of the Institute's RISE (Research Innovations with Scientists and Engineers) team. The Roar supercomputer's computational clusters are designed to efficiently compute large amounts of data, and the word, "large," accurately describes the volumes of data that researchers are wading through in their COVID-19 studies, said Chuck Pavloski, interim chief architect and RISE team lead.
The institute has seen about a 10% to 15% increase in computation hours since the COVID-19 outbreak, according to Pavloski.
"The volume of data that many researchers whose work is focused on COVID-19 are using in their experimentation is too large for scientists to effectively handle on workstations or laptops, but easily manipulated within our supercomputer systems," said Pavloski.
Gretta Kellogg, research computing facilitator at ICDS, added that running these types of calculations on a typical workstation or laptop computer could actually damage their personal machines and possibly cause the loss of data and years of work.
"Normal computers are just not designed to run these types of calculations," said Kellogg. "While researchers might be tempted to run lots of experiments or analysis on their own workstations – depending upon the size the scope of those calculations, they can literally overheat their systems while they take hours or days to run."
The advantage of a supercomputer is not limited to efficiency and capacity — it's also speed, according to the researchers. Supercomputers are designed specifically to be able to handle these large datasets or large numbers of datasets simultaneously. This means that these systems are able to process that data quickly. The researchers said that supercomputers can process data in minutes-to-milliseconds that might take a typical laptop hours or even days to complete.
"In this pandemic, every minute counts and supercomputers can deliver results more quickly than standard computers," said Pavloski.
Medical and beyond
The speed and power of a supercomputer fits many of the specific needs of medical researchers during a pandemic. For example, some of the proposed COVID-19 grant proposals tackle medical problems that require considerable computational power because scientists are not only studying variables for the virus, but also are considering various human system responses, added Kellogg. Analyses involving the human genome and its response to various organisms are orders of magnitudes more involved than studying simpler organisms, she said.
While most of the current media attention is on treating the disease, or even curing it, Penn State researchers are approaching the pandemic from multiple aspects of a public health crisis, not only the medical impacts.
A team led by Matthew Ferrari, Huck Career Development Professor and associate professor of biology, is using ICDS-ACI resources to model data on the spread of COVID-19 to help better determine disease trends. As part of the University's several coronavirus task groups, the team helps inform University leaders as they are making critical decisions about the safest path forward for the University.
Penn State researchers are also exploring the economical, sociological, and psychological ramifications of the disease. And in many of those approaches, researchers are analyzing data sets that are beyond the processing capabilities of normal computers.
"For example, researchers may use cell phone data to track transmission paths of COVID-19 and that would not be possible without the way that we are doing AI on very large-scale machines," said Pavloski. "Now, we would expect researchers to want to use supercomputers to investigate the spread of COVID-19, but there could also be researchers who may want to use high-performance computing to investigate the privacy and ethical issues surrounding those approaches."
Explore Grants and seed grants
As part of an initiative led by the Huck Institutes of the Life Sciences, the Institute for Computational and Data Science is providing grants for access to ICDS-ACI and its team of experts. The Institute has issued a series of grants through its Explore Grant program that are aimed at beating back the COVID-19 pandemic and helping society recover from its aftermath.
Some of those projects have already been funded through the ICDS Explore Grant program. These projects tap into supercomputer support for several projects that approach the pandemic from a range of research directions. They include:
Making ventilators safely serve more patients
Because patients with severe COVID-19 complications often need ventilators to help them breathe, hospitals are struggling to provide this support for all patients. In one project, led by Xiang Yang, assistant professor of mechanical engineering, researchers will study the computational fluid dynamics of augmenting ventilators through splitters to ensure safety and effectiveness. This project will contribute to the university-wide effort to address manufacturing/device needs in combating the coronavirus.
Remote healthcare
Another grant will support researchers probing the design of wireless communication modules that could serve in a wearable chest patch that could help medical professionals detect critical conditions of patients who are in isolation from coronavirus. Creating this remote detection would help patients and medical staff remain safe while convalescing, but still remaining under careful observation. This type of innovation would also relieve some of the burden on hospitals, which may be operating at maximum capacity during the pandemic. Huanyu "Larry" Cheng, assistant professor of engineering science and mechanics is the lead investigator for this project.
Logistical analysis
The pandemic has caused major economic shock. Alfonso Mejia, associate professor of civil and environmental engineering is the lead investigator of a project that will use network-based analyses to explore impacts of shocks to commodity flows networks in the U.S. Specifically, the researchers want to model shocks to the precision instruments sector, which houses production of medical supplies.
Super-investment
Pavloski noted that the intense investment in supercomputers, especially among universities and research institutions, in the past, is now paying off in this multi-pronged fight against COVID-19.
"The decision to have cutting-edge research capabilities at scale in the United States to perform this type of research, like genomic research, is going to help save lives," he added. "It is absolutely critical that we had research facilities that are ready to go immediately when a situation like this arose and are able to expedite investigations into the virus itself, as well as potential vaccines and treatments."
Share
Related Posts