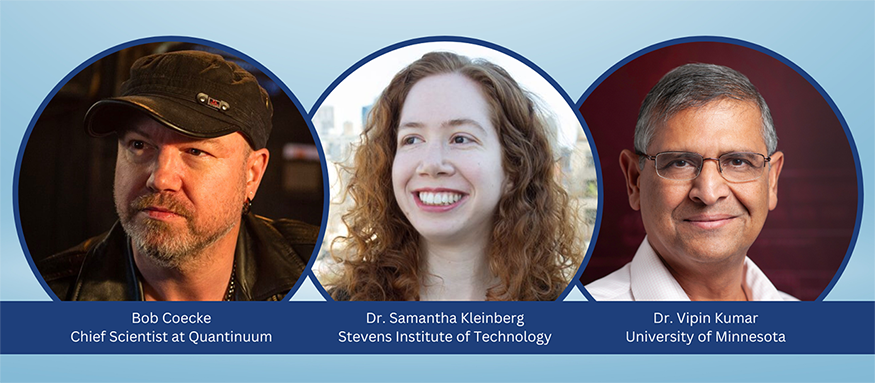 Bob Coecke, Chief Scientist at Quantinuum
Bob Coecke is Chief Scientist at Quantinuum, Distinguished Visiting Research Chair at the Perimeter Institute for Theoretical Physics, Emeritus Fellow at Wolfson College Oxford. Previously he was Professor of Quantum Foundations, Logics and Structures at the Department of Computer Science at Oxford University, where he was 20 years, and co-founded and led a multi-disciplinary Quantum Group that grew to 50 members and he supervised close to 70 PhD students.  He pioneered Categorical Quantum Mechanics (now in AMS's MSC2020 classification), ZX-calculus, DisCoCat natural language meaning, mathematical foundations for resource theories, Quantum Natural Language Processing, and DisCoCirc natural language meaning.  His work has been headlined by various media outlets, including Forbes, New Scientist, PhysicsWorld, ComputerWeekly.
Dr. Samantha Kleinberg, Associate Professor, Charles V. Schaefer, Jr. School of Engineering and Science, Department of Computer Science, Stevens Institute of Technology
Samantha Kleinberg is an Associate Professor of Computer Science at Stevens Institute of Technology. She received her PhD in Computer Science from New York University and was a Computing Innovation Fellow at Columbia University in the Department of Biomedical informatics. She is the recipient of NSF CAREER and JSMF Complex Systems Scholar Awards. She is the author of Causality, Probability, and Time (Cambridge University Press, 2012) and Why: A Guide to Finding and Using Causes (O'Reilly Media, 2015), and editor of Time and Causality Across the Sciences (Cambridge University Press, 2019).
Dr. Vipin Kumar, Regents Professor and William Norris Endowed Chair
Department of Computer Science and Engineering Director, CSE Data Science Initiative, University of Minnesota
Vipin Kumar is a Regents Professor at the University of Minnesota, where he holds the William Norris Endowed Chair in the Department of Computer Science and Engineering. Kumar received the B.E. degree in Electronics & Communication Engineering from Indian Institute of Technology Roorkee (formerly, University of Roorkee), India, in 1977, the M.E. degree in Electronics Engineering from Philips International Institute, Eindhoven, Netherlands, in 1979, and the Ph.D. degree in Computer Science from University of Maryland, College Park, in 1982. He also served as the Head of the Computer Science and Engineering Department from 2005 to 2015 and the Director of Army High Performance Computing Research Center (AHPCRC) from 1998 to 2005.
Kumar's research spans data mining, high-performance computing, and their applications in Climate/Ecosystems and health care. His research has resulted in the development of the concept of isoefficiency metric for evaluating the scalability of parallel algorithms, as well as highly efficient parallel algorithms and software for sparse matrix factorization (PSPASES) and graph partitioning (METIS, ParMetis, hMetis). He has authored over 300 research articles, and has coedited or coauthored 10 books including two text books "Introduction to Parallel Computing" and "Introduction to Data Mining", that are used world-wide and have been translated into many languages. Kumar's current major research focus is on bringing the power of big data and machine learning to understand the impact of human induced changes on the Earth and its environment. Kumar served as the Lead PI of a 5-year, $10 Million project, "Understanding Climate Change – A Data Driven Approach", funded by the NSF's Expeditions in Computing program that is aimed at pushing the boundaries of computer science research.

Kumar has served as chair/co-chair for many international conferences in the area of data mining, big data, and high performance computing, including 25th SIGKDD Conference on Knowledge Discovery and Data Mining (KDD 2019), 2015 IEEE International Conference on Big Data, IEEE International Conference on Data Mining (2002), and International Parallel and Distributed Processing Symposium (2001). Kumar co-founded SIAM International Conference on Data Mining and served as a founding co-editor-in-chief of Journal of Statistical Analysis and Data Mining (an official journal of the American Statistical Association). Currently, Kumar serves on the steering committees of the SIAM International Conference on Data Mining and the IEEE International Conference on Data Mining, and is series editor for the Data Mining and Knowledge Discovery Book Series published by CRC Press/Chapman Hall.
Kumar has been elected a Fellow of the American Association for Advancement for Science (AAAS), Association for Computing Machinery (ACM), Institute of Electrical and Electronics Engineers (IEEE), and Society for Industrial and Applied Mathematics (SIAM). He received the Distinguished Alumnus Award from the Indian Institute of Technology (IIT) Roorkee (2013), the Distinguished Alumnus Award from the Computer Science Department, University of Maryland College Park (2009), and IEEE Computer Society's Technical Achievement Award (2005). Kumar's foundational research in data mining and high performance computing has been honored by the ACM SIGKDD 2012 Innovation Award, which is the highest award for technical excellence in the field of Knowledge Discovery and Data Mining (KDD), the 2016 IEEE Computer Society Sidney Fernbach Award, one of IEEE Computer Society's highest awards in high-performance computing, and Test-of-time award from 2021 Supercomputing conference (SC21).
ICDS Fall 2023 Symposium Sponsors