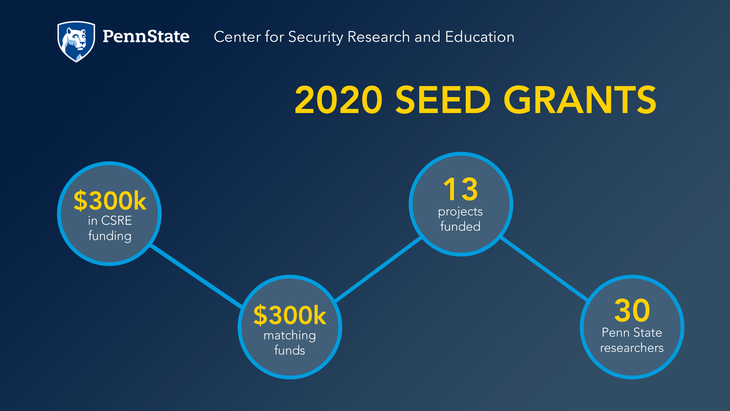 Center for Security Research and Education announces seed grant awardees
Posted on July 2, 2020
UNIVERSITY PARK, Pa. – The Center for Security Research and Education (CSRE) has selected 13 interdisciplinary projects through its spring 2020 seed grant program. CSRE is providing a total of $300,000 in funding for the projects, with an additional $300,000 in matching and supplemental funding from other colleges, departments, and institutes.
"Today's challenges to global, national, and individual security are numerous and complex," said CSRE Director James W. Houck, "and we are delighted to support these innovative and exciting initiatives."
CSRE was established in 2017 to promote interdisciplinary research and education to protect people, infrastructure and institutions from the broad range of threats and hazards confronting society today. Contributing units include the Provost and Office of the Senior Vice President for Research, as well as the colleges of Agricultural Sciences, Earth and Mineral Sciences, Engineering, Information Sciences and Technology, and the Liberal Arts; Penn State Law and the School of International Affairs; Penn State Harrisburg; Applied Research Laboratory; Institute for Computational and Data Sciences; Institutes of Energy and the Environment; Huck Institutes of the Life Sciences; and the Social Sciences Research Institute.
In its first three years, CSRE has provided over $633,000 in funding, augmented by an additional $581,000 from contributing units, to a total of 39 seed projects and faculty fellowships and hosted a number of guest speakers, workshops and other events. CSRE support has helped earn approximately $3 million in external funding and awards and resulted in nine publications, 18 conference presentations, and other activities.
The spring 2020 seed grant awarded projects include:
Impact Award
"Independent Standoff Laser Spectroscopy for Chemical Identification"
PI: Tim Kane, professor of electrical engineering and adjunct professor, meteorology and atmospheric science
Homeland Security Award
"Detecting Cyberattacks in Water-Energy Distribution Networks using Big Data Analytics"
PI: Javad Khazaei, assistant professor of electrical engineering (Penn State Harrisburg) and affiliate assistant professor of architectural engineering
Co-PIs: Faegheh Moazeni, assistant teaching professor (Penn State Harrisburg); Prasenjit Mitra, professor of information sciences and technology
Open Topic Awards
"Metagenomic Identification of Novel and Known Zoonotic Pathogens in Bushmeat from Nigeria: An Inderdisciplinary One Health Approach to Biosecurity"
PI: Sagan Friant, assistant professor of anthropology
Co-PIs: Peter Hudson, Willaman Professor of Biology; Robab Katani, assistant research professor of global health, Huck Institutes of the Life Sciences
"Riskscapes of Gender, Disaster, and Climate Change in Indonesia and Australia"
PI: Elizabeth Ransom, associate professor of international affairs
Co-PI: Ann Tickamyer, professor emerita of rural sociology and demography
"Rebel Rules: The Impact of Rebel Group Judiciaries"
PI: Cyanne E. Loyle, associate professor of political science and international relations
"Epidermal Wearable Devices with Near Field Communication Modules for Security Operations"
PI: Huanyu (Larry) Cheng, assistant professor of engineering science and mechanics
Co-PI: Yabin Liao, assistant professor of engineering (Penn State Behrend)
"The Arctic in Hot Water: Quantifying Maritime Transport Under Declining Sea Ice and Increasing Geopolitical Tension"
PI: Luke Trusel, assistant professor of geography
Co-PIs: Manzhu Yu, assistant professor of geography; Guido Cervone, professor of geography and associate director, Institute for Computational and Data Sciences
"Attributing Deepfake Authorship: Technical Strategies and Social Implications"
PI: Dongwon Lee, associate professor of information sciences and technology
Co-PI: Daniel Susser, assistant professor of information sciences and technology and philosophy
"Water (In)Security: Health Impacts of Drinking Water Wells in Pennsylvania"
PI: Andrew Warner, director, Penn State Water Initiative
Co-PIs: Lara Fowler, senior lecturer, Penn State Law, assistant director, Institutes of Energy and the Environment, and affiliate faculty, School of International Affairs; Asher Rosinger, Ann Atherton Hertzler Early Career Professor in Global Health, assistant professor of biobehavioral health, anthropology, and demography; Bryan Swistock, senior extension associate; Dave Yoxtheimer, MCOR extension associate, EESI assistant research professor
"Climate Change and Migration: Towards and Interdisciplinary Framework"
PI: Wei Peng, assistant professor of international affairs and civil and environmental engineering
Co-PI: Vivek Srikrishnan, assistant research professor, Earth and Environmental Systems Institute
"Identifying Violent Non-State Actors Using a Combined Net Assessment and AI-Machine Learning Approach"
PI: Scott Gartner, director, School of International Affairs and professor of international affairs
Co-PI: Diane Felmlee, professor of sociology
"Turning Attacks into Protection: Social Media Privacy Protection Using Adversarial Attacks"
PI: Dinghao Wu, associate professor of information sciences and technology
"Combining Emulation and Simulation to Conduct Vulnerability Analysis of IoT Platforms"
PI: Peng Liu, Raymond G. Tronzo, MD Professor of Cybersecurity
Co-PIs: Minghui Zhu, associate professor of electrical engineering and computer science; Jingjing Li, associate professor of industrial and manufacturing engineering
Share
Related Posts