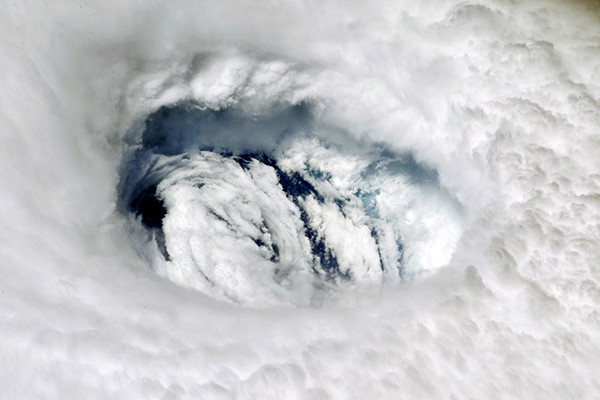 Hurricane Dorian devastates Bahamas; scientists explain storm's unique evolution
Posted on September 6, 2019
by Matthew Carroll (Originally published on Penn State News)
On Sunday, Sept. 3, Hurricane Dorian made landfall in the northern Bahamas as a powerful Category 5 hurricane and stalled there for days, devastating the island nation with deadly flooding and lashing winds that reached 185 mph.
While reports of damage are unfolding, it is likely that Dorian has taken a heavy toll on the Bahamas, thanks in part to the unusual way the storm evolved, according to experts at Penn State.
"This was an extremely terrible scenario for a landfalling hurricane," said Anthony Didlake Jr., an assistant professor of meteorology at Penn State.
Dorian followed two recent trends: the storm became the fifth Category 5 Atlantic hurricane in the past four years, which had not happened before in the Atlantic during the satellite era; and it stalled as it made landfall, like Harvey in 2017 and Florence in 2018, Didlake said.
"This was a powerful Category 5 hurricane that also featured slow movement as it made landfall," he said. "A combination of those two is disastrous."
Just before reaching the Bahamas, Dorian entered an environment very favorable for strengthening — warm ocean waters, weak wind shear and ample humidity. This led to a rapidly intensifying storm. In 48 hours, its maximum winds jumped from 115 mph to 185 mph, recording the second-most powerful winds for an Atlantic hurricane, Didlake said.
Around the same time, Dorian slowed to a near halt, ravaging parts of the Bahamas with powerful winds, rain and storm surge for two days before heading toward the United States.
Tropical storms, including hurricanes, produce powerful winds, but typically rely on larger weather systems to move them along in the Atlantic, said Jenni Evans, professor of meteorology and atmospheric science and director of the Institute for CyberScience at Penn State.
"When I look at Dorian when it was near the Bahamas, there was nothing much to steer it," Evans said. "There was a trough in the jet stream dipping down from the north. The trough eventually caused Dorian to stop and turn toward the northeast and the U.S."
Dorian's prolonged stay over the Bahamas delivered catastrophic damage, according to news reports.
Wind, rain and storm surge can destroy homes and infrastructure, isolating those in need of life-saving aid in times of emergency. Debris from storm surge can block the mouth of a river or be a barrier to flood waters draining to sea, causing prolonged standing water and leading to disease and mudslides. The Bahamas are no more than a few meters above sea level, exacerbating the potential for water damage, Evans said.
"The floods are like what impacted the Houston region during Hurricane Harvey," Evans said. "The wind, floods and mudslides are like what happened to Puerto Rico during Hurricane Maria. Recovery for the Bahamas is likely to be as challenging as that of Puerto Rico — and they are still far from stable two years later."
Penn State – Bahamas connection
Penn State has five undergraduate students from the Bahamas currently enrolled.
Sidhira Johnson, an undergraduate student in biobehavioral health, said her family and friends are safe, but that her country faces a heartbreaking reality.
"Right now, we are in the process of fundraising and figuring out what the best solution is for the people who lost everything they owned," Johnson said. "It's extremely hard to bounce back from something like this. Right now, the number one priority is getting everyone to safety and then of course rebuilding our country mentally and physically."
The Abaco Islands and Grand Bahama were the areas hardest hit by the hurricane.
"The stories coming out of Abaco and Grand Bahama are so devastating," said Lee Kump, the John and Willie Leone Dean in the College of Earth and Mineral Sciences. "Our faculty and students are deeply connected to the University of the Bahamas, and we would like to help support the university's northern campus located near Freeport on Grand Bahama."
Those who would like to help can donate to the Bahamas Red Cross, or a foundation to support the University of the Bahamas North — those interested in supporting the university can send checks made payable to the "Bahamas Education, Culture and Science (BECS) Foundation" to 3616 Peace River Drive, Punta Gorda, FL, 33983, and indicate on the check it is for "Penn State UB hurricane relief."
Share
Related Posts