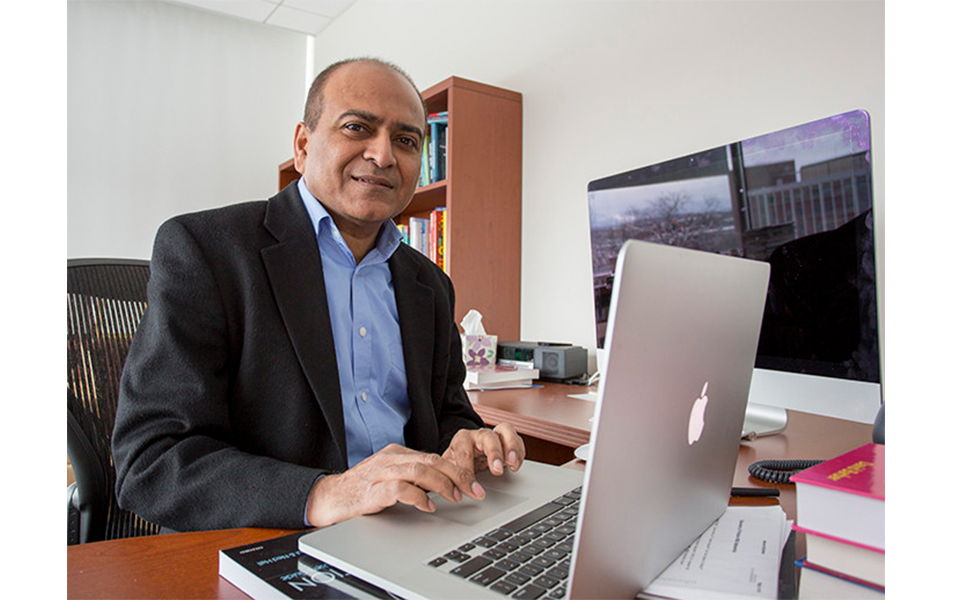 ICS associate director awarded Penn State seed grant
Posted on January 11, 2018
Vasant Honavar, Professor and Edward Frymoyer Chair of Information Sciences and Technology and associate director of the Institute for CyberScience (ICS), has been awarded a seed grant from Penn State University. The grant will fund the Digital Collaboratory for Precision Health Research, a project focusing on the collection, security, and management of big health data.
Honavar's award is one of ten seed grants awarded by the Office of the Executive Vice President and Provost to support Penn State's strategic plan.
"I am pleased that Vasant has been awarded this grant," said ICS Director Jenni Evans. "This initiative has the potential to make a major impact on societal health, and it typifies the kind of transformative big data research that ICS enables."
Researchers and healthcare providers can collect massive amounts of longitudinal health data from patients—data that has the potential to drive positive health outcomes. But researchers face many challenges when trying to harness this data. For instance, they may lack the expertise to make sense of great volumes of data. Security and privacy concerns also loom large, as the confidentiality of patient data must be protected.
"The potential applications and benefits of personal health data is vast, but to unlock it we need a secure, reproducible, and sharable data analytics platform," said Honavar. "The Digital Collaboratory for Precison Health Research will be dedicated to developing such a solution."
This Digital Collaboratory supports the Penn State Strategic Plan's thematic priority of driving digital innovation. The award is for $250,000 distributed over three years.
Information about other initiatives funded through Strategic Plan Seed Grants can be read at the Penn State Strategic Plan website.
The Institute for CyberScience is one of the five interdisciplinary research institutes under the Office of the Vice President for Research, and is dedicated to supporting cyber-enabled research across the disciplines. ICS builds an active community of researchers using computational methods in a wide range of fields through co-hiring of tenure-track faculty, providing seed funding for ambitious computational research projects, and offering access to high-performance computing resources through its Advanced CyberInfrastructure. With the support of ICS, Penn State researchers harness the power of big data, big simulation, and big computing to solve the world's problems. For more information, visit https://www.icds.psu.edu or email ics@psu.edu.
Share
Related Posts