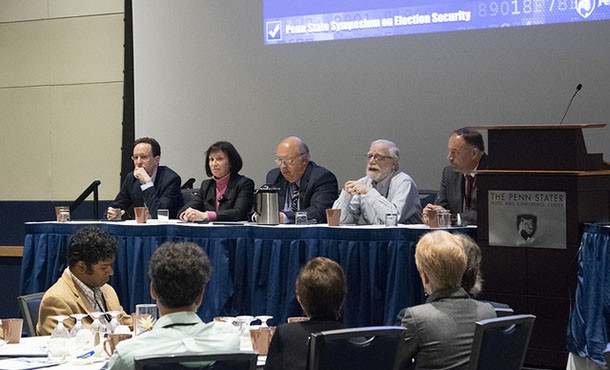 National experts collaborate at Penn State to address election security
Posted on January 4, 2019
UNIVERSITY PARK, Pa. — On Dec. 3, dozens of experts from across the country met at the Penn Stater Hotel and Conference Center for the first Penn State Symposium on Election Security. The event was co-hosted by the College of Engineering, Penn State Law and the School of International Affairs, as well as the Penn State Institute for Networking and Security Research and the Institute for Computational and Data Science.
The symposium allowed for experts from disciplines as diverse as public policy and cybersecurity to collaborate on solutions to election security threats.
"This event brought together some of the thought leaders in elections security from around the nation, and highlighted the problems and importance of vigilance in protecting our democracy," said Patrick McDaniel, director, Institute for Network and Security Research, and one of the event's organizers. "It also led to concrete plans for taking action in the future, in which Penn State will play a central role."
The event opened with remarks from Eric Barron, president of Penn State, followed by Hari Osofsky, dean of Penn State Law and the School of International Affairs, and Justin Schwartz, Harold and Inge Marcus Dean of Engineering.
"Election integrity and election security should be nonpartisan issues, because elections matter," said Barron. "And it's crucial that our elections are free, open, and fair."
Osofsky and Schwartz echoed this sentiment, adding their hopes that the symposium would further the goal of secure elections.
"I am confident this symposium will provide the collaborative discussions so we learn from each other. In the process, we will further the field of election security and strengthen our democracy," said Schwartz.
The event featured keynote speaker Andrew Appel, Eugene Higgins Professor of Computer Science at Princeton University. Appel's talk, "Principles and Protocols for Transparent Counting of Secret Ballots," gave an overview of the history of voting methods followed by an examination of various ways in which election security can be comprised in modern U.S. elections. Appel concluded by summarizing the consensus that has been reached in the U.S. about how to record and count votes securely, including the use of risk-limiting audits.
David Mussington, professor of the practice at the University of Maryland's School of Public Policy and former member of the Obama Administration National Security Council Staff, also delivered a plenary talk. In the speech, he addressed election cybersecurity, cyber conflict and U.S. national security.
In addition to these addresses, the event included three panels: "2018 Midterm Election Security Retrospective," "Regulatory and Voluntary Voting System" and "Election Policy and Regulatory Structures."
The panelists represented a wide array of institutions and organizations, including the Center for Cybersecurity and Privacy Protection; Verified Voting; American National Standards Institute (ANSI); the Brennan Center's Democracy Program; Center for Democracy and Technology; Bureau of Commissions, Elections, and Legislation; Campaign Legal Center; and various universities.
"In order to address election security, and so many critical issues facing society, we need to bring together knowledge from law, policy and engineering—the reason we are working to establish innovative educational programs and research collaborations at Penn State," said Osofsky. "This symposium provided an important interdisciplinary dialogue among key leaders, and I look forward to how we will build on this event to make a difference on these important issues."
The Penn State Symposium on Election Security was the first of many planned collaborative efforts between Penn State's College of Engineering and other colleges and schools at Penn State.
Share
Related Posts