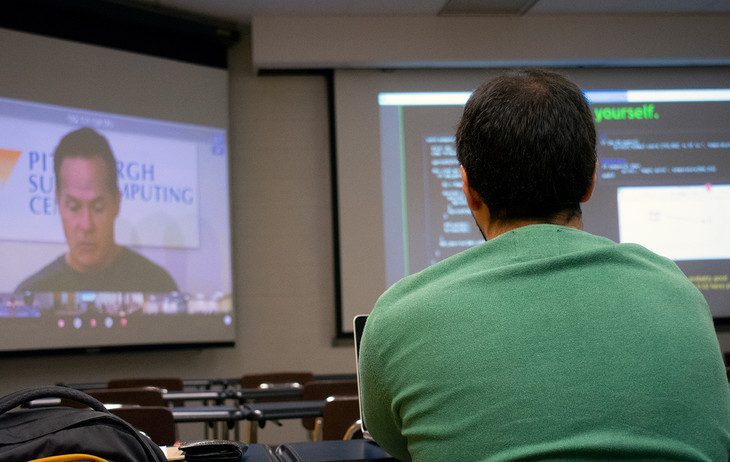 Parallel computing boot camp: hundreds learn together, miles apart
Posted on September 12, 2018
UNIVERSITY PARK, Pa. — Once a year students, faculty and staff around the country log in on their computers for the four-day XSEDE Summer Boot Camp. Attendees gather together on their respective campuses to learn about parallel programming and widely used supercomputing tools, such as Message Passing Interface (MPI), Open Multi-Processing (OpenMP), Open Accelerators (OpenACC), while also testing their computing skills.
XSEDE, a National Science Foundation organization, is an assortment of digital resources like supercomputers, visualization and storage systems, collections of data, software and networks that researchers can use to explore new ideas or answer scientific questions. XSEDE offers monthly workshops and trainings, but the boot camp is the most intense.
"I provide hands-on help to the students taking the course," said Chuck Pavloski, Penn State's XSEDE campus champion and ICS research and development engineer for earth sciences. "This approach is proven to be invaluable for folks who are new or relatively new to the procedures needed to run and develop parallelized codes."
This boot camp is a fast-paced, in-depth program on parallel computing that is designed for people with background knowledge on these kinds of programs.
"This is a very ambitious program," said John Urbanic, parallel computing scientist at the Pittsburgh Supercomputing Center and principal instructor for the XSEDE workshops. "Over four days, this boot camp covers what a semester-long class covers. These people are talented and committed."
Roughly 400 people participated in this year's boot camp, a large jump from its early years, which saw around 100 participants. With so many participants, Urbanic had to come up with an idea to reach them from his office at the Pittsburgh Supercomputing Center, so the Wide Area Classroom (WAC) was created.
"WAC evolved out of the demand for an instructor to be talking to 25 different classrooms," Urbanic said. "Even though I am remote, it allows me to interact with each of the satellite campuses. I can see and speak to each room, and that's important because learning is a social process."
The WAC enables Urbanic to speak to participants and answer their questions at 25 different satellite classrooms, similar to a video call but on a significantly larger scale.
Each section of the boot camp also has a teaching instructor on-site to assist participants with any technical issues that may arise. Pavloski assists with each monthly XSEDE workshop offered at Penn State. He says that the boot camp helps graduate students shift into the high-performance stages of scientific research.
"The hands-on perspective of the camp provides the opportunity to interact with experts on national-scale facilities provided by the NSF XSEDE program," Pavloski said. "Participants leave from the boot camp with new skills and techniques to help them succeed."
Each year, participants have an option of joining a post-boot camp competition to test their new skills. This year's prize was a new graphic processing unit worth over $3,000 donated by Nvidia, an organization that focuses on gaming, visualizations, data centers and AI computing. The competition runs for three weeks after the closing of the boot camp and participants must follow very precise rules.
Jacob Zorn, a graduate student in materials science and engineering, said that he joined the boot camp because he wanted to learn more about parallel computing and XSEDE resources.
"I enjoyed the boot camp and I thought that it was easy to follow," Zorn said. "It was very easy to ask questions."
Qian Li, a graduate student in meteorology, also said that she enjoyed the pace of the boot camp and would recommend it to others who wish to learn more about parallel computing. Li believes that the boot camp will better her research and her computational models.
People from all over the University were able to take advantage of the boot camp. Adam McMillen, a systems administrator for the College of Information Sciences and Technology, signed up to expand his knowledge of parallel computing.
"It's interesting to have so many different people in the room and at other universities and organizations," McMillen said. "There are so many different questions being asked, which is helping me understand this more."
The Institute for CyberScience also hosts monthly XSEDE workshops on the University Park campus. For more information, visit the ICS website.
Share
Related Posts