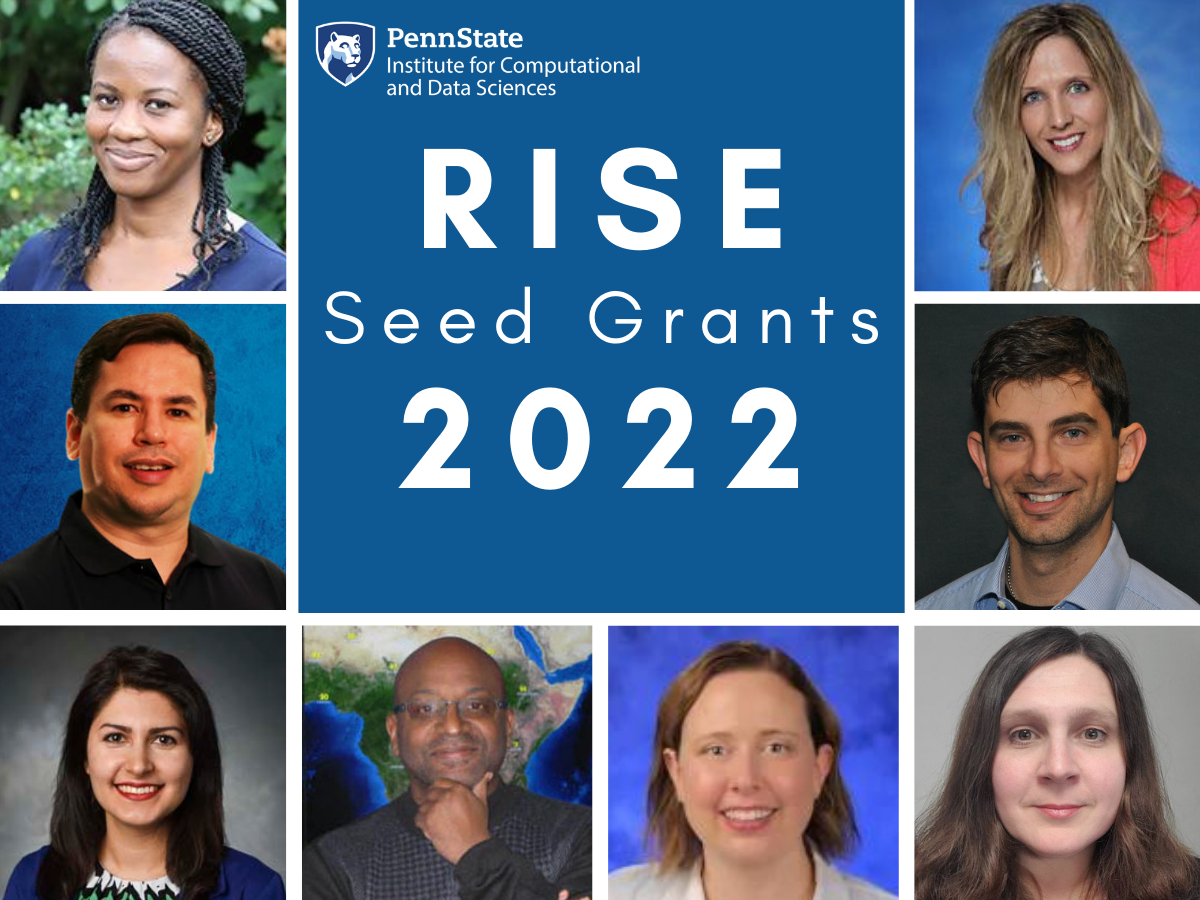 Institute awards seed grants for computational, data science projects
Posted on May 11, 2022
UNIVERSITY PARK, Pa. — Penn State's Institute for Computational and Data Sciences (ICDS) has awarded eight new seed grants to bolster computational and data science research projects throughout the University. The support will benefit researchers from five Penn State campuses studying topics ranging from weather prediction, to forecasting mortgage loan closures, to exploring engineering approaches for battery materials.
Each seed grant awards an allotment of time for a member of ICDS's Research Innovations with Scientists and Engineers (RISE) team to work with a research team. The ICDS RISE team consists of individuals with research domain experience who are also experts in various facets of computational science. In 2020, ICDS received an NSF grant to provide research groups at all 24 Penn State campuses access to RISE team members.
Newly awarded projects include:
"Determination of the beneficial effects of vitamin D analogues in diabetic kidney disease"
Vitamin D is a known protective agent against diabetic kidney disease, but researchers have not established the molecular changes taking place within cells that allow for this protection. Nik Tsotakos, assistant professor of biology, Penn State Harrisburg, is exploring how genetic information can help bridge this knowledge gap. He and the RISE team will be developing several tools for data analysis that he hopes will be able to help identify potential biomarkers and therapeutic targets in diabetic kidney disease.
"Improving usability of automated data cleaning software"
Carrie Daymont, associate professor of pediatrics and public health sciences, Penn State Hershey, and her team developed a software application, growthcleanr, that cleans height and weight information from electronic health records in longitudinal data sets. The RISE team will be using tools to generate large synthetic datasets to test the software and also building a process for uploading the software to a website, the Comprehensive R Archival Network, which will allow it to be used by a wider swath of researchers for future studies.
"Programming a Novel Computational & Data Transfer Platform & User Interface to Automate the Healthy Mom Zone Intervention"
The Healthy Mom Zone is a project developed by Danielle Downs, professor of kinesiology, and other Penn State researchers, to provide personalized interventions to manage weight gain during pregnancy. Downs has recruited the RISE team's help in developing an automated data pipeline and web-based user platform that integrates multiple mobile health application program interfaces, utilizes a dynamical model of energy balance and behavior to predict weight gain and produces customized strategies from the Healthy Moms Zone intervention toolbox to effectively regulate weight gain during pregnancy.
"Textual Analysis of Economic News Predicting Interest Rate Move in Application to Mortgage Loan Lock Fallout Forecasting"
When applying for a mortgage, prospective buyers "lock in" a mortgage interest rate that must be honored, regardless of whether interest rates change during this time. It's challenging to predict how interest rates will move and even more so whether prospective buyers end up pursuing a loan, but Nonna Sorokina, assistant professor of finance, Penn State Scranton, is investigating whether economic news can help infer interest rate moves and improve accuracy of the forecasting of buyers' decisions to close on a loan. She will partner with the RISE team to develop a model that uses textual analyses of publicly available news and announcements in predicting future interest rate dynamics.
"Exploring Interface Design in Multi-Valent Batteries"
Fernando A. Soto, assistant professor of engineering, Penn State Greater Allegheny, is using computer simulations to explore new design approaches for rechargeable batteries that have the potential to outperform existing lithium-ion batteries. Soto is partnering with the RISE team to characterize the molecular chemistry at interface regions in batteries and then propose a path toward designing rechargeable batteries with improved interfacial stability during cycling.
"Cognitive Models in the Capture-the-Flag Game"
Could a game of capture the flag in virtual reality help advance AI models? That's one question that Farnaz Tehranchi, assistant professor in the School of Engineering Design, Technology, and Professional Programs (SEDTAPP), hopes to answer through her RISE seed grant project. Working with both RISE and the Center for Immersive Experiences, which is part of ICDS, Tehranchi and her team at the Human-Centered Artificial Intelligence Lab will develop human-like AI models in virtual environments to compete and collaborate in a game of capture the flag. The team hopes to understand how players interact with the environment and make decisions, which could shed light on complete human-like AI models.
"Short-Term Weather, Air Quality and Regional Climate Projections in SubSaharan Africa"
Gregory Jenkins, professor of meteorology and atmospheric science, will lead this project that seeks to use the Weather Research and Forecasting model to forecast weather in the southern regions of Africa. The RISE team will help set up the models to run on Roar, the research supercomputer ICDS operates for the Penn State community. This model will be used to provide daily forecasts for the Cabo Verde islands and for the regional communities.
"Predicting Ligand-Regulated Protein-Protein Interactions"
The RISE team will be helping C. Denise Okafor, assistant professor of biochemistry and molecular biology and chemistry, with applying machine learning models to understand factors affecting protein transcription. The team is specifically looking at ligands, a type of molecule that can impact gene expression. Ligands sometimes 'recruit' additional molecules to the process, and Okafor's team is trying to characterize the circumstances under which recruiting takes place.
ICDS will be offering RISE seed grants periodically; for more information, visit the ICDS RISE webpage.
Share
Related Posts