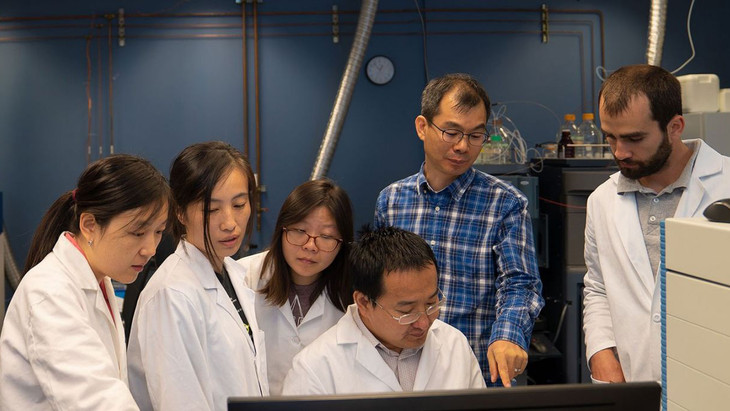 University programs catalyze, advance research at Commonwealth Campuses
Posted on July 27, 2020
Originally published on Penn State News
UNIVERSITY PARK, Pa. — In an effort to catalyze and advance research at Penn State campuses throughout Pennsylvania, the University has developed two programs for faculty members at Commonwealth Campuses.
The programs, the Commonwealth Campuses Research Collaboration Development Program (CCRCDP) and the Commonwealth Campus Center Nodes (C3N) Program, offer faculty members at any Commonwealth Campus the ability to establish collaborations with technical staff within core facilities and faculty members within research active centers. Both of these programs facilitate access to equipment and tools within core facilities and participating centers.
"All of the University Park centers participating in this program have tremendous experience in securing and managing external research funding from a variety of agencies, industry and other organizations," said Lora Weiss, senior vice president for research. "Further, these centers are hubs for conducting leading research in different technical areas, resulting in journal publications and potential for external funding. These centers enable networking, research partnerships and large-team collaborations that span several campuses."
The C3N program looks to broaden the portfolio of ongoing research and strengthen the collaboration opportunities on proposals and publications. It also seeks to create Penn State-wide centers on specific technical topics, thereby strengthening the University's national posture.
"Both programs are still in their infancy, but they have already demonstrated tremendous success," said Shashank Priya, associate vice president for research and director of strategic initiatives.
According to Priya, in its first two years, CCRCDP provided nearly $300,000 in funding to researchers at 16 campuses in support of 36 proposals. In 2019–20, C3N provided more than $100,000 in funding and helped create six new nodes, or teams. These nodes developed eight projects with faculty from research units such as the Rock Ethics Institute​, the Humanities Institute​ and the Center for Science and the Schools.
"Access to funding, state-of-the-art research facilities and additional subject-matter experts provide faculty members at Commonwealth Campuses the opportunity to advance their research," said Madlyn Hanes, vice president for Commonwealth Campuses and executive chancellor.
"By facilitating and supporting collaboration, the programs strengthen research throughout the entire University," said Nick Jones, executive vice president and provost. "The programs also enable University Park faculty to tap into talent at other Penn State campuses, where the faculty researchers offer diversified knowledge and expertise in various disciplines."
The programs are open to all Commonwealth Campus tenure-line and tenured faculty. Rolling submission of proposals will start in fall 2020, and specific dates will be announced in late summer 2020.
Both CCRCDP and C3N were products of collaborations among Penn State's Office of the Senior Vice President for Research, Office of the Executive Vice President and Provost, Office of the Vice President for Commonwealth Campuses and multiple institutes and colleges.
Share
Related Posts